The market for high-quality pressure sensitive adhesive tape is forecasted to expand significantly in the next decade, according to research analysts, and Tom Brown, Inc., is welcoming the news. Key industries sure to benefit from the growth are building and construction, and transportation–two areas TBI specializes in.
According to a report published by Global Market Insights, Inc., the global pressure sensitive tapes and labels market reached $90 billion last year and is expected to surpass $175 billion by 2032. In North America, a key hub for pressure-sensitive tapes and label production, the market is calculated to grow at a CAGR of six percent from 2023 to 2032.
Rick Alexander, TBI's National Sales Manager who has more than 40 years of pressure-sensitive tape experience, said the amazing versatility of the tapes, which are used in products today once never thought possible, explains the anticipated surge. "Everyone is waking up to what these tapes can do," he said. "They've fast become the desirable way of assembling and bonding all kinds of various things in industry. They're easy to apply and can be put into various die cut parts and shaped in specific patterns at very tight tolerances."
Some of the key benefits of Pressure Sensitive Tape (PST) include the following:
User-friendly—adheres with only the light pressure of fingertips
Strong load-bearing and bonding properties
Durable and permanently tacky
No need of heat or a solvent such as water for activation
No need of mechanical fasteners for less potential damage to substrate surfaces
Water resistant
Available single-sided—allows bonding to a surface or joining of two adjacent or overlapping materials
Available double-sided—allows joining of two items back-to-back
In the past, many things were assembled with mechanical fasteners, but adhesives and tapes offer benefits that general fasteners can't provide. For example, screws, bolts, and rivets are not fire resistant, often have corrosion issues, and can end up weighing a lot. They also don't have the fatigue resistance of tape, nor can they dampen vibrations as tapes can.
Tape is ideal for light-weighting applications, Alexander said, such as for parts in internal combustion engines or electric vehicles. "Car manufacturers often use less expensive materials such as TPC (thermoplastic co-polyester) and TPO (thermoplastic polyolefin) and other polymers that are hard to bond to, but the tape can do it."
In the next five years, the company sees PST leading to strong single-digit growth—from five to nine percent–in their markets, particularly fenestration, both residential and commercial, and in trucks and utility trailers.
Brad Zechman, president and CEO of Adhesives Research, Inc., a supplier for TBI, said market conditions are aligning perfectly for Tom Brown. "There's a lot of growth there around the markets themselves, and Tom Brown has their tentacles in those markets in deep and tenured ways. They've been in this business for many years. They know the dynamics, the players, and the supply chain, and they've got the relationships. They have all the intangibles going in the right direction."
One path TBI is focusing on is automation. "I see a lot of automation coming," said Brendan Brown, the company's president. "That means our spooling capabilities are going to become more valuable. People are going to be looking for longer, continuous length rows of tape for automation."
The need for speed is the primary consideration, Brown said, evident today in window manufacturing. Historically, tape was placed around a window frame manually, a time-consuming process. Now, larger window manufacturers are applying the glazing tape in line as the window frame is being extruded. "That's a big plus for efficiency," he said.
"The same process could work not just in the window world but on trucks and trailers, whenever they're bending metal and have these big sheets of metal on the line. And I see more of that kind of technology coming, perhaps with robots applying it at a higher speed."
This will allow companies, he said, to reduce people on the manufacturing floor. "And adhesive tapes lend good possibilities for that because they're pressure sensitive. So all you need to apply them is a little bit of pressure."
Brown wants to get the word out that the company can help other businesses with automation, whether it's securing the right equipment or teaching them how TBI can spool and use tape applicators to boost productivity. "We can show them that maybe a liquid solution isn't the best fit because it takes too much time, that they can improve their output or throughput with automation. We've got the solutions, and we can provide value."
Adhesive tapes will open doors to new markets for TBI, Brown added. "We just signed a deal with a manufacturer rep that's going to be focusing on aerospace and defense. We'll be selling die cut shapes used in body armor and armored vehicles."
The chief benefit of all TBI products, he said, is that as long as the company qualifies from a certification standpoint, they can sell into any market, including tier-two or tier-three suppliers for the medical industry.
"It's really about having the expertise on the products and making sure we're knowledgeable, that we have the right equipment and the workers who can service it. That's how we're preparing."
This year marks the 40th anniversary that Tom Brown began converting tape and transforming itself from a distributor of sealants and adhesive products to a regional hub for providing fast, custom tape conversion products.
It was 1983 when Kenny Brown, whose grandfather, Tom, founded the company in 1934, contemplated ways to better serve clients and attract new ones. Kenny had started out with just two books from his father, Donald, who was president then. One was a GE silicone distributors manual and the other a Norton tape sales guide. "'Go out and sell these products,' my Dad said to me, and that's what I did," Kenny remembered.
What he discovered was that many people loved the specialty tape sold by the Norton Company (now Saint Gobain), but they didn't like the way Norton did business. The king of all things tape in those days, Norton was great at making lots of products in big quantities, but it didn't offer customized orders in smaller quantities—and it couldn't react quickly to user demands. Norton required more than two weeks lead time for slit products and a minimum order in full or multiple boxes.
"Nobody wanted to wait 15 working days, plus the time for freight delivery," Kenny said. "It would be almost a month before they would get the product, and that slowed production down."
Kenny Brown's Brilliant Idea
Frustrated that he had to sell bulk rolls of tape to clients who wanted only a few, Kenny had a brilliant idea. "I asked Norton if I could buy a machine and some tape logs to do my own tape converting," Kenny said. "To my surprise, they turned me down." Kenny's son, Brendan, the current president, said Norton didn't want to help his Dad. "They wouldn't even tell him where he could get his own machine."
Eventually, Kenny met a guy in Ohio who knew a guy in Hoboken, New Jersey, who worked for a company called Towers Machinery. Kenny flew to Newark, where he met Bernie, and the two drove to Mona's Side Fasteners, Inc., a zipper company in New York's garment industry. There, Kenny watched a large, noisy apparatus grab logs of leather, put them through a slitter, and cut various widths to make belts. Here was the answer he'd been looking for. "It was pretty cool," he said.
His father, however, was worried. The business still had to buy a minimum of 10 logs of tape at a time, and now his young, ambitious son wanted this costly cutting contraption. "Do you really think we can produce and sell all of this product?" Donald queried. With no Excel spreadsheet available, Kenny grabbed a piece of graph paper and drew some lines. "I listed the customers we had, what they needed, and how much it would cost us to slit the tape. I said, 'Yeah, Dad, it's worth it.'" And the rest, as they say, is history.
Tom Brown began serving glazing contractors who were building curtain walls, commercial windows, and storefronts. Kenny's first big buyers were metal-building manufacturer H.H. Robertson Company in Ambridge, and E.G. Smith, an HVAC services company in Berks County, now Rhoads Energy. "I remember my first order," Kenny said. "Five logs of a Norton V738 PVC foam tape. I thought, 'This is almost a thousand dollars' worth of supply. I wonder if we're going to get rid of it?' It was gone in a week."
Kenny bought thousands of dollars' worth of inventory and let people purchase the minimum quantity they needed. "I didn't want to high-pressure clients for sales or turn people off. My hope was that they would come back for more. It was not a good business plan, but it worked."
Soon, not only were businesses calling Kenny with requests, but even Norton sales reps turned to him when they couldn't meet the increasing one-of-a-kind orders of their own buyers.
Now Tom Brown was on a roll. "We got into die cutting and water jetting and spooling, and there weren't many people out there at that time doing that." He recalled specifically the occasion when Harmon, Inc., one of the biggest glazing contractors in the nation, needed product overnight in Santa Fe. "So, I cut the materials, boxed it up, put it in my car, and drove it to the airport. It arrived the next day, and Harmon no longer had to pay employees who were just standing around in New Mexico waiting for supply. Everybody was happy."
The advent of two key products would further increase Tom Brown's profit margin. The first was Norton's ThermalBond Spacer Tape, a key component in structural silicone glazing applications. The other was 3M's VHB Acrylic Foam Adhesive Tape.
"Those tapes changed the complete landscape of what people thought a tape could do," said Rick Alexander, the company's national sales manager. "They were such next-level in performance that all of a sudden applications that would have never been considered reasonable for tape became very accessible."
For example, who would have believed that tape and silicon could be used to construct the iconic 40-story office tower, One PPG Place, in downtown Pittsburgh?
The structure opened in August 1983, with Two PPG Place debuting the following year in November. Tom Brown's flexibility and custom toolbox were what charmed PPG's contracting division. The global glass and paint supplier needed a narrow tape size, but Norton would never cut anything less than square.
"This meant that if the tape was a quarter-inch thick, Norton would cut it only to a quarter-inch wide. Nothing thinner," Kenny said. "So, PPG came to us and said, 'Can you do this job?' I said, 'Let's put a log on and try it.' And we were able to do it. PPG said to us, 'Do you realize how much money we're saving on aluminum by using one-eighth of an inch less tape for every window?'" The young entrepreneur could only imagine: The shimmering structure had a matching-glass design consisting of nearly 20,000 pieces of glass!
Four Decades Later—Even Better Quality
The tape converting process has not changed much in four decades, Brendan says, but many aspects of the business have improved. "There have been advances in technology as far as efficiencies, so the machines run faster, and we can cut more rolls in a day and at higher tolerances. We have quicker production, and less waste. We also can communicate better and faster with customers."
The industry is, however, more competitive now, and while supply chain disruptions and delays have been a challenge for most businesses, Tom Brown is steering smoothly through the storm. "We made a real big effort the past few years to triple our inventory so we could still supply people," Kenny said. "We've had customers tell us that during the worst days of COVID, we were the only supplier that came through and kept them from shutting down."
"We're also trying to be more committed to manufacturers and giving them more lead time and forecasting," said Brendon. "The quicker we know the next steps we're taking or that a manufacturer might run out of a raw material, the faster we can adjust. We like to present customers with qualified secondary materials as possible alternatives. This way, if one manufacturer can't produce material or is running behind, we have a backup."
Shifting from a regional business to a national one marks another exciting initiative for Tom Brown. In 2015, the company opened a plant in Salt Lake City to serve and attract new business in the West. "We had some buyers in Texas and Arizona, and we wanted to be able to service clients in Colorado and California," Brendan said. "Eventually, I would like to see us open more facilities in other places, which would be driven by new customers or if we enter some vertical industry where we need to be closer to where the products are made."
Tom Brown's Winning Business Formula
What's been Tom Brown's winning business formula all these years? "Service and responsiveness are what we believe in," Kenny said. "It's a combination of recognizing the customer's needs and doing something to accommodate them, making sure they get what they want when they want it. That's been the backbone of how we do business."
"It's one thing to say customers are important," Rick said, "but it's another to show them. We return all our messages because we want people to know they're important to us. We're a small company but very competent, and we show customers that we care about them and that they matter."
As Tom Brown looks to the future, the company's executives and loyal workforce continue to reflect a work ethic that's been honed from nearly nine decades in the business of serving others, one that embraces the highest quality standards and an unceasing desire to be a leader and problem solver in their space, ready for whatever tomorrow may bring.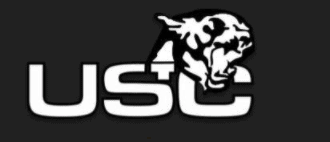 In our early May blog post, we talked about Tom Brown's collaboration with the Upper Saint Clair High School STEAM program and some of the projects they agreed to tackle.
The coronavirus pandemic placed some pretty significant obstacles in front of the students. They couldn't meet in person with their teams or teacher, and school buildings that had critical equipment for designing and building prototypes were closed.
Despite these challenges, the students and their instructor, Fred Peskorski (a.k.a. "Mr. P"), soldiered on. They came up with some outstanding solutions, and we want to share the results of their work.
The Projects
Water Jet Wastewater Management
The Background: The water jet cutter is used to cut various foams and plastics. The waste water contains a slurry of these foams and plastics.
The Problem: Develop a system and use for the water jet wastewater.
The Solution: Fabricate a "catcher" which screens the solid foam and plastic sludge from the water phase, feed the captured sludge into a densifier to remove any excess water and form into "eco-bricks" to donate for flood control.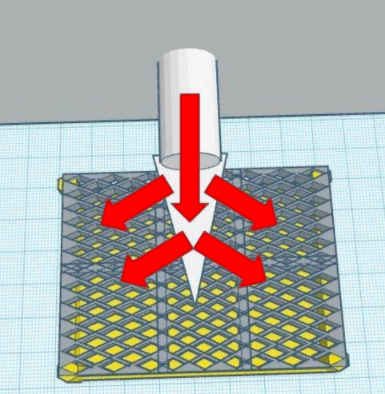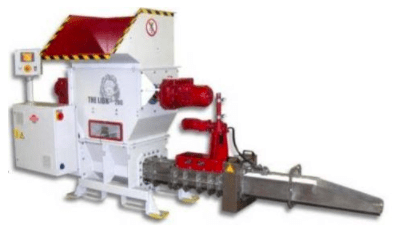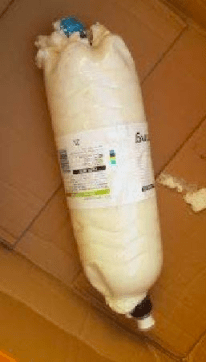 Forklift Training Program
The Background: TBI has several different types of forklifts in four different locations.
The Problem: Design a training and certification program that meets OSHA standards.
The Solution: Reduce the 23 page OSHA document to a 3-4 page training document and create a more comprehensive test to validate understanding.
Emergency Action Plan
The Background: TBI has four separate locations with no coordinated action plans to handle emergencies.
The Problem: Develop an emergency action plan that includes palling for fires, gas leaks, and active shooter situations.
The Solution: The students created an action plan assigning roles and responsibilities for each scenario for each location.
Minimize Machine Scrap
The Background: One of TBI's core competencies is log slitting (a.k.a. single knife or lathe slitting) various foam tape products.
The Problem: The need to secure the log roll of foam tape to the mandrel coupled with size of the carriage that slits each roll results in a scrap roll when slitting each log. The challenge was to design an accessory that could hold the log roll in place but move it out further into the active cutting area.
The Solution: Fabricate a steel water bladder sleeve that uses the air from the mandrel to move water to the log roll. The pressure exerted form the water bladder holds the log firmly in place while moving it into the active cutting area.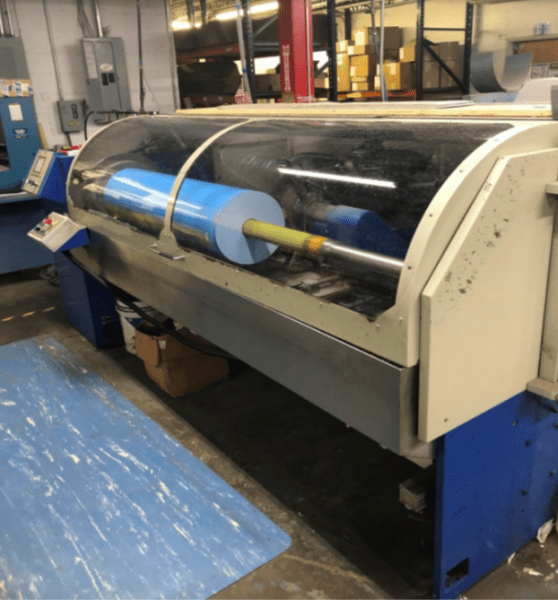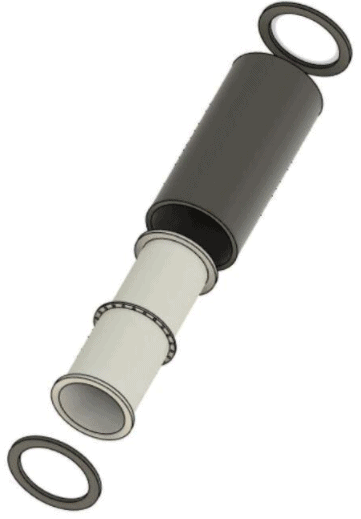 Marketing Program for New Solvent
The Background: Sealants and caulks are sometimes misapplied or need to be removed to do new installations or repairs. Adhesive tapes sometimes need to be removed from various surfaces and may leave behind residue. TBI worked with a specialty chemical manufacturer to develop a safe and effective solvent to remove sealants and adhesives.
The Problem: Create a marketing and promotional plan to help drive sales of the new solvent.
The Solution: The students created multiple ways to promote the product both for display purposes in showrooms and digital strategies to increase outreach and help drive demand. Their tactics included:
A short video showing how the product works that can be viewed via a link on the website or via a video monitor in a showroom

A poster that can be printed and also sent electronically

An email campaign to targeted users in the building and construction industry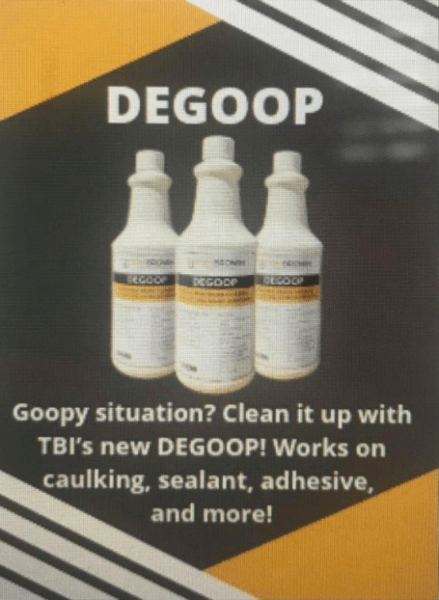 Through his travels in southeast Asia, Dr. David Mathews observed a high volume of air pollution and its effects on local populations. An orthopedic surgeon by profession, Dr. Mathews knew that the levels of air pollution to which Vietnamese and Cambodian citizens were exposed could lead to cardiovascular, pulmonary and other diseases. How could he help?

Dr. Mathews is a longtime friend of Tom Brown, Inc. CEO Kenny Brown and president Brendan Brown. Together, they devised a plan to create a new respirator mask that would help curb the hazards of air pollution while remaining comfortable and unobtrusive to the wearer. 

Through multiple prototypes, Dr. Mathews and company were able to fabricate a form-fitting mask with appropriate sizes for adults and children. The Makana Mask was born.

Makana, a Hawaiian word meaning "something given freely," reflected Dr. Mathews' mission to promote better respiratory and cardiovascular health in southeast Asia. However, as the COVID-19 pandemic made its way across the globe, Dr. Mathews recognized an opportunity to employ the Makana Mask for a larger fight. He knew his masks could help frontline healthcare workers and others desperately in need of equipment to defend themselves and others against the virus. 

A major component of the Makana Masks are the ancillary die cut parts supplied by Tom Brown, Inc. and other companies. You can read more about the mask itself and Tom Brown's contribution on Makana's site: Ancillary Die Cut Parts of the Makana Mask.

Since 2019, Tom Brown, Inc. has collaborated with the Upper Saint Clair STEAM Program. Through USC's Innovation and Consulting course, STEAM courses—Science, Technology, Engineering, Art, and Mathematics—grant students real-world experience in these various disciplines.  Brendan Brown, our president and a graduate of USC coordinated the partnership. Upper Saint Clair High School is located just south of Pittsburgh in Upper Saint Clair Township, and initiated its STEAM program in 2014. Through these courses, students use human-centered design techniques along with traditional problem-solving methods to build their skillsets within the disciplines noted above. The program then collaborates with local business and communities to solve real world problems using their newly acquired skills and the students' personal strengths. These problems are varied and require students to explore topics they might not otherwise encounter within the confines of a traditional classroom.
2019 Upper Saint Clair STEAM Projects
In the first year of Tom Brown's partnership, there were five projects presented to USC students:
Warehouse Lighting Project – conduct a cost/benefit analysis of converting current warehouse lighting to a more energy efficient system.
Inventory Management – Benchmark our current inventory management system and develop a new system or recommend an established system that best fits the needs of the business.
Delivery Service – optimize delivery truck service schedules and present a promotion plan for this new service capability.
Online Marketing – improve search engine optimization (SEO) using keywords from the current website.
Minimize Product Waste – Audit the current processes for slitting bulk product and optimize the process to reduce waste.
The students presented their research and ideas to Tom Brown, Inc personnel. Many ideas were excellent and implemented and all the projects yielded actionable tasks for improvement.
2020 Upper Saint Clair STEAM Projects
Second year projects include:
Water Jet Wastewater Management – develop a plan to optimize waste water from water jet cutting of foam materials.
Forklift Training Program – design a forklift training program that meets all OSHA regulations so employees can be trained and certified.
Emergency Action Plan – design an emergency action plan to cover fire, injury, and other catastrophic events including an evacuation plan and roles and responsibilities.
Minimize Machine Scrap – design new components and processes to reduce scrap and improve material utilization.
Marketing Program for New Solvent – develop a marketing and promotion plan for anew solvent to remove misapplied sealants, caulks, and adhesives.
MIT App Inventor for Inventory Management – using MIT App Inventor to make an app for multi-bin, multi-SKU inventory management.
Engineering New Roof Canopy – design a new free span canopy roof from a recent cleared area at the rear of the building to hold overflow inventory.
Students Remain Undeterred
The COVID-19 pandemic certainly adds a new dimension to the USC STEAM program this year. Students must collaborate online with classmates, teachers, and business owners to complete research, design solutions, and present their recommendations. However, like each of the projects listed above, the USC STEAM program students met this challenge and excelled. Look for future blog posts detailing individual projects and their outcomes. Learn More about Tom Brown, Inc's Community Outreach TBI believes in being an active member of our community. If you're interested in partnering with us for a similar program, contact us today.

One of the best parts of my job is learning what our customers do and how they manufacture their products. Once in a while you end up doing business with a really cool customer. It's kind of like being asked to sit at the lunch table with the "cool kids". The "cool kids" in this case are Voile Manufacturing. They are a premier manufacturer of high performance backcountry skis, splitboards, and accessories. And for those that don't know, backcountry skiers are those hardy souls that forgo buying a lift pass and make their way up a mountain under their own power and then shred their way down in snow the way nature intended. It's very demanding in terms of skier ability and the equipment that they use. That includes the required protective tapes for ski and snowboard manufacturing used before the equipment ever sees the snow. 
What's the Connection Between Skis and Tapes?
I'm not going to bother trying to explain how skis are made. There are several types of skis and methods of manufacture. Suffice it to say that many skis and boards feature some really great graphics and protecting those graphics during the hot press step and the subsequent tuning steps is important to produce a flaw—free ski or board.
That's where protective tapes come into play. There are two basic families of products than offer effective protection. The first is a crepe paper masking product. This is not the masking tape you buy in the office supply store. This crepe paper was designed to work in the composites and automotive paint industries where heat and complex shapes demand good adhesion and clean removability. The rubber –based adhesive system is formulated to withstand temperatures up to 121̊C (250F) and not produce residue.
The second family is a film based product that utilizes embossed polypropylene film. The embossed polypropylene film provides good transparency so you can see the graphics, good conformability over the ski or board, and superior abrasion resistance.
This tape also features a specially formulated rubber-based adhesive that can tolerate press temperatures up to 130̊C (266F) and still offer clean removability.
Learn More About Protective Tapes for Ski and Snowboard Manufacturing
Want to know more about high performance backcountry ski equipment? Contact Voile Manufacturing at www.voile.com. To learn more about protective tapes for ski and snowboard manufacturing, Contact Tom Brown, Inc.
Some assemblies require die cut parts that are much larger than what is typically associated with tapes, gaskets, and other similar products. Examples include gaskets and seals for metal building panels, seals for truck trailer applications, POP displays, curtain wall gaskets, heat shielding, and other automotive applications.
Tom Brown, Inc. has the capability to provide these large format parts in the right size, at the right time, and at a cost effective price point. Supporting the die cutting capabilities is a large format laminator that allows multilayer laminates to be created that have the right combination of properties to meet the technical requirements of the application. Prototype parts can also be offered without incurring cost associated with metal dies.
Advantages of Large Format Parts
Large format parts reduce the number of smaller parts needed to produce an assembly. This often saves time in the assembly process and reduces the number of SKUs in inventory.
Larger parts forgo the need for seaming together numerous smaller parts. This is critical especially when the seam itself might be a weak point in the assembly. This is especially critical for gaskets in building and construction applications as well as heat shielding for transportation.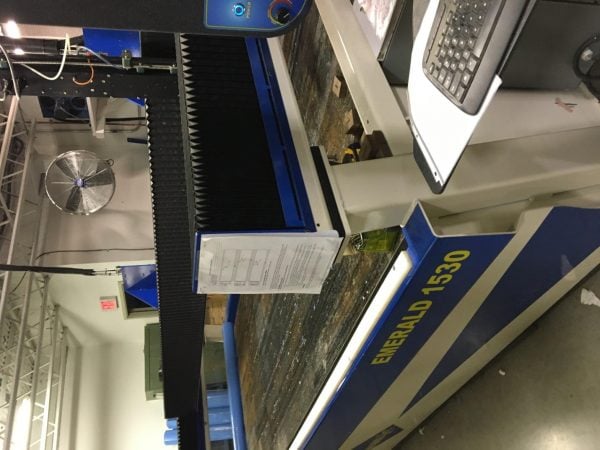 Think of Tom Brown, Inc.
Large format die cut  parts require specialized equipment and TBI can provide tight tolerance parts as large as 5 ft x 10 ft using our precision water jet cutting system. Want to learn more about large format parts? Contact Tom Brown, Inc. today!
Adhesion is the ability of dissimilar surfaces to bond or stick to one another. Adhesion science is multifaceted and cannot be completely explained in a short blog post but the basics of tape adhesion are not difficult to understand.
Types of Adhesion
There are various mechanisms that can facilitate adhesion:
Chemical – this occurs when the surface atoms of two surfaces form a new compound that is intrinsically linked to both. This is how many liquid adhesive systems work such as cyanoacrylates or "SuperGlue".

Dispersive adhesion – this is a type of adhesion that relies on Van der Waals forces. Simply put, these weak forces occur in regions of one surface that have a slightly positive or negative polarity and are attracted or repulsed to a region on the other surface. While these may be present in a small way in tapes, they are not the main mechanism for tape adhesion.

Diffusive adhesion – this mechanism is a merging at the molecular level of the species of one surface with the species of the other surface while still being attached to the main chain. This "entanglement" provides a level of adhesion depending on the chemical makeup of the surfaces involved. Again, not the principal way that tapes adhere.

Mechanical – mechanical adhesion or interlocking occurs when the adhesive fills the voids or the "hills and valleys" of the intended surface. This mechanism is definitely a part of what makes tapes stick. That interlocking happens primarily due to surface energy. That is the main idea we want to discuss.
Surface Energy
Surface energy is a property of a material in much the same way as density, tensile strength, or melting point. It is the attraction of the molecules of a material to its' own molecules and to the molecules of another surface. It is an effective measure of how difficult or easy it might be to establish a bond.
Surface energy determines how easy it is for the adhesive tape to "wet out" or spread over the surface and establish a bond. This intimate contact and flow over the surface and its' topography is what allows the tape to maximize the surface area and increase adhesion.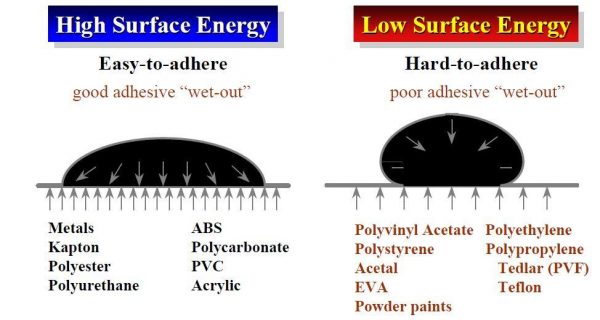 (Table courtesy of Berry Plastics)
The easiest analogy to understand surface energy is that of a waxed and unwaxed car. On a waxed car, a drop of water will "bead up" and not wet the surface. This is an example of low surface energy.
Conversely, when you have an unwaxed car, a drop of water will rapidly spread out and easily establish contact. This is high surface energy.
One of the reasons you see so many types of tapes even within the same family is that the adhesive chemist can deliberately modify or compound the adhesive to deal with the surface energies of the materials to be bonded. This is why the first question you will be asked about any adhesive tape application is, "What are you trying to bond to?"
One of the wonderful things about the tape industry is the breadth of products available to help solve a variety of bonding challenges. Do you have questions about how to bond to a specific surface? Contact Tom Brown, Inc. to learn more.
I often get a bewildered look when I talk about selecting a transfer adhesive versus a double coated tape. Most people aren't familiar with the differences even though in the most basic way they both join or bond two surfaces together. The purpose of this blog post is to help you understand the important distinctions between theses two forms of tape and why to choose one over the other.
The Basics
A transfer adhesive is a coating of pressure-sensitive adhesive on a release liner. The majority of transfer tapes range in thickness from 1-5 mils although there are some specialty products that fall outside this range. There are also reinforced transfer adhesive versions that use fiberglass stands or thin, open scrims to help reinforce the adhesive making them more of a hybrid.
By contrast, a double coated tape has a coating of pressure-sensitive adhesive coated on both sides of a carrier. This carrier is often a film (polyester, polypropylene, UPVC) but could be also be paper or tissue.

The carrier can perform a variety of functions in the tape such as:
Stabilizing the adhesive

Allows different  adhesives or thicknesses  to be used on each side

Adds thickness and dimensional stability

Improves handling

Can provide a barrier between the adhesive layers
Overall Comparison
Double Coated Tape / Transfer Adhesive
Typically thicker (3-10 mils)

 / 

Typically thinner (1-5 mils)

Less conformable / 

More conformable

Easier to dispense / 

More difficult to dispense

Can be spooled / 

Difficult to spool unless reinforced

Reinforces substrate / 

Does not reinforce substrate
Part Geometry
The shape of the part to which the tape will be applied plays a significant role in choosing a transfer adhesive or a double coated tape.
When you want to bend the tape around sharp edges or compound curves, transfer adhesives have the advantage. The lack of a carrier enables the adhesive layer to more really conform and remain adhered to the surface provided the right adhesive type and thickness have been selected. A carrier can often induce forces into the bond line that cause the tape to "flag" or lift as it tries to go back to equilibrium.

When you're bonding to a flat surface or you need increased support for another layer such as open cell urethane foam, the double coated tape will give you that extra support and handling capability.
Double coated tapes and transfer adhesives are the workhorses of the bonding and assembly world. Knowing when to choose one versus the other is important and can help improve the chances for success in your application. Have questions or want more information? Call Tom Brown, Inc. today!