This year marks the 40th anniversary that Tom Brown began converting tape and transforming itself from a distributor of sealants and adhesive products to a regional hub for providing fast, custom tape conversion products.
It was 1983 when Kenny Brown, whose grandfather, Tom, founded the company in 1934, contemplated ways to better serve clients and attract new ones. Kenny had started out with just two books from his father, Donald, who was president then. One was a GE silicone distributors manual and the other a Norton tape sales guide. "'Go out and sell these products,' my Dad said to me, and that's what I did," Kenny remembered.
What he discovered was that many people loved the specialty tape sold by the Norton Company (now Saint Gobain), but they didn't like the way Norton did business. The king of all things tape in those days, Norton was great at making lots of products in big quantities, but it didn't offer customized orders in smaller quantities—and it couldn't react quickly to user demands. Norton required more than two weeks lead time for slit products and a minimum order in full or multiple boxes.
"Nobody wanted to wait 15 working days, plus the time for freight delivery," Kenny said. "It would be almost a month before they would get the product, and that slowed production down."
Kenny Brown's Brilliant Idea
Frustrated that he had to sell bulk rolls of tape to clients who wanted only a few, Kenny had a brilliant idea. "I asked Norton if I could buy a machine and some tape logs to do my own tape converting," Kenny said. "To my surprise, they turned me down." Kenny's son, Brendan, the current president, said Norton didn't want to help his Dad. "They wouldn't even tell him where he could get his own machine."
Eventually, Kenny met a guy in Ohio who knew a guy in Hoboken, New Jersey, who worked for a company called Towers Machinery. Kenny flew to Newark, where he met Bernie, and the two drove to Mona's Side Fasteners, Inc., a zipper company in New York's garment industry. There, Kenny watched a large, noisy apparatus grab logs of leather, put them through a slitter, and cut various widths to make belts. Here was the answer he'd been looking for. "It was pretty cool," he said.
His father, however, was worried. The business still had to buy a minimum of 10 logs of tape at a time, and now his young, ambitious son wanted this costly cutting contraption. "Do you really think we can produce and sell all of this product?" Donald queried. With no Excel spreadsheet available, Kenny grabbed a piece of graph paper and drew some lines. "I listed the customers we had, what they needed, and how much it would cost us to slit the tape. I said, 'Yeah, Dad, it's worth it.'" And the rest, as they say, is history.
Tom Brown began serving glazing contractors who were building curtain walls, commercial windows, and storefronts. Kenny's first big buyers were metal-building manufacturer H.H. Robertson Company in Ambridge, and E.G. Smith, an HVAC services company in Berks County, now Rhoads Energy. "I remember my first order," Kenny said. "Five logs of a Norton V738 PVC foam tape. I thought, 'This is almost a thousand dollars' worth of supply. I wonder if we're going to get rid of it?' It was gone in a week."
Kenny bought thousands of dollars' worth of inventory and let people purchase the minimum quantity they needed. "I didn't want to high-pressure clients for sales or turn people off. My hope was that they would come back for more. It was not a good business plan, but it worked."
Soon, not only were businesses calling Kenny with requests, but even Norton sales reps turned to him when they couldn't meet the increasing one-of-a-kind orders of their own buyers.
Now Tom Brown was on a roll. "We got into die cutting and water jetting and spooling, and there weren't many people out there at that time doing that." He recalled specifically the occasion when Harmon, Inc., one of the biggest glazing contractors in the nation, needed product overnight in Santa Fe. "So, I cut the materials, boxed it up, put it in my car, and drove it to the airport. It arrived the next day, and Harmon no longer had to pay employees who were just standing around in New Mexico waiting for supply. Everybody was happy."
The advent of two key products would further increase Tom Brown's profit margin. The first was Norton's ThermalBond Spacer Tape, a key component in structural silicone glazing applications. The other was 3M's VHB Acrylic Foam Adhesive Tape.
"Those tapes changed the complete landscape of what people thought a tape could do," said Rick Alexander, the company's national sales manager. "They were such next-level in performance that all of a sudden applications that would have never been considered reasonable for tape became very accessible."
For example, who would have believed that tape and silicon could be used to construct the iconic 40-story office tower, One PPG Place, in downtown Pittsburgh?
The structure opened in August 1983, with Two PPG Place debuting the following year in November. Tom Brown's flexibility and custom toolbox were what charmed PPG's contracting division. The global glass and paint supplier needed a narrow tape size, but Norton would never cut anything less than square.
"This meant that if the tape was a quarter-inch thick, Norton would cut it only to a quarter-inch wide. Nothing thinner," Kenny said. "So, PPG came to us and said, 'Can you do this job?' I said, 'Let's put a log on and try it.' And we were able to do it. PPG said to us, 'Do you realize how much money we're saving on aluminum by using one-eighth of an inch less tape for every window?'" The young entrepreneur could only imagine: The shimmering structure had a matching-glass design consisting of nearly 20,000 pieces of glass!
Four Decades Later—Even Better Quality
The tape converting process has not changed much in four decades, Brendan says, but many aspects of the business have improved. "There have been advances in technology as far as efficiencies, so the machines run faster, and we can cut more rolls in a day and at higher tolerances. We have quicker production, and less waste. We also can communicate better and faster with customers."
The industry is, however, more competitive now, and while supply chain disruptions and delays have been a challenge for most businesses, Tom Brown is steering smoothly through the storm. "We made a real big effort the past few years to triple our inventory so we could still supply people," Kenny said. "We've had customers tell us that during the worst days of COVID, we were the only supplier that came through and kept them from shutting down."
"We're also trying to be more committed to manufacturers and giving them more lead time and forecasting," said Brendon. "The quicker we know the next steps we're taking or that a manufacturer might run out of a raw material, the faster we can adjust. We like to present customers with qualified secondary materials as possible alternatives. This way, if one manufacturer can't produce material or is running behind, we have a backup."
Shifting from a regional business to a national one marks another exciting initiative for Tom Brown. In 2015, the company opened a plant in Salt Lake City to serve and attract new business in the West. "We had some buyers in Texas and Arizona, and we wanted to be able to service clients in Colorado and California," Brendan said. "Eventually, I would like to see us open more facilities in other places, which would be driven by new customers or if we enter some vertical industry where we need to be closer to where the products are made."
Tom Brown's Winning Business Formula
What's been Tom Brown's winning business formula all these years? "Service and responsiveness are what we believe in," Kenny said. "It's a combination of recognizing the customer's needs and doing something to accommodate them, making sure they get what they want when they want it. That's been the backbone of how we do business."
"It's one thing to say customers are important," Rick said, "but it's another to show them. We return all our messages because we want people to know they're important to us. We're a small company but very competent, and we show customers that we care about them and that they matter."
As Tom Brown looks to the future, the company's executives and loyal workforce continue to reflect a work ethic that's been honed from nearly nine decades in the business of serving others, one that embraces the highest quality standards and an unceasing desire to be a leader and problem solver in their space, ready for whatever tomorrow may bring.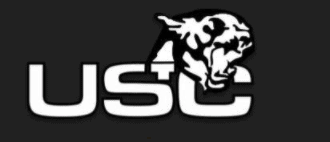 In our early May blog post, we talked about Tom Brown's collaboration with the Upper Saint Clair High School STEAM program and some of the projects they agreed to tackle.
The coronavirus pandemic placed some pretty significant obstacles in front of the students. They couldn't meet in person with their teams or teacher, and school buildings that had critical equipment for designing and building prototypes were closed.
Despite these challenges, the students and their instructor, Fred Peskorski (a.k.a. "Mr. P"), soldiered on. They came up with some outstanding solutions, and we want to share the results of their work.
The Projects
Water Jet Wastewater Management
The Background: The water jet cutter is used to cut various foams and plastics. The waste water contains a slurry of these foams and plastics.
The Problem: Develop a system and use for the water jet wastewater.
The Solution: Fabricate a "catcher" which screens the solid foam and plastic sludge from the water phase, feed the captured sludge into a densifier to remove any excess water and form into "eco-bricks" to donate for flood control.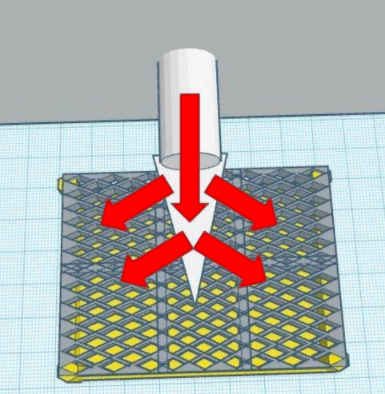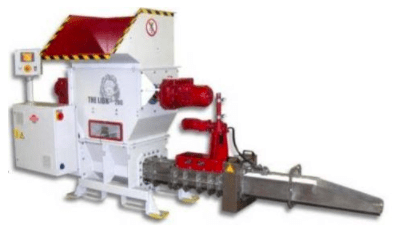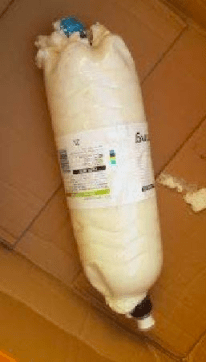 Forklift Training Program
The Background: TBI has several different types of forklifts in four different locations.
The Problem: Design a training and certification program that meets OSHA standards.
The Solution: Reduce the 23 page OSHA document to a 3-4 page training document and create a more comprehensive test to validate understanding.
Emergency Action Plan
The Background: TBI has four separate locations with no coordinated action plans to handle emergencies.
The Problem: Develop an emergency action plan that includes palling for fires, gas leaks, and active shooter situations.
The Solution: The students created an action plan assigning roles and responsibilities for each scenario for each location.
Minimize Machine Scrap
The Background: One of TBI's core competencies is log slitting (a.k.a. single knife or lathe slitting) various foam tape products.
The Problem: The need to secure the log roll of foam tape to the mandrel coupled with size of the carriage that slits each roll results in a scrap roll when slitting each log. The challenge was to design an accessory that could hold the log roll in place but move it out further into the active cutting area.
The Solution: Fabricate a steel water bladder sleeve that uses the air from the mandrel to move water to the log roll. The pressure exerted form the water bladder holds the log firmly in place while moving it into the active cutting area.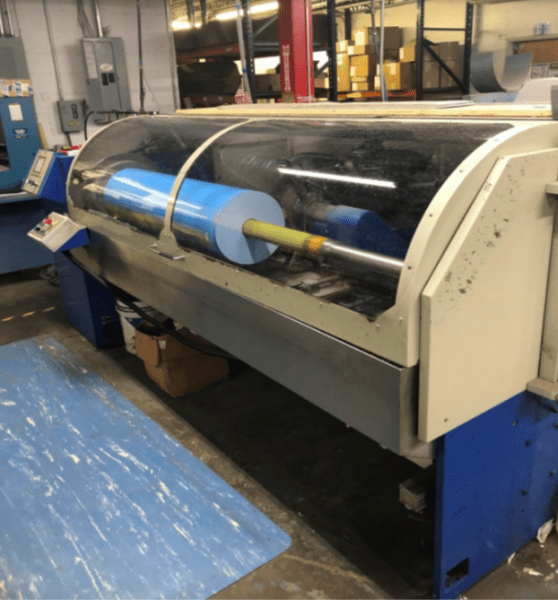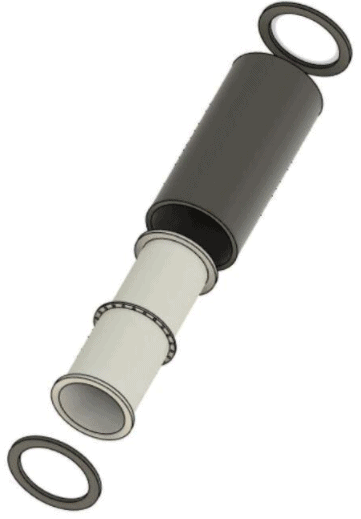 Marketing Program for New Solvent
The Background: Sealants and caulks are sometimes misapplied or need to be removed to do new installations or repairs. Adhesive tapes sometimes need to be removed from various surfaces and may leave behind residue. TBI worked with a specialty chemical manufacturer to develop a safe and effective solvent to remove sealants and adhesives.
The Problem: Create a marketing and promotional plan to help drive sales of the new solvent.
The Solution: The students created multiple ways to promote the product both for display purposes in showrooms and digital strategies to increase outreach and help drive demand. Their tactics included:
A short video showing how the product works that can be viewed via a link on the website or via a video monitor in a showroom

A poster that can be printed and also sent electronically

An email campaign to targeted users in the building and construction industry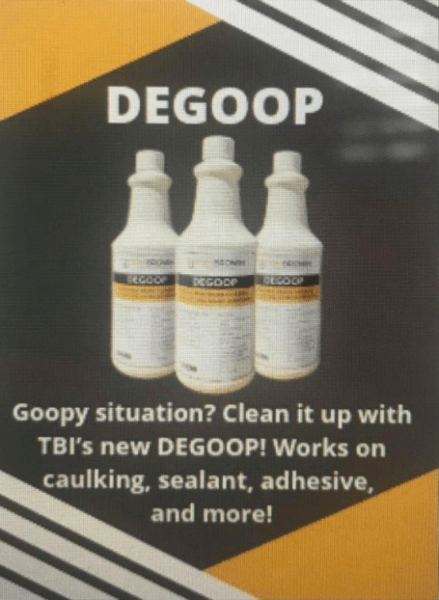 Through his travels in southeast Asia, Dr. David Mathews observed a high volume of air pollution and its effects on local populations. An orthopedic surgeon by profession, Dr. Mathews knew that the levels of air pollution to which Vietnamese and Cambodian citizens were exposed could lead to cardiovascular, pulmonary and other diseases. How could he help?

Dr. Mathews is a longtime friend of Tom Brown, Inc. CEO Kenny Brown and president Brendan Brown. Together, they devised a plan to create a new respirator mask that would help curb the hazards of air pollution while remaining comfortable and unobtrusive to the wearer. 

Through multiple prototypes, Dr. Mathews and company were able to fabricate a form-fitting mask with appropriate sizes for adults and children. The Makana Mask was born.

Makana, a Hawaiian word meaning "something given freely," reflected Dr. Mathews' mission to promote better respiratory and cardiovascular health in southeast Asia. However, as the COVID-19 pandemic made its way across the globe, Dr. Mathews recognized an opportunity to employ the Makana Mask for a larger fight. He knew his masks could help frontline healthcare workers and others desperately in need of equipment to defend themselves and others against the virus. 

A major component of the Makana Masks are the ancillary die cut parts supplied by Tom Brown, Inc. and other companies. You can read more about the mask itself and Tom Brown's contribution on Makana's site: Ancillary Die Cut Parts of the Makana Mask.

Since 2019, Tom Brown, Inc. has collaborated with the Upper Saint Clair STEAM Program. Through USC's Innovation and Consulting course, STEAM courses—Science, Technology, Engineering, Art, and Mathematics—grant students real-world experience in these various disciplines.  Brendan Brown, our president and a graduate of USC coordinated the partnership. Upper Saint Clair High School is located just south of Pittsburgh in Upper Saint Clair Township, and initiated its STEAM program in 2014. Through these courses, students use human-centered design techniques along with traditional problem-solving methods to build their skillsets within the disciplines noted above. The program then collaborates with local business and communities to solve real world problems using their newly acquired skills and the students' personal strengths. These problems are varied and require students to explore topics they might not otherwise encounter within the confines of a traditional classroom.
2019 Upper Saint Clair STEAM Projects
In the first year of Tom Brown's partnership, there were five projects presented to USC students:
Warehouse Lighting Project – conduct a cost/benefit analysis of converting current warehouse lighting to a more energy efficient system.
Inventory Management – Benchmark our current inventory management system and develop a new system or recommend an established system that best fits the needs of the business.
Delivery Service – optimize delivery truck service schedules and present a promotion plan for this new service capability.
Online Marketing – improve search engine optimization (SEO) using keywords from the current website.
Minimize Product Waste – Audit the current processes for slitting bulk product and optimize the process to reduce waste.
The students presented their research and ideas to Tom Brown, Inc personnel. Many ideas were excellent and implemented and all the projects yielded actionable tasks for improvement.
2020 Upper Saint Clair STEAM Projects
Second year projects include:
Water Jet Wastewater Management – develop a plan to optimize waste water from water jet cutting of foam materials.
Forklift Training Program – design a forklift training program that meets all OSHA regulations so employees can be trained and certified.
Emergency Action Plan – design an emergency action plan to cover fire, injury, and other catastrophic events including an evacuation plan and roles and responsibilities.
Minimize Machine Scrap – design new components and processes to reduce scrap and improve material utilization.
Marketing Program for New Solvent – develop a marketing and promotion plan for anew solvent to remove misapplied sealants, caulks, and adhesives.
MIT App Inventor for Inventory Management – using MIT App Inventor to make an app for multi-bin, multi-SKU inventory management.
Engineering New Roof Canopy – design a new free span canopy roof from a recent cleared area at the rear of the building to hold overflow inventory.
Students Remain Undeterred
The COVID-19 pandemic certainly adds a new dimension to the USC STEAM program this year. Students must collaborate online with classmates, teachers, and business owners to complete research, design solutions, and present their recommendations. However, like each of the projects listed above, the USC STEAM program students met this challenge and excelled. Look for future blog posts detailing individual projects and their outcomes. Learn More about Tom Brown, Inc's Community Outreach TBI believes in being an active member of our community. If you're interested in partnering with us for a similar program, contact us today.

One of the best parts of my job is learning what our customers do and how they manufacture their products. Once in a while you end up doing business with a really cool customer. It's kind of like being asked to sit at the lunch table with the "cool kids". The "cool kids" in this case are Voile Manufacturing. They are a premier manufacturer of high performance backcountry skis, splitboards, and accessories. And for those that don't know, backcountry skiers are those hardy souls that forgo buying a lift pass and make their way up a mountain under their own power and then shred their way down in snow the way nature intended. It's very demanding in terms of skier ability and the equipment that they use. That includes the required protective tapes for ski and snowboard manufacturing used before the equipment ever sees the snow. 
What's the Connection Between Skis and Tapes?
I'm not going to bother trying to explain how skis are made. There are several types of skis and methods of manufacture. Suffice it to say that many skis and boards feature some really great graphics and protecting those graphics during the hot press step and the subsequent tuning steps is important to produce a flaw—free ski or board.
That's where protective tapes come into play. There are two basic families of products than offer effective protection. The first is a crepe paper masking product. This is not the masking tape you buy in the office supply store. This crepe paper was designed to work in the composites and automotive paint industries where heat and complex shapes demand good adhesion and clean removability. The rubber –based adhesive system is formulated to withstand temperatures up to 121̊C (250F) and not produce residue.
The second family is a film based product that utilizes embossed polypropylene film. The embossed polypropylene film provides good transparency so you can see the graphics, good conformability over the ski or board, and superior abrasion resistance.
This tape also features a specially formulated rubber-based adhesive that can tolerate press temperatures up to 130̊C (266F) and still offer clean removability.
Learn More About Protective Tapes for Ski and Snowboard Manufacturing
Want to know more about high performance backcountry ski equipment? Contact Voile Manufacturing at www.voile.com. To learn more about protective tapes for ski and snowboard manufacturing, Contact Tom Brown, Inc.
Some assemblies require die cut parts that are much larger than what is typically associated with tapes, gaskets, and other similar products. Examples include gaskets and seals for metal building panels, seals for truck trailer applications, POP displays, curtain wall gaskets, heat shielding, and other automotive applications.
Tom Brown, Inc. has the capability to provide these large format parts in the right size, at the right time, and at a cost effective price point. Supporting the die cutting capabilities is a large format laminator that allows multilayer laminates to be created that have the right combination of properties to meet the technical requirements of the application. Prototype parts can also be offered without incurring cost associated with metal dies.
Advantages of Large Format Parts
Large format parts reduce the number of smaller parts needed to produce an assembly. This often saves time in the assembly process and reduces the number of SKUs in inventory.
Larger parts forgo the need for seaming together numerous smaller parts. This is critical especially when the seam itself might be a weak point in the assembly. This is especially critical for gaskets in building and construction applications as well as heat shielding for transportation.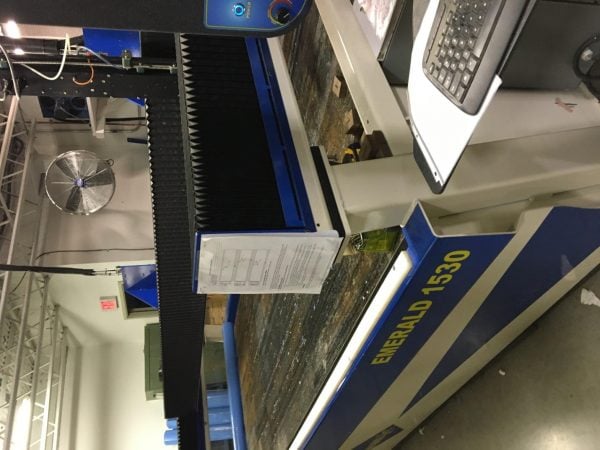 Think of Tom Brown, Inc.
Large format die cut  parts require specialized equipment and TBI can provide tight tolerance parts as large as 5 ft x 10 ft using our precision water jet cutting system. Want to learn more about large format parts? Contact Tom Brown, Inc. today!
Adhesion is the ability of dissimilar surfaces to bond or stick to one another. Adhesion science is multifaceted and cannot be completely explained in a short blog post but the basics of tape adhesion are not difficult to understand.
Types of Adhesion
There are various mechanisms that can facilitate adhesion:
Chemical – this occurs when the surface atoms of two surfaces form a new compound that is intrinsically linked to both. This is how many liquid adhesive systems work such as cyanoacrylates or "SuperGlue".

Dispersive adhesion – this is a type of adhesion that relies on Van der Waals forces. Simply put, these weak forces occur in regions of one surface that have a slightly positive or negative polarity and are attracted or repulsed to a region on the other surface. While these may be present in a small way in tapes, they are not the main mechanism for tape adhesion.

Diffusive adhesion – this mechanism is a merging at the molecular level of the species of one surface with the species of the other surface while still being attached to the main chain. This "entanglement" provides a level of adhesion depending on the chemical makeup of the surfaces involved. Again, not the principal way that tapes adhere.

Mechanical – mechanical adhesion or interlocking occurs when the adhesive fills the voids or the "hills and valleys" of the intended surface. This mechanism is definitely a part of what makes tapes stick. That interlocking happens primarily due to surface energy. That is the main idea we want to discuss.
Surface Energy
Surface energy is a property of a material in much the same way as density, tensile strength, or melting point. It is the attraction of the molecules of a material to its' own molecules and to the molecules of another surface. It is an effective measure of how difficult or easy it might be to establish a bond.
Surface energy determines how easy it is for the adhesive tape to "wet out" or spread over the surface and establish a bond. This intimate contact and flow over the surface and its' topography is what allows the tape to maximize the surface area and increase adhesion.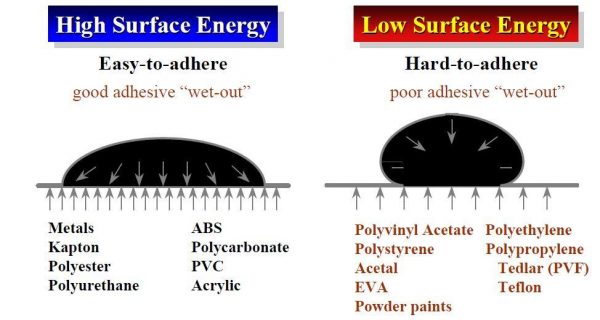 (Table courtesy of Berry Plastics)
The easiest analogy to understand surface energy is that of a waxed and unwaxed car. On a waxed car, a drop of water will "bead up" and not wet the surface. This is an example of low surface energy.
Conversely, when you have an unwaxed car, a drop of water will rapidly spread out and easily establish contact. This is high surface energy.
One of the reasons you see so many types of tapes even within the same family is that the adhesive chemist can deliberately modify or compound the adhesive to deal with the surface energies of the materials to be bonded. This is why the first question you will be asked about any adhesive tape application is, "What are you trying to bond to?"
One of the wonderful things about the tape industry is the breadth of products available to help solve a variety of bonding challenges. Do you have questions about how to bond to a specific surface? Contact Tom Brown, Inc. to learn more.
I often get a bewildered look when I talk about selecting a transfer adhesive versus a double coated tape. Most people aren't familiar with the differences even though in the most basic way they both join or bond two surfaces together. The purpose of this blog post is to help you understand the important distinctions between theses two forms of tape and why to choose one over the other.
The Basics
A transfer adhesive is a coating of pressure-sensitive adhesive on a release liner. The majority of transfer tapes range in thickness from 1-5 mils although there are some specialty products that fall outside this range. There are also reinforced transfer adhesive versions that use fiberglass stands or thin, open scrims to help reinforce the adhesive making them more of a hybrid.
By contrast, a double coated tape has a coating of pressure-sensitive adhesive coated on both sides of a carrier. This carrier is often a film (polyester, polypropylene, UPVC) but could be also be paper or tissue.

The carrier can perform a variety of functions in the tape such as:
Stabilizing the adhesive

Allows different  adhesives or thicknesses  to be used on each side

Adds thickness and dimensional stability

Improves handling

Can provide a barrier between the adhesive layers
Overall Comparison
Double Coated Tape / Transfer Adhesive
Typically thicker (3-10 mils)

 / 

Typically thinner (1-5 mils)

Less conformable / 

More conformable

Easier to dispense / 

More difficult to dispense

Can be spooled / 

Difficult to spool unless reinforced

Reinforces substrate / 

Does not reinforce substrate
Part Geometry
The shape of the part to which the tape will be applied plays a significant role in choosing a transfer adhesive or a double coated tape.
When you want to bend the tape around sharp edges or compound curves, transfer adhesives have the advantage. The lack of a carrier enables the adhesive layer to more really conform and remain adhered to the surface provided the right adhesive type and thickness have been selected. A carrier can often induce forces into the bond line that cause the tape to "flag" or lift as it tries to go back to equilibrium.

When you're bonding to a flat surface or you need increased support for another layer such as open cell urethane foam, the double coated tape will give you that extra support and handling capability.
Double coated tapes and transfer adhesives are the workhorses of the bonding and assembly world. Knowing when to choose one versus the other is important and can help improve the chances for success in your application. Have questions or want more information? Call Tom Brown, Inc. today!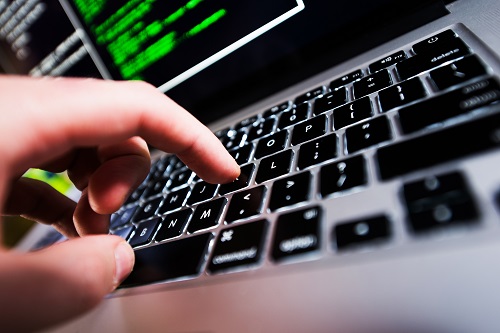 As mentioned in an earlier blog post, material selection, types of equipment used, and form factor or part presentation all affect the cost of die cut parts.
In the converting world, raw material costs typically are the main cost driver; usually 50-75 percent  of the overall costs. In this post, we'll explore this topic a bit more.
On The Print
Oftentimes, specific materials are listed on the drawing or print of a die cut part. This is not a bad thing, but it can have unintended consequences, particularly if the print has not been updated in some time. Older materials with a higher cost structure can become ingrained in the buying process, and newer or lower cost materials are overlooked.
Higher Performance Materials
Depending on the application, there might be higher performance products available that will enhance the overall performance of the die cut part. This could be through higher adhesion, enhanced temperature performance, or better load bearing capabilities. Converters have access to a significant amount of technical information that can help you make the best choice.
New Products
Sometimes we see old prints that call out materials that have been surpassed by newer offerings. While it's nice to know that the older materials are still available, they may not be the best choice now, particularly if you are looking at light-weighting or cost reduction efforts in a new program.
Lower Cost Materials
Raw material suppliers constantly introduce new materials. Some of these new offerings are designed to reduce costs while others are to increase performance.  Converters who have access to the newest materials can assist you with making the best choice at the right price point for your application.
Ask us!
Do you have questions about materials and die cutting costs? Tom Brown, Inc. is an experienced converter and can help you to find the best material for your application. Contact us today!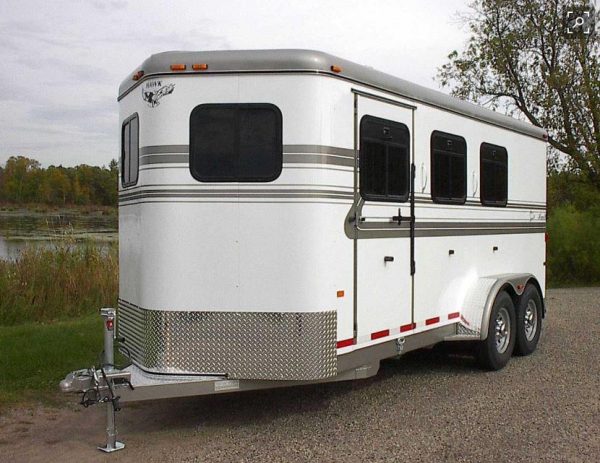 A utility trailer is an important piece of equipment for their owners. It might be transporting tools or equipment to a job site, or it might be taking horses or race cars to the track. No matter what the job, trailer owners need and want a trailer that is durable,  that doesn't leak and looks good.
One of the best ways to accomplish all of these goals is to use acrylic foam tapes in the fabrication process. These high performance tapes have many benefits over traditional mechanical fasteners that typically result in a quieter ride, improved leak resistance, and a smooth high quality appearance.
Mechanical Fastener Challenges
Mechanical fasteners have been used in trailer fabrication for decades, but they do come at a cost. Workers use power tools to drill holes and to apply rivets and screws. The tools are loud, they create water penetration routes through the panels and framing members, and drill bits need to be replaced.
The real problem comes during trailer use. Routine use results in road vibrations that cause drilled holes to elongate, which makes the fasteners rattle, and also creates a perfect path for water ingress.
As the trailer heats up and cools down, the cycling can create a quilted type appearance in the side panels as it heats up and cools down due to point stress  created at the fastener head.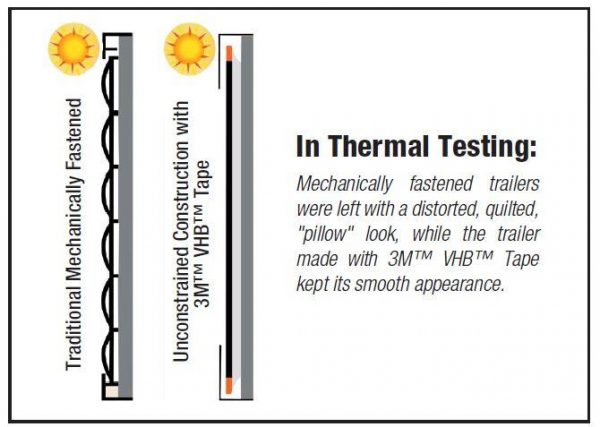 Performance and Benefits
3M performed an independent test where two identical trailers were made; one using VHB acrylic foam tape and one using mechanical fasteners. After being towed for 100,000 miles, the trailer fabricated with the tape had no gaps in the panels or delamination. The trailer, on the other hand, fabricated with the mechanical fastener, had 30 percent  of the fasteners become loose after just 30,000 miles.
Using a pressure washer for subsequent water testing resulted in significant leaks in the unit made with the mechanical fasteners, while the tapes unit held tight – all the way up to 3200 PSI water pressure.
Acrylic foam tapes provide significant performance advantages. The cycle time to produce the trailer drops once workers try the tape applied system and the final customer gets a trailer that doesn't leak, is durable and has excellent aesthetics.
Want to know more about acrylic foam tapes for trailer fabrication? Contact Tom Brown, Inc. today!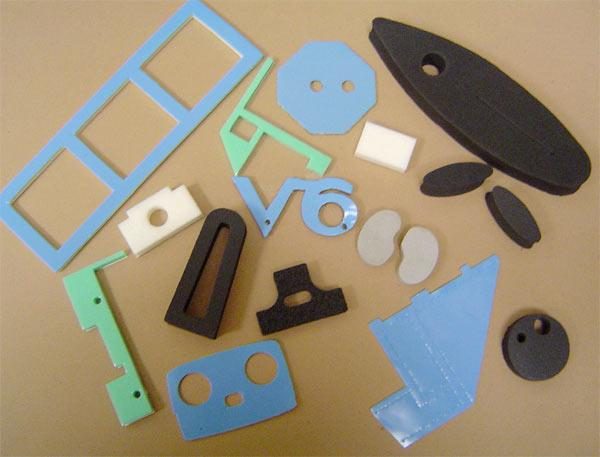 Die cutting costs are driven by three main factors:
Material Selection

Processing Equipment

Form Factor or Part Presentation
Material Selection
The material (or materials) that will be die cut are typically the largest percentage of the overall cost of the part, usually 50-75 percent. Sometimes, the materials are specified on a print after they have undergone testing, or some selection process, by an engineering or technical function to determine their suitability for the application.
In other instances, you might only know what the die cut part needs to do in the end use, but not what material is necessarily the best option. Here's where a converter can bring real value. They can recommend high performance options, "workhorse" type options and less expensive options. They can often be presented in a good, better, best sequence for performance and price to help make sure the part is over- or under- engineered.
Processing Equipment
Typically, converters  have more than one die cutting process. There are rotary presses that have very high output, but  more expensive dies and size limitations. There are flatbed presses that are typically slower, but have lower tolling costs. And there are waterjet/flash knife/laser cutting systems that have no tooling costs, but are more suitable for lower volume production or large format parts that can't be processed on smaller equipment.
Form Factor/Part Presentation
 Do you need individual, discrete parts, or parts kiss cut on a common release liner in a pad or a roll?  Do you need the "slugs" removed (the part of the die cut that is "waste"), or a dry edge or "finger lift" added to make it easier to remove the release liner after installation?
All of the above factors play a role in determining the costs associated with die cut parts. Keep in mind the concept of
total applied cost
. Sometimes, you might invest a bit more upfront only to get a return later on reduced labor and higher throughput.
Want to know more about die cut parts for your assembly operation? Call Tom Brown, Inc. today!
In our last blog post, we went through the process to de-glaze unitized and cassette curtain wall units that had been previously glazed using 3M's structural glazing tape (SGT). The simple six-step process, developed by Project Vision Dynamics (PVD) in Plant City, Florida,  is a simple and safe process to get the IG units and frame apart to help keep your curtain wall installation moving along without losing excessive time. Now, we'll walk through the re-glazing process and you'll have the all the tools you need for success.
The SOP
The most important document you'll get from 3M is the SOP (Standard Operating Procedure) that is tailored specifically for the exact IG and extrusion you are using in your project. That is the ultimate document to consult when re-glazing, but all SOPs follow the same basic seven-step procedure which are outlined below:
Clean the extrusion

Prime the extrusion

Apply the structural glazing tape

Clean the IG unit

Prime the IG unit

Bring the IG unit and extrusion together

Apply sealant at the corners
Cleaning the Extrusion
Place the deglazed extrusion on your workbench.  Clean the surface where the tape will be applied using a 70% isopropyl alcohol (IPA) /water blend using a two towel method. The two towel method is simple. Take two lint free towels and fold them into fourths. Wet one lint free towel well with the IPA, and have a dry, lint free towel in the other hand. Starting in one corner, wipe the IPA on the extrusion and follow about 8 inches behind with the dry towel. Don't do any more than two legs of the extrusion before you unfold the towel and expose clean sides on each towel. Finish the last two legs of the extrusion. If for any reason the towels are excessively dirty, repeat the cleaning step again.
Priming the Extrusion
The most frequently used adhesion promoter is 3M's AP111, but sometimes the SOP will specify Primer 94, depending on what paint system is on the extrusion. The AP111 can be applied via a dauber bottle, followed by a lint free cloth wipe, or you can wet a lint free towel and, using the two wipe method outlined above, follow the same procedure.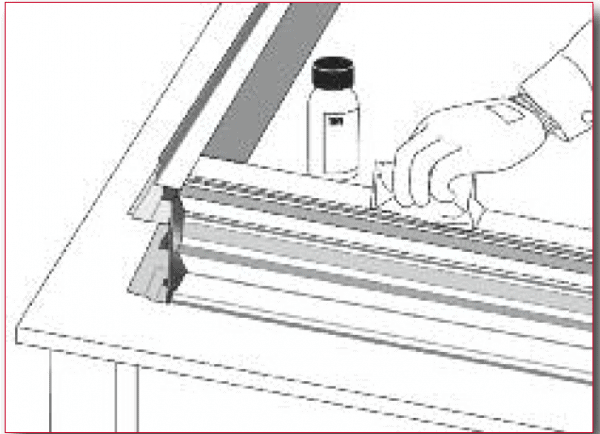 Applying the Tape
Once you have applied the adhesion promoter, you have about a 10-minute window to apply the glazing tape. (If for some reason you get called away for more than 10 minutes, don't panic! Just start over again at Step 1, and you're good to go!). Apply the tape down each leg of the extrusion using an HTA (Hand Tape Applicator). Here are two tips to help you: Don't push down on the HTA; just pull the HTA lightly in toward the inside of the extrusion, and let the SGT unwind naturally from your other hand. Don't try to keep the tape under tension, which can stretch the tape.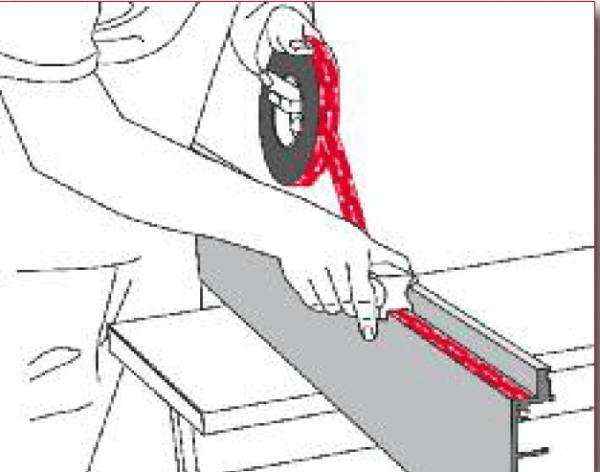 Once you apply the tape while also making sure the corners overlap, trim each corner with a sharp razor blade in a guillotine-like motion to create a nice tight fitting butt joint at each corner.
Using a j-roller, make two passes with the roller on each leg of the extrusion. You're only trying to exclude air from the bond line on your first pass, so keep it nice and light! On the second pass, bear down a bit more using 15 pounds of pressure. (15 lbs. is really easy to achieve even for a smaller person).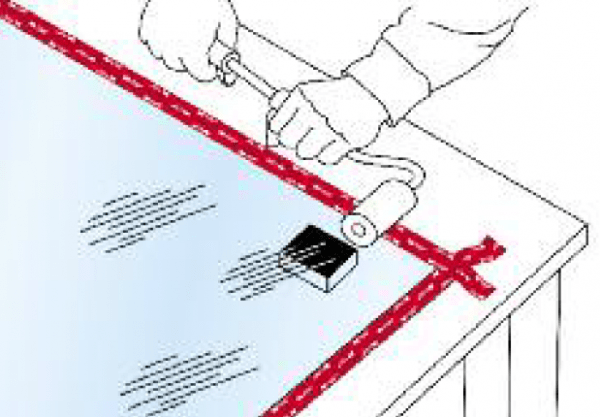 You can set the extrusion aside at this point. If you're going to apply the IG unit on another day, put a piece of masking tape over the butt joint at each corner to prevent the liner from lifting prematurely and hang the extrusion on a peg.
Cleaning the IG Unit
If you followed the deglazing procedure properly, you should have a fairly clean IG unit free of any excess tape or contamination. If you don't, grab a lint free towel and wet it well with the IPA,  cleaning the glass with an additional cleaning using a scrubbing motion.
If your glass is clean, then you can go to the two cloth method as you followed in the extrusion step. Wipe all the way around each leg, doing two legs before unfolding and refolding your wipe, to a clean face before finishing the final two legs.
Priming the IG Unit
The adhesion promoter, AP115, for the IG unit is chemically different from the AP111 used on the extrusion. But, like the AP111, the application method is similar. You can use a dauber bottle, or  a wet a lint free towel using the two towel method again to apply the silane adhesion promoter.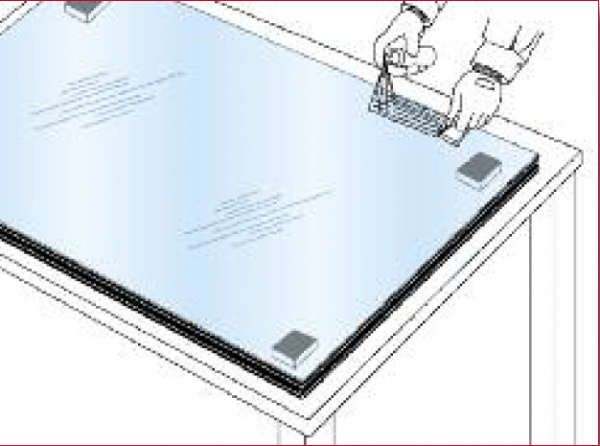 Joining the IG Unit to the Frame
If you're re-glazing a cassette system, you're typically going to leave the IG unit lying on the workbench, applying the frame from the top. If you're re-glazing a unitized system, you will likely have the extrusion lying on the workbench, applying the IG unit from the top, as the unitized frames are much deeper than the cassettes.
In either case, once you have applied the silane adhesion promoter to the IG unit, you have a 10-15 minute window to join the frame and glass. In either case, wipe the red liner covering the tape with a lint-free wipe before proceeding, to make sure that no dust or contaminants are present.
Cassette Specific Procedure
With the cassette, you're going to do a process called "pig-tailing." This is a simple process where you take a blade or utility knife and flick up the edge of the red release liner from each corner, pulling away about 3 inches of the liner toward the center of each leg, as seen in the diagram below.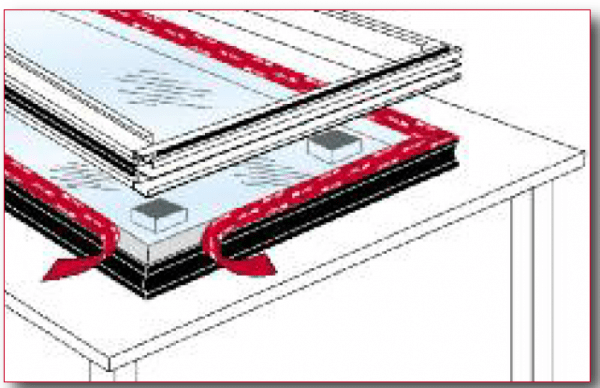 Once you have all the corners exposed, get your buddy, on the opposite end of the frame, and turn it over together to get the tape pointed down toward the IG unit. Using your fingers, lower the frame to help align the frame edges and the IG unit. Once aligned, press down once lightly on the corners to temporarily anchor it in place.
Now stand in the center of each leg and pull one end of the pig-tailed liner toward the center of the leg, at about a 45°angle, stopping at the center. Now grab the other end and pull toward the center in the same manner. You can use your fingers to lightly lift the extrusion away from the glass in the center of the leg to completely pull out the red liner. Repeat this step for all legs of the frame.
You can now push down once by hand around the frame perimeter to position everything properly. You will then take the Developmental Industries SGT-PPA 150 pressure-applicator, set at 80 PSI, and make two passes down each leg of the frame/glass composite, to achieve good tape wet out and immediate handling capability. See diagram below.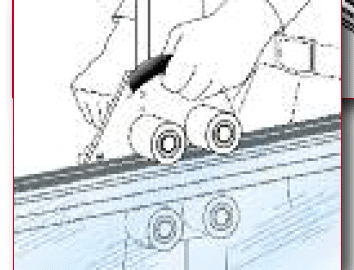 Unitized Specific Procedure
Since the unitized system will likely be larger, you will not be following the pig-tailing procedure as with the cassettes. You will completely remove the liner from each leg of the extrusion and then lift the IG unit using a suction cup device to safely lift and move the IG unit into place as in the diagram below.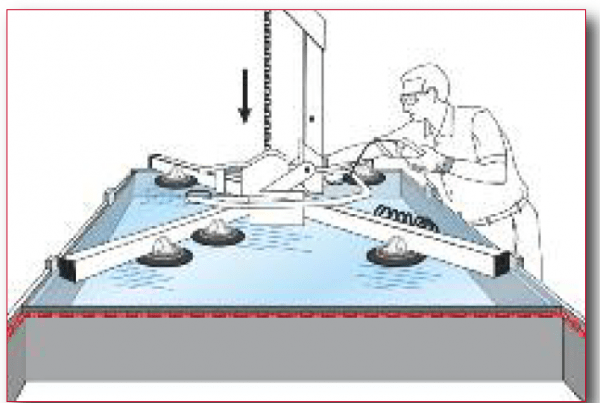 At this time, the Developmental Industries pressure applicator does not work on deep unitized frames. This problem will be solved in the very near future as the folks at PVD have developed a new pressure applicator that works on deeper frames. In the meantime, you can use an Irwin Quick Grip Bar Clamp, that can be purchased at any hardware store, and work your way around the unit until you have applied a clamping force all the way around. One caution: some of these clamps can generate 600 lbs. of force which will crack the IG unit. You only need enough force to wet out the tape – typically the 100-150 lb. range is more than enough.
Apply the Sealant at the Corners
The last step is to gun a thin bead of sealant around each corner (3-4" around each corner) of the frame where the tape/frame/glass interfaces, and tool it into place. This can be done with specific spatula-type sealant tools, a wooden tongue depressor, or if all else fails, your fingers.
A one part, neutral cure silicone sealant is preferred, but any gun-able waterproof sealant will (technically) work.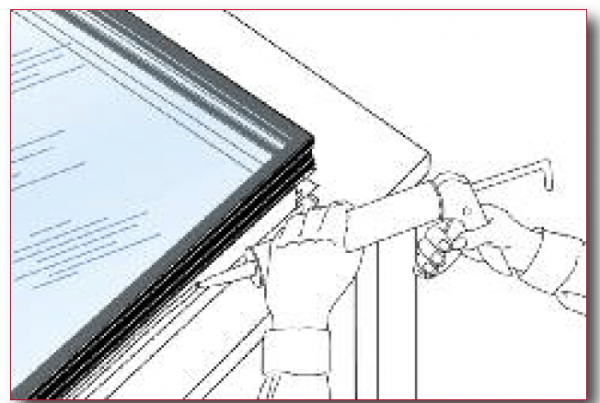 You're done! With just a little practice, a cassette can be deglazed and re-glazed in under an hour. A larger unitized system will take a bit longer. Still have questions? Contact Steve Sherman at PVD (
www.projectvisiondynamics.com
) or Rick Alexander at Tom Brown, Inc..
Deglazing is never a popular topic when it comes to curtain wall or window wall systems. But sometimes, things go wrong and you can't afford to wait 8-12 weeks to get new IG units or extrusions. You have to deglaze the affected units to meet your deadlines. Fortunately, the folks at Project Vision Dynamics (PVD) in Plant City, Florida,  have come up with a very practical approach that is safe, easy to follow, and requires no exotic tools,.
Step by Step
PVD trained us to deglaze both a unitized system from Kawneer (2500 series) and an Oldcastle Reliance Cassette. The method is the same for both systems:
Pre-tape (mask) the perimeter of the glass where it meets the extrusion using 3M Blue Painter's Tape or other masking tape to help prevent scratching of the IG unit. (see photo below)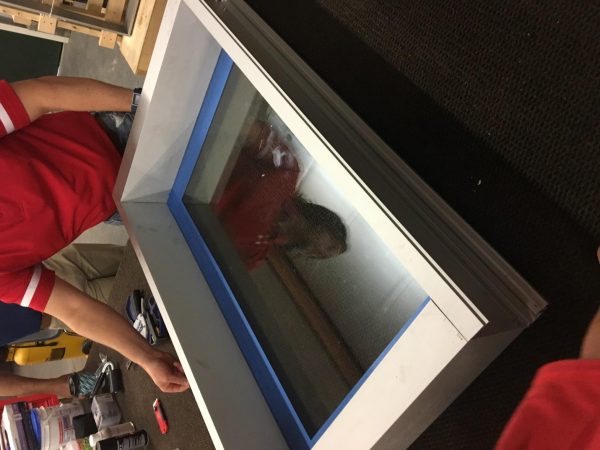 Get yourself a hand-held reciprocating undercut saw, with some 1.25" fine blades or a mushroom head blade, AND the magic ingredient– Mean Green Auto and Garage Cleaner and Degreaser. You can buy it at Lowe's for about $8 per gallon. You'll need a spray bottle to apply the degreaser. (see photo below)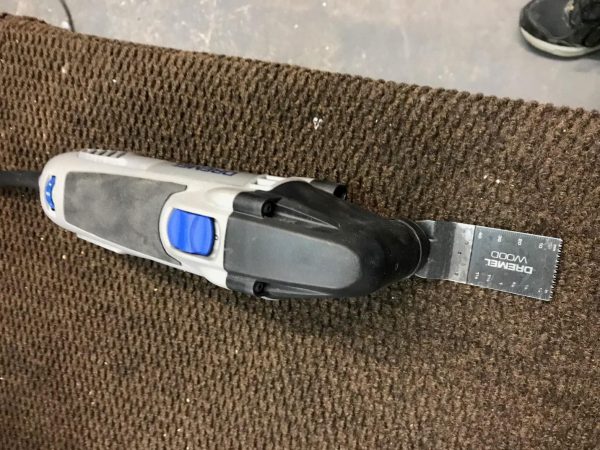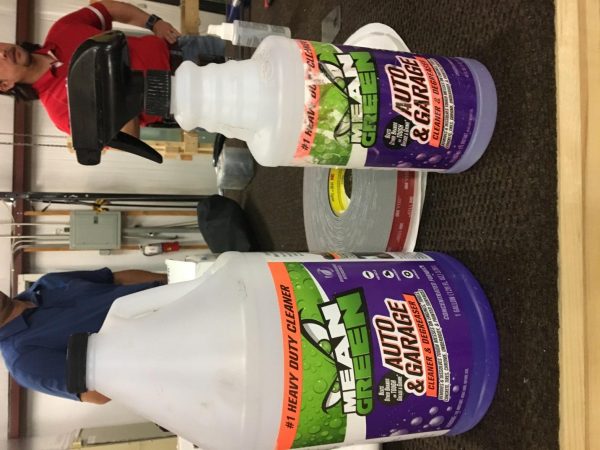 Spray the degreaser into the glass /extrusion interface about 3" from a corner and insert the undercut saw. Go slowly and work towards the corner, keeping the interface lubricated enough to keep the saw blade moving smoothly Here's the

important tip

….keep the saw blade cutting as close as possible to the glass surface. The tape is 90 mils thick, and the thicker you leave the tape on the extrusion, the easier it is to remove it in the next step.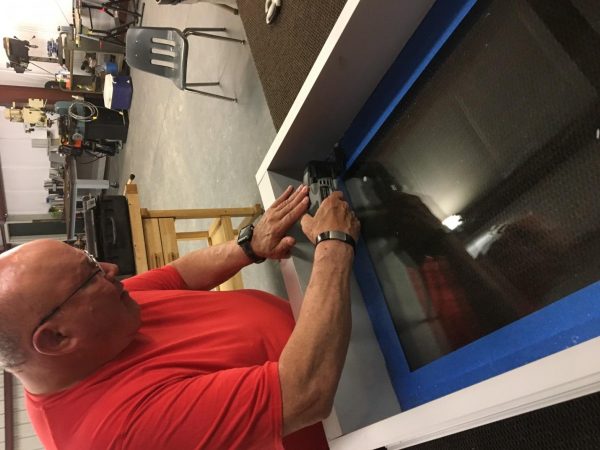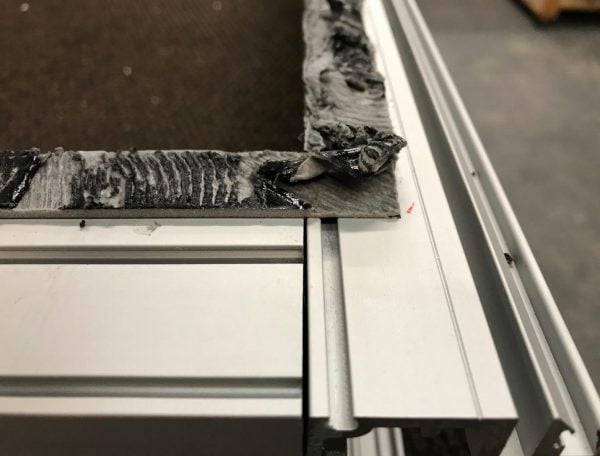 Insert shims or wedges into the corners as you go along to make the undercutting easier.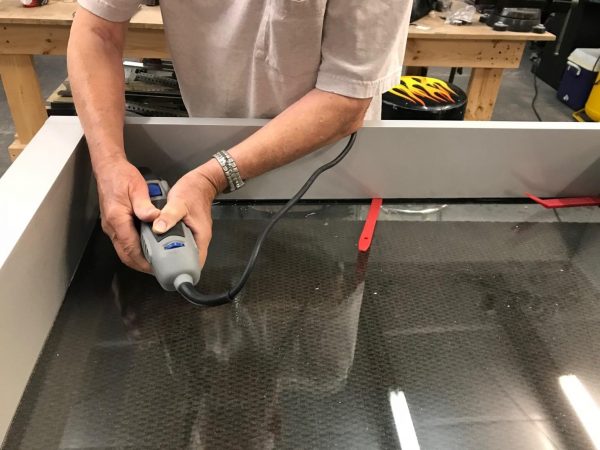 Once you have undercut the entire perimeter, remove the frame from the IG unit and begin to "stretch release" the tape by loosening an edge with a razor blade,  pulling slowly towards you at roughly a 45° angle. This tape is a cousin to the "3M Command" brand of hooks and removes in a very similar fashion. Any problem areas can be cleaned up by spraying more Mean Green onto the area and using the razor blade to scrape away the tape.

Finally, clean the glass and extrusion using 3M's Citrus Based Adhesive Remover to prepare for reglazing.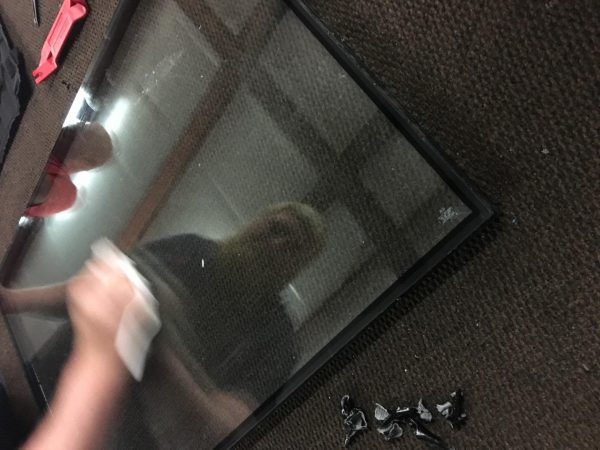 And that's it! It takes a little practice, but we deglazed both the unitized system and the cassette in less than 30 minutes. If you need any further assistance, you can call Steve Sherman, at PVD, (he's the Yoda of the curtain wall world … only taller!) or Rick Alexander, at Tom Brown, Inc.  (www.projectvision dynamics.com)
Materials and Tool List
Reciprocating undercut saw and blades

Mean Green Auto and Garage Cleaner and Degreaser

Straight edge razor blades (and holders for safety)

3M Citrus Based Adhesive Remover

Plastic or wood shims

Wiping towels (don't have to be lint-free, but it doesn't hurt)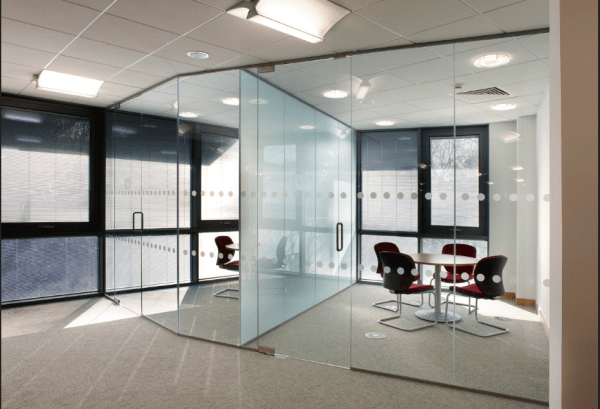 Thick film acrylic adhesive tapes are ideal alternatives to sealants for glass to glass partitions and shower enclosures. They provide a nearly invisible bond line and a durable, high strength bond that is attractive and easy to apply.
Part of the VHB Family
3M 4918 is an 80 mil thick, clear, viscoelastic core that is designed for bonding glass and other transparent materials. There are two sister products-4905 (20 mil) and 4910 (40 mil) that are the same acrylic core but in different thicknesses so you can pick the right product for the job. These products offer outstanding solvent resistance, adhesion to high surface energy materials such as glass, and have excellent temperature resistance up to 300°F.

Benefits to Your Customer
While high performance physical properties are important, what counts more is the value the product brings to the installer and the owner.
Easier to install than gunnable sealants

Uniform, invisible sight line

Better visual aesthetics than extrusions

Outstanding static shear resistance

Durable adhesion even at elevated temperature and humidity

Great shock and stress absorption properties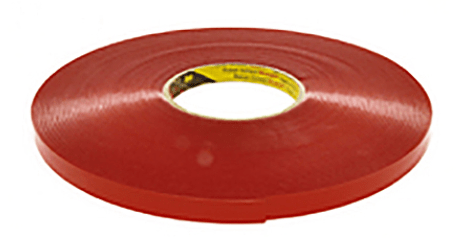 And Tom Brown, Inc. has it!
4918 is no longer offered by 3M in North America but Tom Brown, Inc. has log roll inventories in our Pittsburgh and Salt Lake City plants. We will convert to your specification-whether in slit roll form or die cut parts. We also offer the 4905 and 4910. Need to get some quickly for your project?  Give us a call.
Microcellular polyurethane foams are everywhere and chances are, you don't even know it. Pick up your cell phone, get in your car, or turn on your computer and odds are that microcellular polyurethane foam is there sealing and protecting against bumps, shocks, and isolating against vibrations.
What are Microcellular Polyurethane Foams?
Microcellular foams are designed to contain billions of tiny gas bubbles that are less than 50 microns (thus the name "microcellular") in size. These foams are produced by dissolving  gases in varying amounts into the polymer under high pressure. A process called nucleation helps the bubbles or cells form into a fairly uniform pattern and the gas selected has a strong influence on the density of the resulting foam.
What Does All That Mean?
The resulting foams from the production process result in high performance materials that:
Offer excellent compression set resistance

Are highly resilient and will not collapse even after repeated opening and closing

Seal out moisture and are resistant to oils, greases, and aliphatic hydrocarbons

Noise isolation at high frequencies and vibration isolation at large amplitude and low frequencies

Maintain flexibility even in extreme conditions

Exhibit low outgassing and non-fogging properties

Are easy to die cut into intricate shapes

Microcellular Foam Applications
The number of applications and markets where microcellular polyurethanes are used is too large to list in one short blog post but some of the more popular applications include:
Electrical and electronic housings and enclosures

Cellular phones

Electronic gaskets

Instrument panels

Bumpers and pads

Automotive gaskets
Physical Properties
One of the premier manufacturers of microcellular polyurethanes is Saint Gobain. The densities available run for super soft to very firm. The workhorse K series data set is shown below to give some reference points for the more important properties.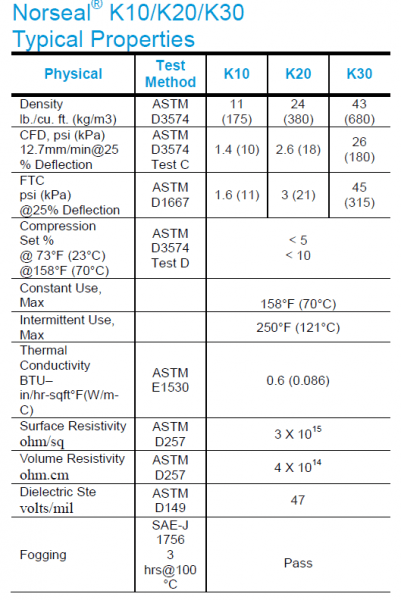 Want to learn more about microcellular polyurethanes and what they can do for you? Contact Tom Brown, Inc. today.
(Photos and Data Table Courtesy of Saint Gobain Tape Solutions)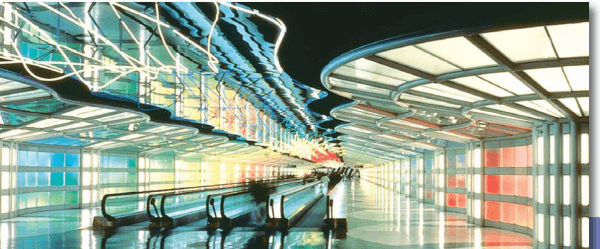 Architectural panel tapes (APT) are high performance double-coated acrylic foam tapes designed to replace rivets, welds, liquid adhesive systems, and other mechanical fasteners used in the fabrication of curtain walls, exterior cladding, and interior panel bonding and trim attachment.
The Benefits
The architectural panel tapes bring much more to the table than just replacing mechanical fasteners and liquid adhesives:
The viscolelastic properties of the tape absorb shock and flexing for reliable bonds against wind loads, vibrations, and thermal expansion and contraction.
The tape fills gaps to seal out water, dirt, and air.
The tape is invisible and hidden in the bond line. It doesn't telegraph through the panel and enhances the appearance and beauty of the panel.
Tapes excel at joining dissimilar materials and permit the selection of a wider variety of materials for more stunning results. This includes painted metals, powder coated metals and hard to bond surfaces such as acrylic and polycarbonates.
The Proof is in the Performance
Architectural panel tapes have some formidable physical properties. Most people are stunned when they are given a demonstration part that is put together with APT. They simply can't get them apart no matter how hard they try but the data is really what tells the story: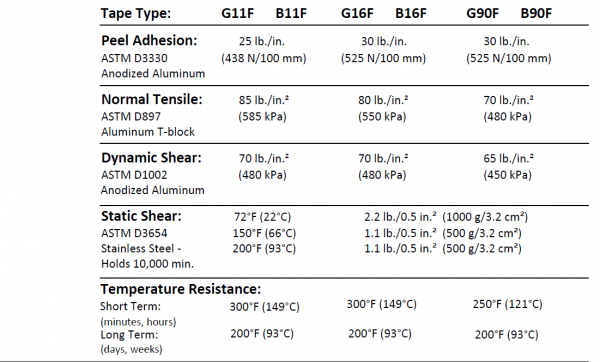 Applications
These tapes perform in both exterior and interior applications including:
ACM panel bonding

Exterior cladding and curtain walls

Interior column cladding

Stiffener to panel attachment

Clip bonding and attachment

Mirrored and glass ceiling tile attachment

Trim bonding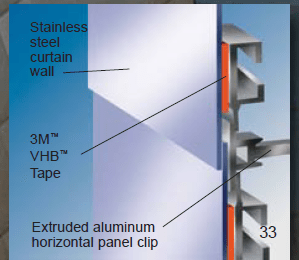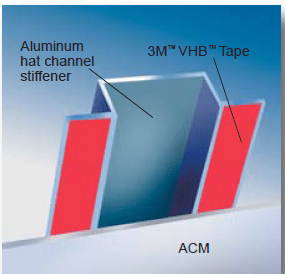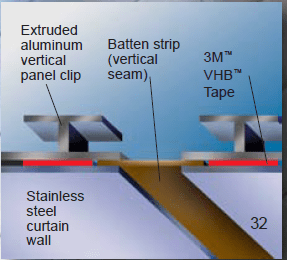 Want to learn more about APT or get some samples to try? Give Tom Brown, Inc. a call today!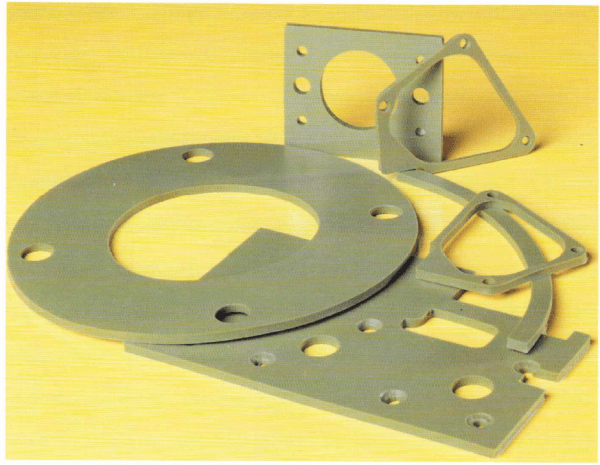 Silicones are a large family of elastomers with a unique chemical structure that  gives them superior high and low temperature capabilities that are unavailable in other families of elastomeric materials.
Silicones are very inert and, therefore, resist sunlight, ozone, oxidation, water and various chemicals. They contain no acid-producing chemicals and do not initiate corrosion.
Thermal Stability
Silicone's physical performance properties are not affected by prolonged exposure to low temperatures (100°F), or high temperatures (+500°F), and can even withstand intermittent exposures to higher temperatures. (see Figure A below)
Silicones far outperform other elastomers in general service life, compression set resistance, electrical strength, and non-stick properties. They also exhibit good chemical resistance. Some solvents, such as gasoline or aromatic hydrocarbons, may cause temporary swelling of the polymer. But the material will return to its original dimensions after evaporation.

Variations
Silicones are available in solid rubber, sponge and foam rubber forms with a variety of  durometers. General purpose silicone rubber is extremely versatile and is often the best choice for applications involving high heat and pressures.
Silicones can be modified with fluorinated compounds to improve chemical resistance and phenyl chemistry to drive low temperature performance even lower to -130°F.
Fillers can be added to gain electrical conductivity, thermal conductivity and flame retardant properties. Fiberglass reinforcement can be added to improve dimensional stability.
Figure B below shows the compression-set comparisons for various grades of silicone rubber, sponge and foam.

Adhesive Options
Silicones exhibit low surface energy, which can make them a bit tricky to laminate with adhesives and achieve good anchorage. Tom Brown, Inc. has the know-how to modify the surface to permit lamination with either silicone or acrylic adhesive systems for gasket attachment or general bonding. Silicone pressure-sensitive adhesive exhibit temperature performance similar to that of the silicone elastomer (100°F to +500°F). Acrylic adhesives are a cost-effective option for some applications, but you trade away some of the temperature range. These adhesives will typically work in the -20°F to +350°F range.
Want to know more about silicone elastomers? Contact Tom Brown, Inc. today for samples, technical data, or to discuss your specific application.
(Photos and table courtesy of Saint Gobain Tape Solutions)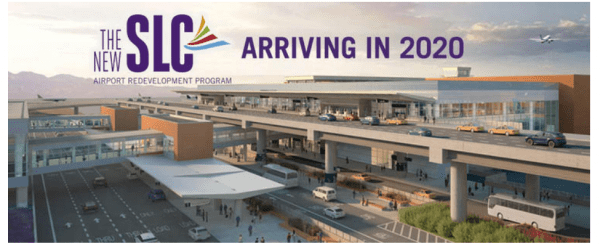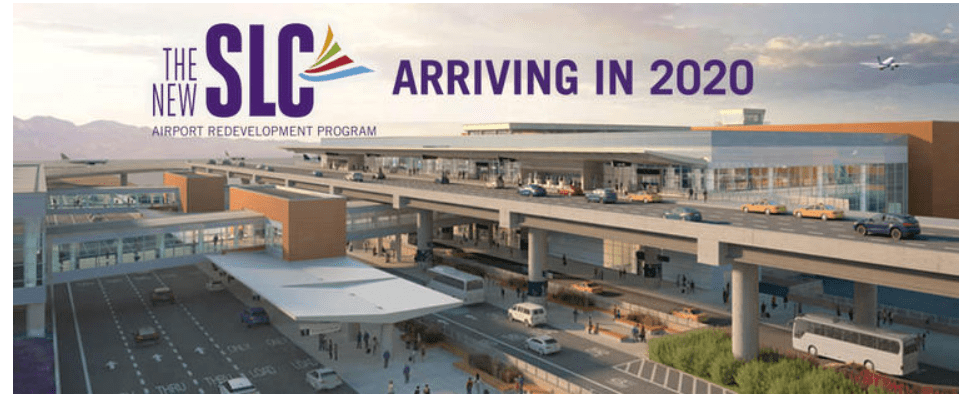 One of the fun things about working with large curtain wall manufacturers is that they are always looking to try new designs and concepts. That can make being a supplier a little bit of fun, too, to say the least. Sometimes you get to try "outside the box" ideas and let your customer see what you have created for them.  This is one of those stories.
Background
One of our curtain wall customers was designing a system for the new Salt Lake City Airport. In case you didn't know, the current airport serves 23 million passengers a year in a 50-year-old facility designed for half that amount of traffic. This large project will generate over $3.6 billion in economic impact over the life of the upgrade.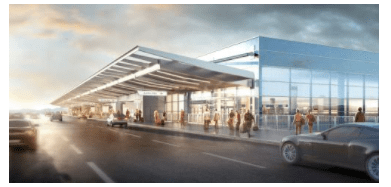 Our customer needed a soft-foam product that could act as a water and air seal.  He really wanted the foam to be skinned with silicone for compatibility with other structural sealants that would be used in an expansion pocket.

The Solution
If you just try to search for silicone-skinned foam using a Google search, you will note a few silicone-foam products with smooth skins designed for other applications. There is no readily available solution. So, our CEO, Kenny Brown, took it upon himself to try something different. From past experience he knew that Saint Gobain produces an excellent low density foam, the V730 series. The V730 has some very useful properties including:
Sound transmission and vibration controls

ow thermal conductivity improving energy efficiency

Excellent seal against dust, light, and moisture

Closed cell structure for  a positive seal at 30% compression

Low deflection force reducing distortion of any adjacent materials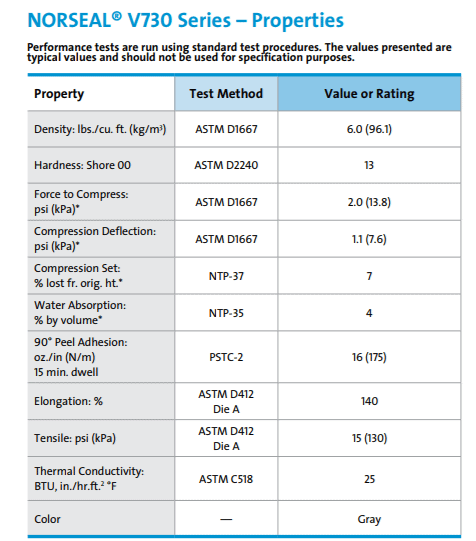 Next, he took a self-leveling silicone sealant from DowSil and applied approximately 20 mils on top of the ¾" thick V730 foam. He  cut it into blocks using a Waterjet cutting table.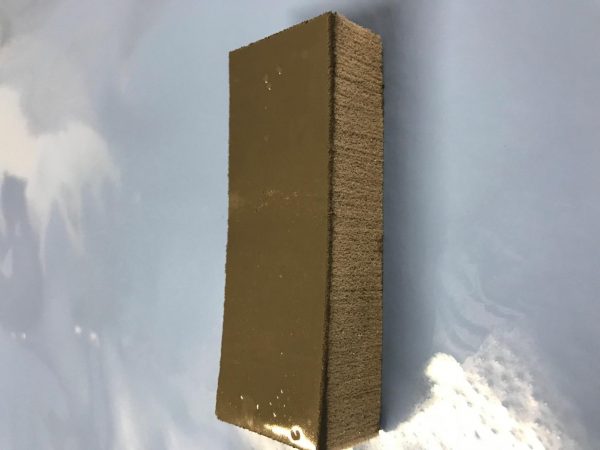 A simple but elegant composite fills the expansion pocket with a high performance water and air seal. And  it is completely compatible with other primary sealants that will be used in constructing the façade. And yes, it looks very much like a gray brownie!
Have an application that requires a unique material solution? Contact Tom Brown, Inc. today to discuss how we can help.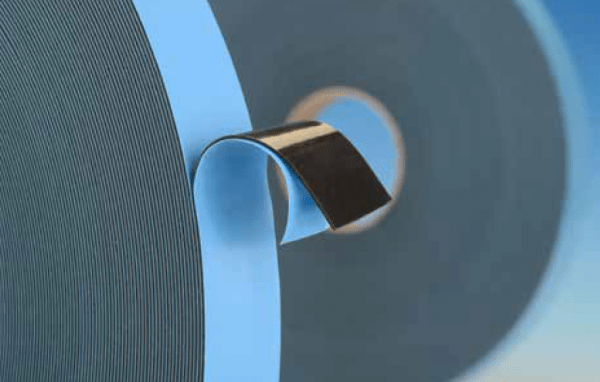 I always feel a little sorry for polyurethane foam tapes. Why? They tend to get lost in the shuffle between the acrylic foam tapes on the one side, and the lower cost polyolefin foam tapes on the other.
Despite this, polyurethane foam tapes have some formidable physical properties and have an excellent performance to cost relationship.
What are Polyurethane Foam Tapes?
Polyurethane foam is produced by reacting polyols with diisocyanates to create highly resilient foams that we use every day in mattresses, car seats, and foam for tapes and gaskets. Various additives are incorporated to help tailor the urethane for particular applications.
These foams are coated acrylic adhesive systems that yield a high performance bonding tape that can:
Dissipate energy and stresses along the entire bond line

Resist weather, extreme temperatures, UV light, and fungus
One of the premier manufacturers of polyurethane foam tapes is Saint Gobain. They produce an excellent range that includes the V2800, V4600, and V8800 for severe exterior applications, V1300 for interior applications, the V900 series for electronic applications needing a UL rating and the Z500 series for automotive applications.
V2800 Series Physical Properties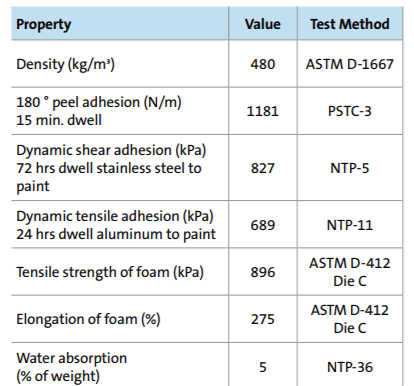 Pay particular attention to the high dynamic shear and dynamic tensile values. These high values translate well into bonding tape applications for roof bows and panel stiffeners in truck and utility trailers and RVs,
  Other applications for polyurethane foam tapes include:
Body side molding

Wheel weight attachment

Composite panel bonding

Emblems and nameplate attachment

Sign framing

Wheel well and door edge moldings

Bumper trim and inserts

Rocker panels
Polyurethane foam bonding tapes might lack the popularity of the acrylic foams and polyolefins, but they perform reliably in heavy duty applications every day. They have an excellent cost benefit balance and should be considered for your next high performance assembly application. Want to know more about polyurethane foam tapes? Contact Tom Brown, Inc. today!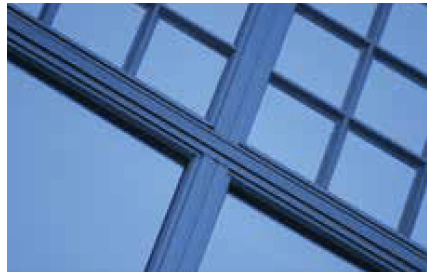 Simulated divided lites are a popular design option for residential and even light commercial windows. The design intent is to create the look of individual panes of glass by applying muntin bars or grilles internally (called "G-B-G" for glass/bar/glass) or externally by using foam bonding tapes. Muntin bars attached with high performance tapes having a pleasing visual appearance, have secure bonds if installed correctly, and save production time.
Types of Foam Tapes for Muntin Bar Attachment
The two most common types of foam tape used for bar attachment are acrylics and polyolefins.
Acrylic Tapes
Acrylic foams include the popular VHB brand from 3M and the Norbond brand from Saint Gobain. Other suppliers of high quality acrylic foam tapes include the AS series from Scapa, the ACX series from Tesa, and the SFB series from Avery Dennsion.
These tapes can be monolithic meaning the adhesive and foam core are extruded in simultaneously in a single layer or they can be multi-layer where an extruded acrylic foam core is coated with the acrylic adhesive system. In either case, these tapes exhibit excellent viscoelastic behavior. This means the "viscous" behavior allows the tape to absorb and damp energy that occur from sudden wind gusts or other forces while the elastic behavior allows the tape to recover (think of stretching a rubber band and then letting it come back to its normal shape).

Saint Gobain A7300 Series Performance Data

Polyolefin Foam Tapes
Polyolefin foam tapes are made from a foam core extruded from polyethylene that is often modified with varying amounts of EVA and polypropylene. Additional coatings can be extruded onto the foam core to create a very smooth surface onto which the acrylic adhesive will be coated. High quality polyolefin foams are produced by Adhesives Research as well as Berry Plastics, Adhesive Applications, and others.
The polyolefin foams don't have the same viscoelastic behavior of the acrylic foam tapes but they exhibit very good dynamic shear and tensile (T block) values along with a very favorable price that can make them worth considering especially for lighter weight muntin bars made from cellular PVC and other lightweight materials.
Adhesives Research 8645 Muntin Tape Performance Data

Foam Core Stress /Strain Capabilities
The chart below demonstrates the capabilities of each basic type of foam core and how they differ.
Want to know more about muntin bar tapes? Contact Tom Brown, Inc. today for samples, technical data, or to discuss your application further.
The coefficient of thermal expansion is used to understand the rate at which a certain material expand as a function of temperature. This understanding is very important when designing adhesive bonded joints to determine if failure by thermal stresses might occur.
Definition
The coefficient of thermal expansion (CTE) is defined as the change in length or volume of a material for a unit change in temperature. The coefficient is reported as the linear thermal expansion in inches or millimeters per degree Fahrenheit or Celsius.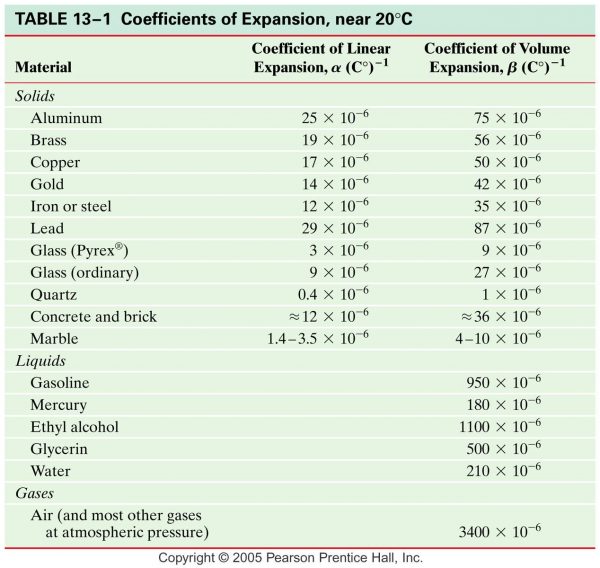 Why Is This Important?
One of the major benefits of tape products is their ability to bond dissimilar materials. It is quite common for plastics to have 8-10 times the thermal expansion of metals.
These thermal stresses become important to understand when bonding glass to metals especially in architectural applications where failures can be extremely expensive or even catastrophic.
Design engineers can calculate the joint movement by two equations and determine if the tape system can handle the expansion over the desired temperature range.
Different foam cores have differing abilities to help manage thermal expansion stresses.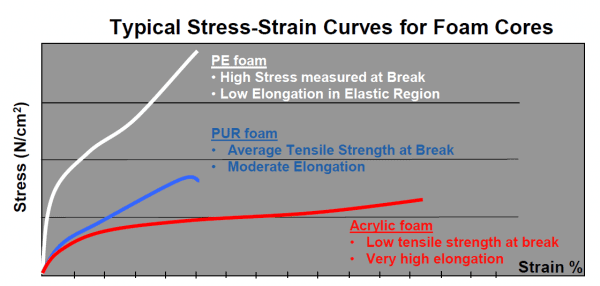 Want to know more about how tapes can help manage thermal expansion? Contact Tom Brown, Inc. today.
People don't realize how often they touch or interact with products that are assembled with die-cut foam tapes. The most common one would be the cell phones most of us use every day but there are our appliances, our cars and trucks, utility trailers, and a host of other gadgets that are put together with die-cut foam bonding tapes.
Why Use Foam Tapes?
It comes down to two words- consistency and reliability. Foam tapes are manufactured to precise specifications in terms of thickness, physical properties, and cut part dimensions. This means that you're applying the same amount of product every time and that translates to consistency.
By contrast, liquid adhesives have much high variability and mess associated with their application and mechanical fasteners require tools and often the bond lines exhibit point pressure where the fastener is installed. With foam tapes, stresses are uniformly distributed around the perimeter or bond line evenly.
Tapes are viscoelastic and have excellent fatigue resistance. While vibration and joint flexing can compromise mechanical fasteners, tapes dampen vibration and absorb shocks allowing the joint to recover time after time.
Common Types of Foam Bonding Tapes
The most common types of foam tapes are acrylics, polyurethanes, and polyethylenes.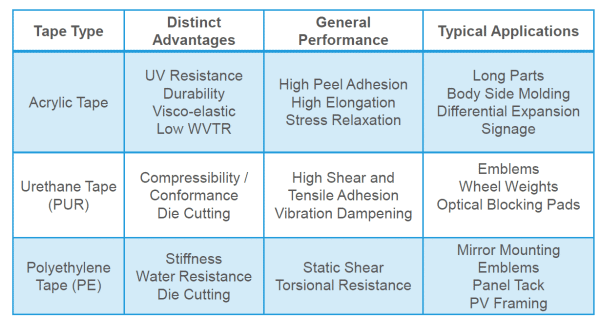 Die cut acrylic and urethane foam tapes provide superior bond strength when applied to a clean, dry surface. They exhibit high dynamic shear values. These values are high enough to make them equivalent to one rivet every four inches. If you're assembling a side panel onto a utility trailer, you get a smooth appearance without any distortion or splitting.
If you use a urethane foam tape to bond a roof panel onto a roof bow support member, you get a joint with exceptional tensile strength and vibration damping capability that translates into longer trailer life without fear of corrosion due to drilled holes.
Polyethylene foam tapes are less expensive than acrylics and urethanes and are an excellent choice for less demanding applications such as appliances, medical devices, and electronic housings.
Other Benefits of Using Foam Bonding Tapes
Foam tapes allow the joining of dissimilar materials such as metal, plastics, and glass. They also permit lighter, thinner materials to be successfully incorporated into a design. This means that materials that cannot be welded or easily riveted can be considered.
Foam tapes seal and bond in one step. You achieve a strong bond that seals out water, dust, and other contaminants.
Products assembled with die-cut foam tapes have improved appearance and aesthetics. The tape is hidden in the bond line and eliminates the need for pre-drilled holes that can act as a site for corrosion. The absence of holes and welds means no additional clean up steps thus reducing production steps and costs.
Are die-cut foam tapes right for you? Contact Tom Brown, Inc. today to discuss your application!
In the two preceding blogs, we discussed the historical importance of rubber based pressure-sensitive adhesives and their continued use in today's applications as well as the "workhorse" adhesive family- acrylics.
In this post, we will consider silicone pressure-sensitive adhesives and their role in current tape applications.
What Are They?
Silicone adhesives contain two major components- a flexible silicone gum and a crystalline siloxane resin. By varying the concentrations of these two ingredients, the adhesive properties can be adjusted to meet the demands of various applications.
What's Unique About Them?
Silicone pressure-sensitive adhesives are highly specialized and are selected in applications that demand resistance to extremely high or low temperature, moisture, and chemicals.
They are considerably more expensive than either rubber-based or acrylic adhesives and tend to be used in niche applications.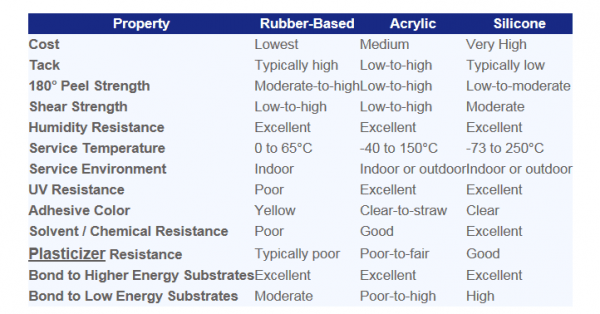 As you can see in the above table, their low glass transition temperature (Tg) allows them to perform in extreme cold without debonding or at an extremely elevated temperature without drying out. Silicone adhesives don't typically exhibit aggressive tack or high peel values BUT they adhere extremely well to low surface energy materials such as silicone rubber, release liners and fluoropolymers that acrylics and rubber based adhesives cannot. They also exhibit high dielectric strength and are used extensively in electronic and electrical applications.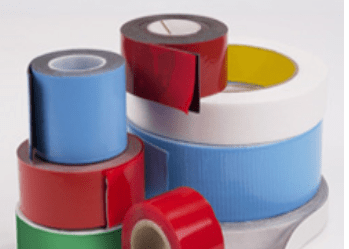 Common Applications
Silicone adhesive applications include splicing tapes for silicone release liners, fabrics, and elastomers, electrical tapes for insulation resistance, plating, masking, and soldering tapes for electronic applications, and masking tapes for plasma an flame spray processing where high-temperature resistance and clean removability are required.

Silicone adhesives are truly for niche applications but they punch above their weight and can handle conditions that rubber-based and acrylics just can't. Want to know more about silicone tape products? Call Tom Brown, Inc. to learn more! Indoor and outdoor lighting systems require different types of gasket materials to provide reliable seals against various environmental conditions. These die-cut parts can be used as housing gaskets, lens seals and to assist with thermal management.
Housing Gaskets
Indoor housings or enclosures are often made from painted metals and need to be sealed against moisture, dust, and air. PVC foams can provide an ideal seal and an economical solution. They are easy to apply, can be delivered in die-cut form, strips, or rolls, and provide a tight seal if they are compressed at least 30%. PVC gaskets meet the FMVSS 302 flammability standard, however, PVC is not recommended if the operating temperature of the housing will exceed 150°F.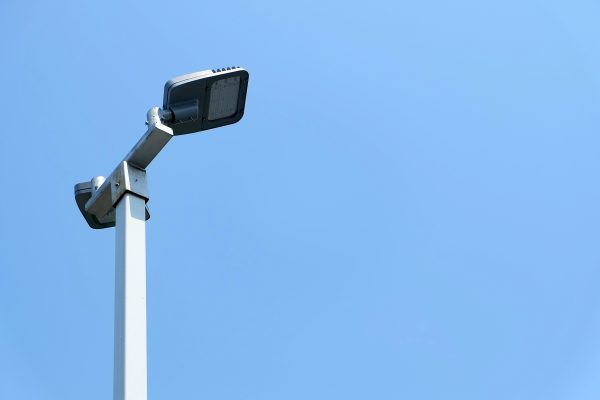 Outdoor Lighting Seals
Outdoor lighting will typically see more temperature extremes and the gaskets will need to be much more robust to seal against windborne dust, dirt, snow, etc…  Silicone materials are a much better choice for these types of applications. Silicone gasket materials include silicone foam, solid rubber, and reinforced sponge rubber. These materials offer good compression set resistance and can tolerate temperature extremes from -100° to +500°F. The reinforced sponge rubber incorporates a fiberglass mesh and eliminates any outward extrusion under pressure. The silicone sponge rubber is a UL recognized weather seal gasket material and fire retardants can be included to meet UL 94V-0 flammability rating. Solid silicone rubber can be provided in various durometers from soft 30Shore A to firm 70 Shore A. These materials also can be formulated to be low outgassing. Outgassing becomes critical in Led lighting where excessive outgassing can degrade the output and performance of the LED light source.
Adhesive Options
PVC foams typically feature an acrylic adhesive system. These adhesives typically bond very well to painted and unpainted metals and tend to serve as a fixturing adhesive until the gasket is placed under compression. Higher performance acrylics can be applied to some of the silicone materials and offer temperature performance from -40°-+350°F. These adhesives can handle many outdoor applications for all but the most demanding applications. Silicone pressure –sensitive adhesives can also be applied to most of the highest performance gasket material and can match the -100° -+500°F range of the gasket itself. Tom Brown, Inc. supplies die cut and roll form gasket and sealing materials that meet tight tolerances, meet industry standards for flammability and outgassing properties and perform as intended in almost any environment. Contact us today for design assistance and help with your gasket and adhesive selection.
History
In 1845, a surgeon named Dr. Horace Day made the first crude surgical tape by combining India rubber, pine gum, turpentine, litharge (a yellow lead oxide), and turpentine extract of cayenne pepper and applying that mixture to strips of fabric. It was the first "rubber-based" adhesive and Dr. Day used it in his practice as a surgical plaster.
Larger scale manufacturing of similar medical tapes began in 1874 by Robert Wood Johnson and George Seaburg in East Orange, NJ. That company would soon become the Johnson & Johnson Company we know today. Later in 1921, Earle Dickson who bought cotton for Johnson & Johnson noticed that the surgical tape kept falling off his wife Josephine's fingers after cutting them in the kitchen. He fixed a piece of gauze to some cloth backed tape and the first Band-Aid ® was invented.
It took almost 75 years from Dr. Day's first crude tape until the early 1920's when the first industrial tape application appeared. The application was electrical tape (although the adhesive was more of a cohesive film than the electrical tape we know today) to prevent wires from shorting.
The second major industrial tape application was a result of the rise of the American automobile in the 1920's. Two-toned automobiles were becoming popular and automakers needed a way to produce clean, sharp paint lines while using the new automatic paint spray gun. They started using the surgical tape that was available but the paint wicked through the cloth backing and caused defective paint jobs.
Richard Drew, an engineer at Minnesota Mining and Manufacturing (3M) happened to be at a local body shop testing their WetorDry® brand sandpaper in 1925 and he saw the workers struggling to get clean paint lines. He went back to his lab and created a 2-inch wide crimp backed paper tape that became the first "masking tape" for painting.
Jumping ahead to 1942 and World War II, Johnson & Johnson developed duct tape to seal canisters and repair equipment for the military. The tape was a basically a polyethylene coated cloth tape with good "quick stick" properties that made it easy to use in the field for emergency repairs. The world never looked back and duct tape can be found in almost any home or toolbox.
What are Rubber Based Adhesives?
In simple terms, a rubber based pressure-sensitive consists of a natural or synthetic rubber to which various tackifying resins are added along with plasticizers, antioxidants, pigments, and UV stabilizers. These formulations can be delivered to the coating machine dissolved in organic solvents, dispersed in water, or in molten form as a hot melt. Some synthetic elastomers are also curable by radiation such as UV or electron beam(EB).
Natural Rubber Based Adhesives
The naturally occurring rubber harvested from rubber trees is the oldest type of adhesive base and is still in use today in various masking tapes and applications tapes used in the graphics industry. They are inexpensive, can be formulated with predictable adhesion properties, and work well in applications with low shear requirements.  These adhesives work well in ambient and low-temperature applications but will struggle when the temperature exceeds about 120°F.
Synthetic Elastomers
Adhesives and the resultant tapes made from this class of elastomers is very versatile and the most frequently used.
These adhesives typically use styrene butadiene rubber (SBR) or styrene block copolymers such as styrene-butadiene styrene (SBS) , styrene –isoprene-styrene(SIS), or SEBS(styrene-ethyelene/butylene-styrene.. Block copolymers have thermoplastic styrene end blocks with an elastomeric midblock.  Different tackifying resins can be used for each distinct phase of the base and the resulting adhesives can be tailored to exhibit aggressive tack, high peel, and excellent cohesive strength.
There are a variety of tape products made from these systems including double coated film tapes, transfer adhesives, foam tapes, and carton sealing tapes. These tapes can be used for interior bonding and assembly applications, fabricating foam gaskets and seals, and of course duct tape.

Strengths and Weaknesses
In general, rubber based adhesives are not UV or oxidation resistant which is why they tend to be used predominantly in interior applications. Having said that, antioxidants and UV stabilizer packages can be added to the formulation to help mitigate these weaknesses. Some synthetic elastomers exhibit vastly improved UV stability over natural rubbers. Chemical resistance can also be problematic as is resistance to elevated service temperatures (typically 180- 200°F at the top end).
The great strength of rubber-based adhesives is their wide formulation latitude.  These adhesives can be compounded to be removable, repositionable, or extremely permanent. High strength foam bonding tapes can be made from rubber based adhesives or easily removable masking products can also be offered.
Rubber based adhesive adhere to many surfaces including low surface energy plastics such as polypropylene and polyethylene. And to top it all off, rubber based adhesives are economical. They get the job done at a very fair price!
Adhesive tapes made from rubber based adhesives have come a long way since Dr. Day's first surgical tape and they still offer a cost-effective way to bond, seal, and protect. Contact Tom Brown, Inc. today for samples or more information.
I had great trepidation in writing a blog post on this topic. Firstly, acrylic pressure-sensitive technology is so broad in scope that the relevant information could easily fill a book rather than a brief blog. Secondly, there are many qualified chemists who would be the ideal authors for any writing on this topic.
Despite these reasons, I think that it's important for readers to at least have some basic knowledge of tapes based on acrylic adhesives. Acrylics are truly the "workhorse' adhesive platform in the tape world. Various estimates of market size have been published but in general, tape products based on acrylic PSAs are at least 60% of the total square footage produced annually.
This is also not to denigrate rubber based adhesive tapes or tapes based on silicone PSAs. They have their place and do some pretty special things that we will cover in another blog post.
What Are They?
Acrylic copolymers are widely used due to their relatively low cost and their relative thermal stability and resistance to oxidation. There are a variety of monomers (the basic building blocks of acrylic adhesives) that can be selected to provide a wide range of performance characteristics in the final adhesive and resulting tape.
Some of the monomers are listed in the table below (1).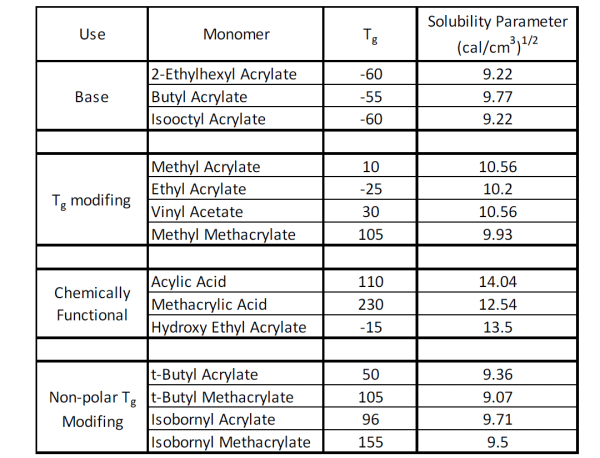 Without boring you with too many details, you pick a base and then you can modify the base with other monomers that change the modulus and the resulting adhesion, peel and shear strength you can achieve. These acrylic polymers can be made using various carriers including waterborne, solvent-borne, hot melts, and radiation curable syrups. The type of coating equipment the tape manufacturer has, the cost structure of the market/application they wish to serve, and the performance requirements will dictate the choices they make.
In his work, "Viscoelastic Windows of Pressure Sensitive Adhesives" E.P. Chang (2), used an analytical technique known as DMA (Dynamic Mechanical Analysis) to understand and classify the flow behavior of polymeric adhesives. He divides the types into quadrants: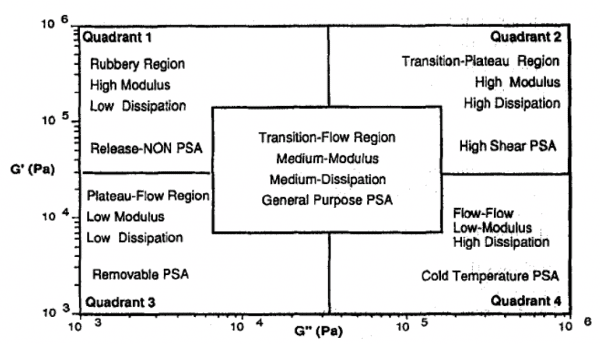 Chang's Quadrant Approach to Polymer Material Classification
Now by understanding the flow characteristics, you can map the resulting types of tape products you can produce and the types of performance that can be expected.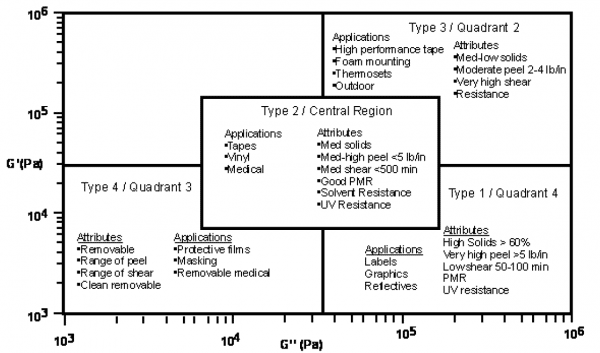 Adhesive Quadrants and Types
So what does it all mean?
Acrylic pressure-sensitive adhesives offer a broad range of performance characteristics. If you examine the product offerings of the major tape manufacturers and their converters you will notice a myriad of acrylic adhesive tapes from which to choose. There is as you can see a broad range of properties that can be achieved with acrylic chemistry. By understanding the how acrylic adhesives are formulated, the resulting tapes that can be produced from these adhesives, and the performance characteristics needed in the field, the best tape products can be selected for evaluation and qualification in many bonding, assembly, and protection applications.
Want to know more about acrylic adhesive tapes, contact us at Tom Brown, Inc. for more information and samples.
References
Bartholomew, E. "Acrylic Pressure Sensitive Adhesives Exhibiting Enhanced Adhesion to Low Surface Energy Substrates" Pressure Sensitive Tape Council, 2017
Chang, E.P. "Viscolelastic Properties of Pressure Sensitive Adhesives", The Journal of Adhesion, 1997, Vol. 60, pp. 233-248
Time is precious on the manufacturing line, and no one wants to spend it fiddling with tape and gaskets. Die cut parts simplify assembly work and ensure consistency unit to unit, but only if the supplier can deliver a quality product. Here's a quick primer on the benefits of die cut parts and a run- through the critical points to consider during sourcing.
Why Buy Die Cut Parts?
Yes, die cutting sometimes resembles a  "cookie cutter" method, but when done right it's a robust industrial process. In its' most basic version, a steel rule die shaped to the correct dimensions required is pressed into the material to cut a shape.  It can be cut all the way through into a discrete part or "kiss-cutt" to leave the backing layer or release liner intact.  Kiss cutting keeps the parts in a sheet or on a roll and often simplifies storage. Then, when needed, it's just a case of peeling each piece from the roll for application.
Die cutting machines take several forms. There's the flatbed or platen press, which moves up and down to cut shapes from a sheet or roll, and there's rotary die cutting.  A rotary machine has the cutting tool embedded on the outside of a hardened steel cylinder. Material in roll form such as tapes or label materials are fed underneath the die and the die cuts the shape as high speeds.  There is another common method of cutting loosely referred to as "digital die cutting". These methods utilize a CNC interface where a CAD file can be loaded into a machine and parts can be cut individually. The "cutting tool" may be a high-pressure water jet, a high-speed reciprocating knife, or a laser. These methods are extremely useful for large parts or lower volume requirements.
The big advantage of die cut parts is that the shapes are pre-cut when the materials reach the line or job site.  All the installer or operator does is peel and stick. A secondary benefit is  quality. As die cutting is highly repeatable, every piece is the same size and shape, reducing variability in the final assembly. And third, there's less waste compared to cutting shapes on site.
Choosing A Supplier
Here are some of the most important points to consider when evaluating potential suppliers:
Material range and manufacturers. Do they deal with more than one highly rated raw material vendor? High-quality raw material suppliers and validated processes yield high-quality parts.

Does the supplier have more than one cutting process to match the specifications and volumes required?

Would kiss-cutting make life easier, or are individual discrete parts acceptable? As mentioned previously, kiss cut parts are very easy to handle and can be automatically dispensed.

Dos the supplier have the knowledge to help engineer the composition and dimensions of the parts to the intended application?

What accuracy is required? Die cutting machines and tools have different tolerances. Over specifying, tolerances can result in unnecessary tooling costs but under specifying creates waste by having parts that don't fit or can't do the job needed.
Pick Your Partner Carefully
Die cut parts eliminate waste while improving consistency, but not every supplier can deliver what manufacturers need. Consider the points raised here and evaluate parts suppliers with care.
Many companies convert and sell tape products. Far fewer are interested in becoming a real partner. While the term "partner" is often overused in today's business lingo, a reliable and knowledgeable supplier is a very valuable resource. Building a partnership takes time and effort, but the payoff is worth it with better service and the knowledge that you're using the best tapes for your products or projects.
What Tapes?
Tapes have become indispensable in construction, transportation, and many other industries. Adhesive tapes are used to assemble panels, secure cladding and join other components. Glazing tape holds windows together while muntin mounting tapes allow attachment of trim parts that give them that classic architectural appeal. Tapes aren't an afterthought; they're an essential component in many construction and assembly tasks.
Does Your Tape Supplier Have The Knowledge To Be A Real Partner?
The best tape suppliers take the time to understand their customers' particular demands of their business and industry. They speak the language. They're committed to their customer's success, and that means selling the tape products that work best, not what's in inventory or hard to move.
A deeper knowledge of what you're doing helps a supplier recommend alternative products that might perform better while saving you time and money. A good way to gauge a supplier's expertise and level of commitment is through the questions they ask. Here, separated out under four headings, are some to look for:
About The Operating Environment
What temperature range is needed? (Consider both the upper and lower limits as well as application temperature.)

Is UV resistance required? (This should always be considered when exposure to sunlight is likely.)

Will it be exposed to moisture rain, or other chemicals?

How much flexing or sway should be expected? (Buildings and vehicles all flex under load. It's essential the tapes used in assembly can handle this movement.)
About How The Tape Itself
What materials are being bonded, protected, or sealed?
Is adhesive needed on one side or both?

Will it be applied by hand or by a dispenser?

What adhesive properties are needed?

Quick stick? Ultimate peel or cohesive strength?

The ability to be repositioned or removed at a later time ?

What is the current assembly and manufacturing process? What cost improvements can be made with labor, reduction of steps, materials workflow, etc..?
About Form Factor
Can you use rolls or do you need die cut parts?

What dimensions are required?

Would longer length spools help you to reduce changeovers? (great choice if you're an extruder)

Do you need individual discrete parts or would having them kiss cut on a roll make more sense?
Regarding Logistics
Would frequent small deliveries be more convenient than one large shipment?

Are there any special requirements for pack formats or protective packaging?
Good Suppliers Invest Time In Relationship-building
Asking questions to learn about their needs takes time. Some tape suppliers don't want to invest time or effort to build a relationship; they'd rather just take the order and move on. That short-term approach is  not going to benefit the tape buyer.
Whether you're in the construction industry or elsewhere, it pays to find suppliers who want to be partners. Partnerships are about a long-term approach to solving problems and delivering results. One way to evaluate prospective partners is by looking closely at questions they ask.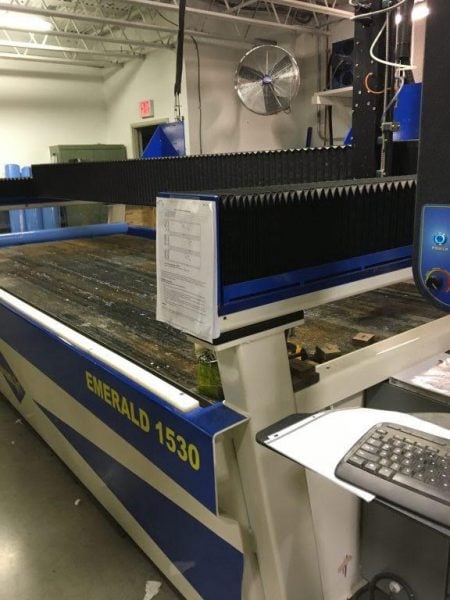 Price and cost are two very different things. The cheapest parts often carry a lot of associated costs, while those with the higher price tag arrive on time, install easily and with little waste. That's why it's essential to ask any potential vendor a lot of questions, not just about the products they carry but also the service they provide.
Poor quality and service cost time and money.
Die cut parts, like gaskets and tapes, easily "slip under the radar," going unnoticed until the installation team starts to complain. Common problems include supposedly kiss-cut shapes that weren't, shapes that don't fit the way they should, poor quality pressure sensitive adhesive application, torn release paper and of course, lack of inventory. (Nothing brings work to a halt faster than that last one!)
These problems can be avoided by partnering with a reputable, established die cut parts supplier. The best ones will support your business and help you grow, but how you decide who they are? Here are some questions to ask.
How long have they been in the die cut parts supply business?
Building a partnership means looking toward the long term. Past performance is often indicative of what's to come, so find a vendor with a track record of dependable performance.
Do they carry plenty of raw materials inventory or only order once they've got your business?
Inventory is expensive, so some parts suppliers only buy what they need when they need it. That extends delivery dates, which can be a major problem when you need to keep the project moving.
Do they keep cut shapes in inventory or is theirs a cut-to-order business model?
Ideally, they'll do whatever is best for you. Holding inventory has a cost but minimizes lead time. Alternatively, do they have the processes and skills to provide a rapid order turnaround?
What cutting methods/technologies do they have?
If they only use flat bed and rotary die cutting, there could be setup charges and minimum order quantities. If they have water jet processing in addition to die cutting, they'll be positioned to handle orders from prototype quantities up to thousands of pieces.
How quickly can they deliver?
A supplier on the other side of country can't respond as quickly as one that's across the street. Check where they're located, where they've put their warehouses and where your parts will ship from.
What tooling do they use?
Steel rule dies are the least expensive, and are often good enough for many components. For higher accuracy though, it's best to look for a supplier who can handle solid milled and matched metal dies. While steel rule tools will typically achieve +/- 0.010" tolerances, matched metal can maintain as tight as +/-0.001".
Choose your partner with care
By wasting your time and money, unreliable suppliers and substandard materials will delay a project and also make you look bad. That's why it pays to evaluate potential vendors with the utmost care. The questions listed here will help you identify companies to buy from -not just once but over and over.
Medium density, closed cell PVC foams are considered a "workhorse" type product in  gasketing and sealing applications. It's like that handy screwdriver or utility knife we all have. You don't miss it until you don't have it. One of the premier medium density PVC product lines is the V-740 series from Saint Gobain.
V-740 Series Product Features and Properties
The V-740 series utilizes a 9 lbs. per cubic foot density PVC foam core. This means you have a very cost effective way to produce seals and gaskets as compared to hand applied sealants and caulks.
One side of the foam core is coated with a pressure-sensitive  acrylic adhesive system designed to adhere to a variety of surfaces; helping to fixture the foam in place until it is put under compression. The foam is dimensionally stable, resistant to weather, fungus, and oxidation, and maintains its' flexibility at low temperatures.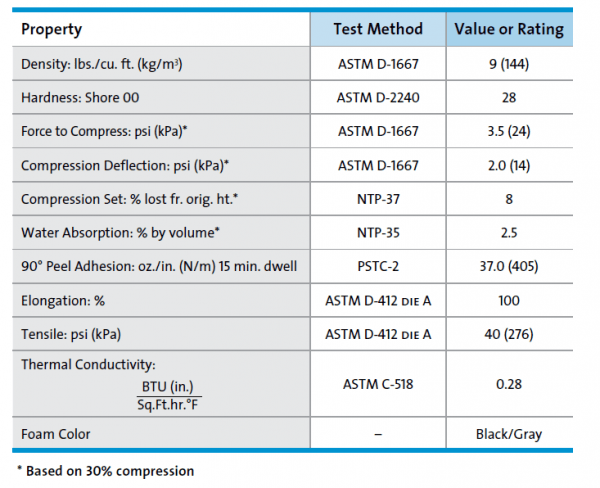 Applications
This product can truly handle a wide variety of sealing jobs and do them very well. The V-740 series excels at sealing out water, air, and dirt in truck and trailer bodies. In the construction industries, it seals exterior wall panels, HVAC joints, foundation to sill gaskets, and a host of other window and door weather stripping applications.

Product Options
The V-740 series is available in black or gray with or without adhesive (although the adhesive coated version is the most popular) and it comes in 5 thicknesses.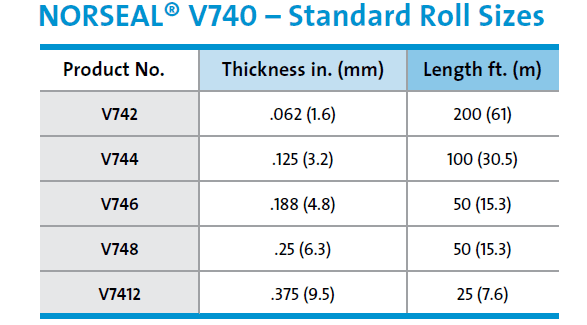 Workhorse products like the V-740 series are easy to overlook. They do so many things so well  that it's easy to take them for granted. Contact Tom Brown, Inc. today for a sample roll or a die cut V-740 gasket.
Many sealing and gasketing applications require subsequent drilling for the insertion of screws, bolts or rivets to complete an assembly. The auguring action of a drill bit or screw can cause the foam gasket or seal to rip or tear. This compromises the integrity of the seal itself.
The V-710 series from Saint Gobain solves this problem by taking a medium density PVC foam and adjusting the PVC formulation so that the foam won't move or twist when the fastener is inserted.
V-710 Series Product Features and Properties
The V-710 series utilizes a 10 lb per cubic foot density PVC foam core. This means you have a very cost effective way to produce seals and gaskets that will work hand in hand with drilling and various mechanical fasteners.
One side of the foam core is coated with a pressure-sensitve  acrylic adhesive system designed to adhere to a variety of surfaces; helping to fixture the foam in place until it is drilled, mechnical fasteners inserted, and then put under compression. The foam is dimensionally stable, resistant to weather, fungus, and oxidation, and maintains its' flexbilty at low temperatures.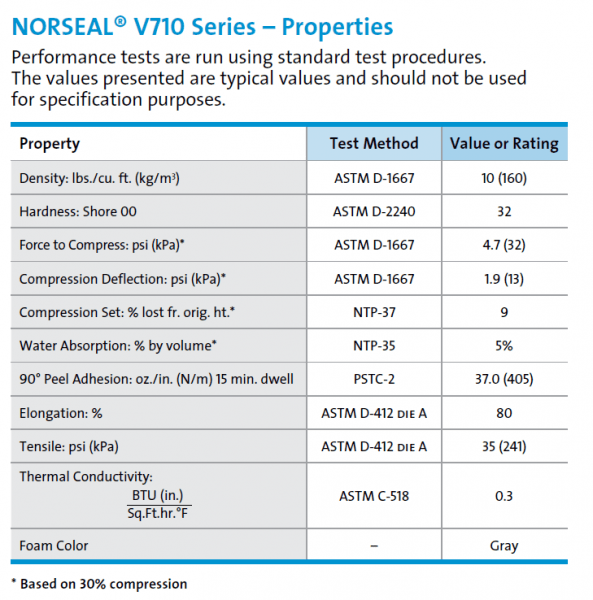 Applications
This product works exceptionally well in product assembly operations.. The V-710 series excels at sealing out water, air,and dirt in truck cab roofline seals and vehicle overlap seals.  In the construction industry, it is an excellent choice for corrugated panels, modualr wall systems, HVAC seals, and outdoor lighting fixtures.

Product Options
The V-710 series is available in gray with a pressure sensitive acrylic adhesive on one side for easy fixturing and it comes in 5 thicknesses.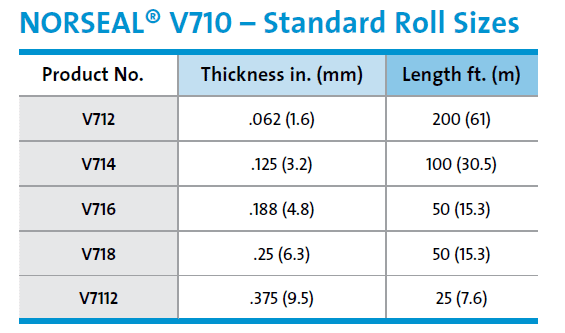 The V-710 series is truly a unique product line that solves distortion and tearing issues that compromise seal integrity when mechanical fasteners are used for final assembly operations.  Contact Tom Brown, Inc. today for a sample roll or a die cut V-710 gasket.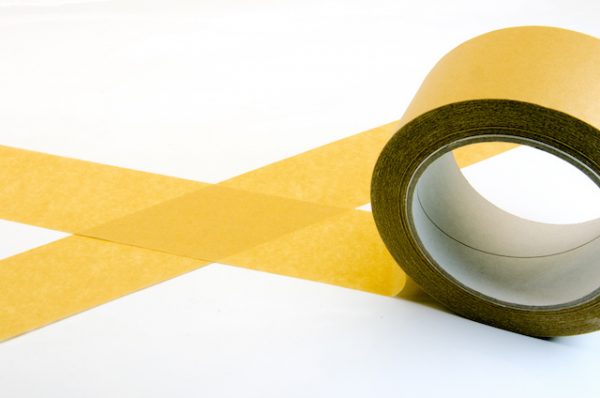 Light-weighting is a popular topic in a variety of industries including transportation, general industrial applications, and even the building and construction market. In transportation applications, the reduction in fuel consumption is a primary driver along with the associated environmental impact. However there are other benefits to light-weighting initiatives- reduced costs, flexible product designs, and improved product performance.
Light-weighting strategies typically rely on the use of plastics, foams and thinner metals. It is critical to understand the bonding and assembly challenges associated with these material choices.
Let's take a look at some of the main challenges of bonding and assembly in a new lightweight design and see how adhesives and tapes can assist the design engineer.
Dissimilar Materials
New lightweight designs often involve the bonding of two dissimilar materials such as a foam or plastic and a light gauge metal. These materials not only possess very different weights but more importantly vastly different chemistries.  The metal might exhibit a high surface energy and be relatively easy to bond to with an adhesive while the foam or plastic might have much lower surface energy. The goal is to achieve structural strength and integrity while avoiding concentrating stress in any one area.
Obviously it is not easy to weld plastic to metal so that method is not feasible. Rivets or other mechanical fasteners add weight and the holes associated with them can create an ingress path for moisture, air, or dirt and create weaknesses. Adhesives and tapes typically weigh less than mechanical fasteners and they enable stress to be distributed along the entire joint. 
Bond and Seal In One Step
Mechanical fasteners typically involve drilling or punching holes into the materials. Those holes can lead to moisture ingress, airflow, or create an initiation point  for corrosion.
Adhesives and tapes can bond and seal large or small surface areas. They are often both watertight and airtight while still providing a strong, lightweight bond.  
Thermal Expansion and Contraction
Materials expand or contract as the ambient temperature changes and they often do so at very different rates which can produce stress in the bonded area. 
Mechanical fasteners tend to concentrate stress in one area. When that area is stressed by thermal expansion or contraction, there is no ability for the fastener to absorb or redirect any of the stress and material fracturing can occur. When this happens pathways are opened for water and air ingress
Tapes and adhesives are able to bond materials with different coefficients of thermal expansion and contraction with superior bonding performance.
Noise, Vibration and Harshness (NVH)
The automotive industry first comes to mind when thinking about reducing all those unwanted rattles, vibrations, engine noise, etc… but that is not the only industry where this is important. The truck and utility trailer industry along with the fire and emergency vehicle market is constantly trying to extend trailer or emergency vehicle service life and all those rattles and vibrations cause wear and tear on components over an extended time period.
Tapes and adhesives excel with NVH problems. Tapes in particular are viscoelastic meaning that they exhibit both viscous and elastic properties when undergoing stress and deformation. This property allows the tape to turn vibrational energy into heat and reduce or eliminate the vibration.
Aesthetic Considerations
Looks matter. Rivets, bolts, screws, and holes affect the visual design and can sometimes detract from the overall product appearance.
Adhesive and tape bonded joints are largely invisible. The tape or adhesive is hidden between the bonded materials. The surfaces stay smooth for any additional finishes or graphic application.
The Right Adhesive or Tape System
Using adhesives and tapes for light-weighting requires an understanding of the overall design objectives and the subsequent assembly processes. It is not hard but with a knowledge of the basics and an understanding the capabilities of different adhesives success is very achievable.
Adhesive technology has progressed tremendously in recent year and systems that address light-weighting bonding challenges with different materials, thermal expansion rates, flexibility and environmental exposures are readily available. Adhesives are delivered in different form factors including liquids, sprays, and tapes making them easier to integrate into an assembly process.
Light-weighting will continue to be a dominant trend in product design. Selecting the best possible bonding method will play a more critical role as designers and engineers try to remove as much weight as possible. The good news is that adhesives and tapes are an enabling technology, one that can help companies solve light-weighting  challenges for years to come.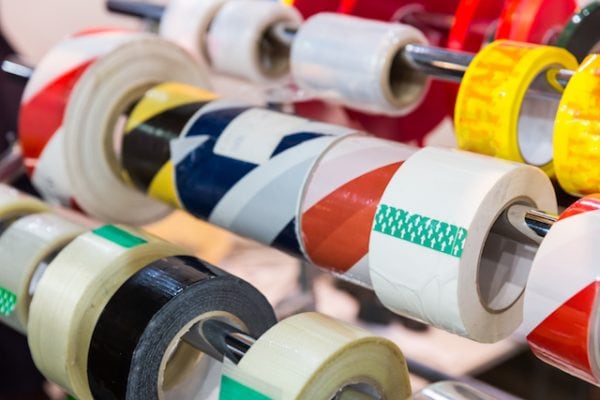 When it comes to pressure sensitive adhesive tapes, there isn't a convenient single rating system for how "strong" the tape might be. The adhesive systems on these tapes operate differently in a variety of environments, and there are performance properties that can be judged as more important than others for certain applications.
Generally tack, peel, and shear resistance are the primary physical properties that are measured and reported. There are many more tests that can be performed to develop a more in depth understanding of a tape's properties. These might include testing for fire or burn properties, solvent resistance, and a host of other specialized tests but if you have a basic grasp of peel, tack, and shear, you can make some reasonable inferences about how a tape might perform.
Environmental Factors
Pressure sensitive adhesive tapes all exhibit some degree of sensitivity to temperature fluctuations. As a general rule, when the temperature increases, the adhesive system can become "softer" to some degree depending on how it's formulated. When the temperature becomes colder, the adhesive can become "harder".  This is a function of each adhesive's glass transition temperature (abbreviated Tg). In simple terms, glass transition temperature is that crossroad temperature where the adhesive 'transitions" from "rubber-like" (softer) to more "glasslike" (firmer).
Some adhesive systems can tolerate larger temperature ranges than others due to their base chemistry and the way they are formulated and processed-although these temperature extremes may potentially be unnecessary for certain applications.
Measuring Shear Resistance
Shear testing measures the ability of the adhesive system to maintain a bond under a constant load. It provides insight into the internal strength of the adhesive itself. The testing can be performed in a static mode and in a dynamic mode. Static shear testing is useful when a tape may be asked to support a constant load in an application. (think of holding a panel onto a vertical frame system). Dynamic shear testing can provide useful information on how well the tape can resist a sudden load such as a shock or a sudden wind load.
Testing Tack
Tack is the property that controls how quickly a bond is formed when it is brought into contact with a surface with very slight pressure. It is ability of the adhesive to "wet" the surface that it contacts. The most common way we experience tack is with our thumb. We stick our thumb onto the tape's adhesive surface and pull it away. The more it "grabs" our thumb, the tackier we perceive the tape to be. The thumb however is not a reliable predictor for  how a tape will function in an application.
There are applications where tack(specifically high tack) is very important. Flying splices on paper or film converting machines and wire management hooks and clips for appliances are two applications where immediate loads will be applied and the tape must hold without delay.
Tack is sensitive to a variety of factors including the properties of the adhered (typically roughness or topography) along with temperature and processing conditions.
There are 4 principle test methods for measuring tack- loop tack, rolling ball tack, probe tack, and quick stick. Without going into too much detail about individual test methods, loop tack is often viewed as the most repeatable and consistent and many tape manufacturers now report it routinely. A loop of tape is formed and brought into contact with a test plate.  The loop is then pulled away on a tensile testing machine and the value recorded. The downside of loop tack is that the substrate the adhesive is coated on can have a significant effect on the results.
Probe tack was popular for many years since it more or less resembled the "thumb tack" test but wide variability in the test data has often been observed. In this test, a metal probe is brought into contact with tape surface, allowed to dwell for a specified time, and then pulled away. The force of removal is reported in grams.
Rolling ball tack is a simplistic test where a ball bearing is released down a ramp onto a tape specimen. The adhesive "arrests" the motion of the ball bearing due to grab and a "plowing effect" and the distance need to stop the ball is reported. This test is often used as a quick QC test on a production line.
Quick stick also uses a tensile or peel tester as in the loop tack test to pull a tape specimen off at a 90° angle with short or no dwell time. This differs from normal peel adhesion testing since only the weight of the tape itself is used to initiate the bond or a very light 25 gram roller.
Peel Testing
Peel adhesion testing is measuring the force required to remove a tape specimen from a test panel at a controlled angle (usually 180°or 90°), at standard rate, and with a defined dwell time.
The tape is applied using a weighted rubber roller to a stainless steel (or other panel material that is defined) and then allowed to dwell on that panel. The tape can be peeled away immediately but dwell times from 5 minutes up to 72 hours are common.
Some adhesive applications require temporary fixing of the tape to the surface with the intent of removing it in the future without adhesive residue. Think of the surface protection films used on appliances or paint masking tapes. In these applications, lower peel levels(and likely tack) are needed to impart stable removal over time.
In more permanent applications, higher peel forces will likely be needed in order to permanently affix the tape to the substrate or to bond two surfaces together. This does not necessarily mean that the tape must exhibit high tack (whether you test it with your thumb or a loop tack method). Many high tack tape systems depending on how they're formulated might have lower ultimate peel strength versus a tape that seems "not as tacky" but develops very high peel adhesion to specific surfaces.
One final note- peel testing on a standard stainless steel panel can be useful but it is imperative that peel testing also take place on the surfaces to which it will actually be applied. That peel testing will yield a much richer date set. Those panels can also subjected to various humidity conditions, high or low temperatures and chemical exposures that the tape will actually see. A much deeper understanding of field performance can be realized (and it may or may not have anything to do with tack as we perceive it).
Accelerated Aging Studies
Tapes are typically subjected to various types of accelerated aging. This may involve aging the actual roll of tape at some elevated temperature and/or humidity to gain insight into how well the tape will survive shipping and storage conditions once it is in the field. These studies provide data that helps the manufacturer set a shelf life for the tape so the customer can be reasonably assured that the tape will work when they receive it.
Other aging studies can be significantly more involved. They might include making test panels and exposing the panels to the sun in a state such as Florida or Arizona for a year and then performing peel and shear tests on those panels. In other cases, actual mock ups of the finished product might be fabricated and then subjected to artificial sunlight, humidity, cold chambers, or all of these in some cycling sequence in order to understand how these environments affect the tape's performance and behavior over time.
If you'd like to learn more about adhesive tape testing or to discuss the specifics of an application, contact Tom Brown, Inc. today.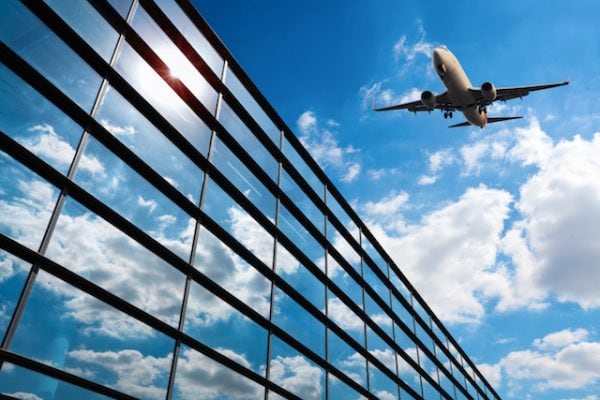 Curtain walls are a fairly common and prominent feature in modern buildings. Designed to protect the building from the outside elements (such as weather), curtain walls are panels that are placed at the exterior of the building often through mechanical bonding, chemical bonding, or adhesive. Curtain walls can be made of glass, metal, or stone, and have a multitude of advantages when they are included in modern designs.
Keeping Out Air and Water
Curtain walls have the primary purpose of keeping air and water out of the building, essentially acting as both a buffer and an insulator. Buildings that have curtain walls will be easier (and more affordable) to maintain, and will last longer in general, as they have this additional protective shield build in. 
Reducing Building Sway
A curtain wall isn't intended to provide for structural stability, but it does reduce the sway of the building overall, thereby making the structure more secure. The curtain wall is able to even out any stress on the building, by dispersing kinetic force throughout the entire frame and structure. Overall, this creates a building that is more likely to withstand high winds. A reduction in building sway is especially useful in taller buildings and can also make the building more comfortable to inhabitants. 
Slowing the Spread of Fire
Curtain walls are additionally able to slow the spread of fire between floors, by acting as a barrier and preventing the fire from easily transferring across the surface of the building. This can be especially important in taller buildings, where the fire would otherwise quickly be able to spread upwards.
Thermal Efficiency
When properly treated and glazed, curtain walls also vastly improve the thermal efficiency of a building. As another layer of material across the building, curtain walls are able to stabilize the temperature within and cut down on the operating costs of the building itself. Additional glazing can reduce UV light, which will keep items within the building from fading or degrading quickly. 
Appearance and Attractiveness
Curtain walls are expected of many buildings today, not only because of their numerous practical advantages but also because of their appearance. A curtain wall gives a clean, sophisticated, and unique appearance, which is now associated with contemporary design. In many areas, curtain walls are the only type of wall that would be seen against the city skyline. 
Most modern buildings will have curtain walls of some type, as there are numerous advantages. But there are also many ways to install a curtain wall structure, some of which are better, faster, and more cost-effective. Tom Brown, Inc. has a variety of products that are designed for the fast and easy installation of commercial windows and curtain walls. Contact Tom Brown, Inc. today to learn more about their curtain wall technologies.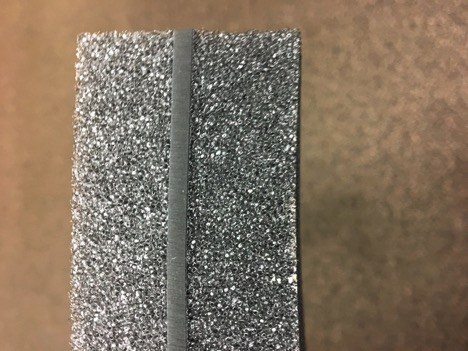 The phone rings and a long time building façade customer says that an architect is designing an upscale apartment building and requests a 55dB drop in sound attenuation across wall partitions.   The customer indicated that there was room in the mullions where the panels are joined to friction fit the acoustic baffle panel but it had to be supplied in a 1.625" thickness, 3.9375" wide and in 105" and 125" lengths.
Approaching the Problem
Without diving too deeply into acoustic theory, reducing sound depends on where the sound originates. If the sound is generated within a room, then it needs to be absorbed. If it is generated outside, keeping out the sound requires a space to be insulated. If it is transmitted through the structure, then it needs to be isolated from the source of the vibration.
Cellular and porous materials can be useful materials for absorption and isolation although they are not great at insulating. The carpets and draperies we have in our homes are the most common porous absorbers. Open cell foams are good choices for sound absorption as they permit air to flow into the cellular structure where the sound energy is turned into heat.
Damping refers to the capability of a material to dissipate energy; particularly vibrational energy. Elastomeric materials are excellent at damping vibration which is why we find them on everyday items such as the bottom of our computers, appliances, and furniture. The mechanism for vibrational energy is the same as for cellular materials, they turn vibrational energy into heat.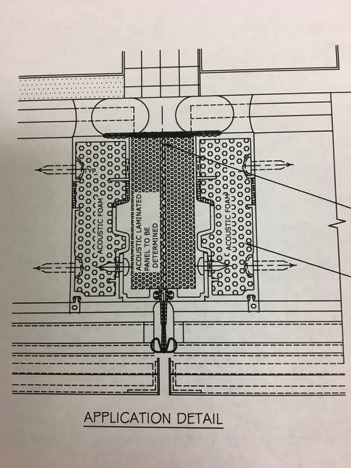 The Solution
Tom Brown, Inc. selected a ¾" open cell polyurethane foam that could be adhered to both sides of a 1/8", 70 durometer , EPDM rubber. The open cell urethane foam provided the sound absorption capability along with some insulating properties and the EPDM layer contributed damping to any vibrational energy.
A rubber based, double coated film tape was selected to bond the urethane to the EPDM layer through a 60" wide multiple step lamination process. The laminate was then taken to a Water Jet cutting table for processing into the final dimensions required by the customer.
Combining the right materials, in the right size, at the right time is what Tom Brown, Inc. does. Want to know more about how we can help you? Give us a call or visit us at www.tombrowninc.com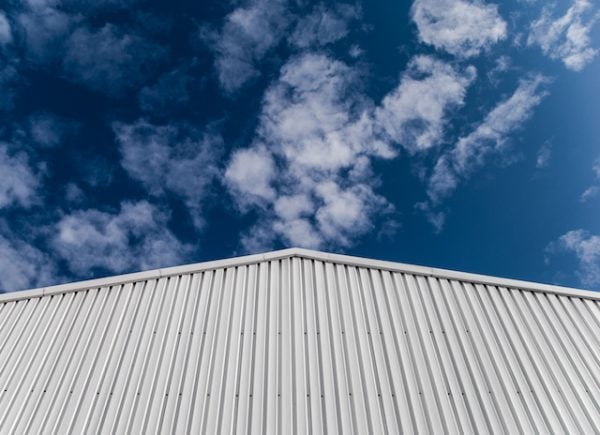 Wood, concrete, and brick aren't the only building materials that should be considered when creating standing structures. Metal building panels are also being frequently used in a variety of applications, and they show some significant advantages over more traditional options. Here are some of the benefits of a metal building panel, in terms of both installation and long-term use. 
Metal Building Panels Are Lighter Than Wood
Metal panels are extremely lightweight — lighter than wood. This conveys a few critical advantages. A metal panel is going to be easier to install and cheaper to ship, reducing the costs of transportation and installation. Metal structures can also be moved and erected temporarily, in the event that shelter is needed for only a certain amount of time. If designed to be assembled by a non-professional, metal building panels will be far easier to position and work with — even with a small group.  
Metal Building Panels Are Durable and Resistant
A metal panel is naturally going to be resistant to rot, pests, and other environmental factors. They are particularly useful in areas with environmental extremes or issues to contend with, as they are not easily deformed and will last for a long time. For the most part, metal is generally only vulnerable to rust, and even then it would need to be metal that is not pre-treated and that is not cared for appropriately. 
Metal Building Panels Are More Dimensionally Stable
Metal panels are built with very low tolerances; they are machined precisely and can fit together very precisely, making them more dimensionally stable. For builds that are designed to use as little material as possible, being dimensionally stable is very important. Stability can be further improved through the use of adhesives for bonding. Adhesives not only create a strong bond quickly, but they can also reduce vibration and wear that would otherwise be associated with metal panels, making them last longer. The precision that is used to achieve this stability also ensures that everything fits perfectly when putting up a metal frame or structure.
Metal Building Panels Are Easily Insulated
Finally, metal building panels can be easily insulated. A metal building panel can contain insulating foam, being designed as a sheet with multiple panels that are stacked together. Special processes ensure that there is no space between the panels and the insulation, thereby making the insulation far more effective than other materials such as wood. Being easily insulated is incredibly important for many new, small homes, which are intentionally designed to have a low carbon footprint and be environmentally friendly.
Though it may seem strange to build a home with metal building panels, there are many unique and innovative homes that are currently being built. When working with metal building panels, there are many options for adhesive solutions that will be more affordable, durable, and environmentally-friendly than other bonding processes. For information about metal building panels and the adhesives that can be used on them, contact Tom Brown, Inc.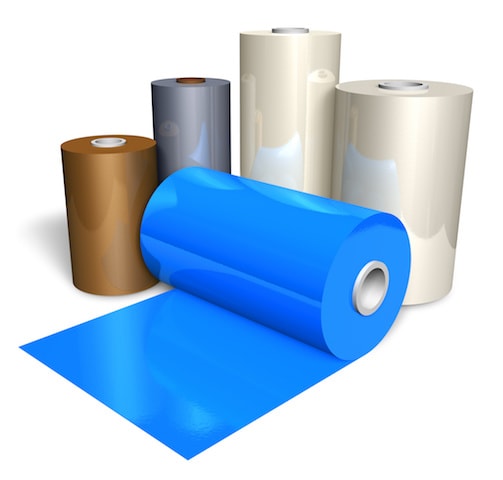 High quality, sustainable, and cost-effective bonding and sealing tapes are available through Saint-Gobain. Saint-Gobain produces a wide variety of construction and industrial materials, including their complete line of bonding and sealing solutions. Ranging from the aerospace industry to general construction, Saint-Gobain's tape products are used wherever quality is at a premium. Saint-Gobain is a leader within the automotive, fenestration,  and construction industries and produces structural spacer tapes, foam sealants, and other products.
The Advantages of Saint
 

Gobain

 

Tape

Tom Brown, Inc is a master converter of Saint Gobain's tape products. As a master converter, Tom Brown Inc is one of the most experienced tape converters in North America and is able to provide many different Saint Gobain products to suit any industry specifications or standards. Some of the products that are available through Tom Brown, Inc. include Saint-Gobain NORBOND V2800 series bonding tapes. These bonding tapes are constructed of polyurethane foam which is able to dissipate and reduce stress and wear on the bonded materials. These bonding tapes are ideal for severe weather conditions and provide a seal and resistance against UV light.
Saint-Gobain NORBOND A7000 series bonding tapes. These are acrylic bonding tapes available in clear, gray, white and black. They are highly viscoelastic and dissipate stresses well in a variety of applications.
Saint-Gobain NORSEAL Series closed-cell PVC foams. A pressure-sensitive adhesive
on one side, these PVC foam sealants are able to act as a shock absorber and sealant in nearly every application.
If you're interested in any of Saint-Gobain's high-quality products, contact Tom
Brown, Inc today. TBI will be able to find the right solution for you even if it's not in
our current inventory and will convert it to meet your specifications and needs. TBI  provides the best in high-quality bonding and sealing tapes for any application.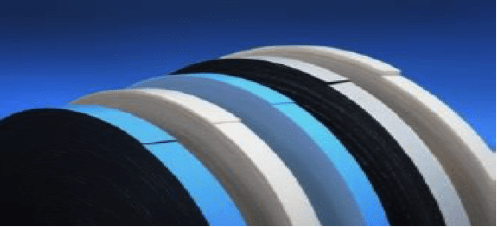 It's easy to walk into a prospect's office and say things like, "We're the best", "We've been in business for 30 years", "Our quality's the best", "We're a family owned business", or "We're faster".
These all sound great but ring hollow with a prospective customer trying to solve real world problems such as increasing inventory turns, lowering working capital requirements (while not sacrificing lead time), reducing material costs, and solving new product design challenges.
The simple truth is that all those high sounding platitudes really mean little to the customer and make you sound like everyone else. It's really about their problems. So here's the converter's "secret sauce" and how we do it.
Increasing Inventory Turns and Lowering Working Capital
When you decide that a bonding and assembly tape or gasket material is the right solution for your production, you will be faced with some challenges if you want to buy directly from a tape manufacturer. Many tape manufacturers have lead times anywhere from 2 to 8 weeks depending on the product and the minimum order quantity can easily surpass what might be needed on the production line on a weekly or monthly basis. If you buy more than one width or size, this has a multiplying effect on the problem.
That minimum order quantity (MOQ) and lead time throws two "wrenches into the gears". Let's say for example that you buy a ½" wide bonding tape for one application and the same tape in 1"" width for another and that the lead time is 3-4 weeks.
If we suppose that the MOQ matches what you use in a month, you will need to have at least 1.5 -2 months of inventory on the floor to prevent a stock out or line down situation especially if your business has any seasonality.
Based on this common scenario, your tape inventory will turn maybe 6 to 8 times if your purchasing folks are really tracking it carefully and you have two months of working capital tied up to make sure you don't go line down.
So how does a full service converter solve the problem? A converter typically buys tape products in log rolls or master (also called "jumbo") rolls. These rolls are anywhere from 36-64" wide and can be rewound into the correct length or they are purchased in a predetermined length. Most of the products are purchased in pallet, multiple pallet, or truckload quantities.
The tape inventory is now on our floor and not yours. We hold the inventory and we can slit the log roll or master roll down on demand. Need 400 rolls of ½" and only 20 rolls of 1"? No problem. Need 4,000 rolls of ½"? No problem. Need 10 rolls? Still not a problem. The converter is tooled with the right rewind slitters, log slitters, spoolers, and die cutting presses to turn orders quickly in quantities that match the customer's requirements.
The net result is that the products arrive in the right quantity at the right time no matter the season. You can cut working capital requirements in half and your inventory will turn 12-18 times (or more) instead of 6-8.
Reducing Material Costs
Converters work with the top manufacturers in the pressure-sensitive tape industry. They have access to and in depth knowledge of a broad palette of products with many different price points. That knowledge and access save sourcing time when your operations and purchasing team are challenged by management to reduce manufacturing costs and improve margins.
A full service converter can often show you two or three samples of products that can meet the technical requirements. There are some products that are unique and only have one or two manufacturers producing them but more often than not, there are alternatives.
If you have multiple plant locations, SKUs can often be reduced by consolidating purchases and many converters have multiple locations to reduce transit time to multiple sites.
Another hidden value with multi-location converters is supply chain continuity. If something happens at one converter site, the other can pick up the slack and maintain supply and avoid any line down situation.
Solving Product Design Challenges
The same access to and knowledge of the top tape manufacturers that helps with cost reduction is also a significant resource when determining the best way to solve a design challenge.

Understanding the technical details of products from many manufacturers means that that knowledge can be easily shared with the end user. The pros and cons of the products can be discussed with the design team and the right form factor can be identified. Need slit rolls in a unique width or length? That's what we do. Need a die cut part to work with an applicator? We have you covered.

What about fast prototypes? A full service converter can often provide one or two prototypes to a design team within a day or two to allow an idea to be tested quickly and at minimum cost. Designs can usually be easily adjusted and production ramp time is reduced.

Speaking of applicators, converters have knowledge about tape application systems and dispensing equipment. We can easily make recommendations and help facilitate automation efforts that save time and money.

The right product, for the right application, at the right price at the right time. That's what a full service converter can do but more importantly we help the customer reduce working capital requirements, improve inventory turns, and solve bonding and assembly challenges.

Want to know more about the problems we can solve for you?

Contact Tom Brown, Inc. today.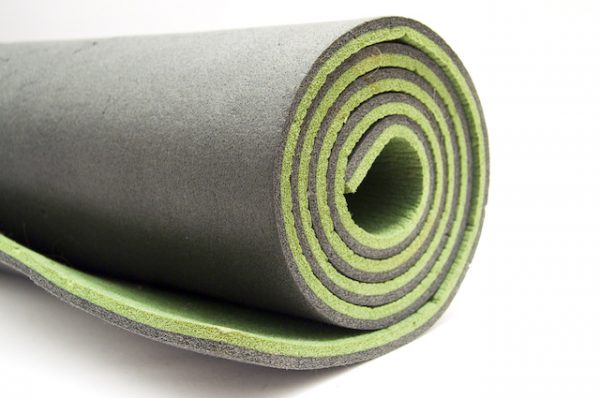 Rubberlite is an advanced leader in flexible material technologies. These technologies can be integrated into a wide variety of industries, ranging from industrial to commercial. Businesses looking for custom-engineered and state-of-the-art flexible materials can utilize

Rubberlite's

products for a number of applications. The products provided through

Rubberlite

include industrial rubber and plastic solutions, engineered foam solutions, and technical composite solutions.
The History of
Rubberlite

In 1986, Allen Mayo originally founded

Rubberlite

.

Rubberlite

specialized in custom rubber products and plastics, with an emphasis on connecting manufacturers and fabricators and creating a superior integration of business processes. Through the years,

Rubberlite's

innovative technology was able to give way to numerous unique and useful products, including custom engineered polyurethane foams.

Rubberlite

has experimented with different formulas and applications to develop the best products for the best projects.
A Company Founded Upon Improvement
The mission of

Rubberlite

is very simple; it is one of constant improvement.

Rubberlite

focuses on improving upon "the way we work, the way we create, the way we think." Together that has created a company that is innovative and strong. The market has been changing for some time regarding flexible materials and their applications. In order to continuously offer the best products,

Rubberlite

has had to adapt over the past three decades. Its this ability to adapt that has created a leader within the industry.
Products Provided by
Rubberlite

Rubberlite

 provides three primary types of product: rubber and plastic, foam, and technical composites. Rubber and plastic composites are highly durable products that include polyurethane foam, fabrics, and pressure-sensitive adhesives.

Rubberlite

has additionally worked within the foam industry since 1997 and provides engineered foams such as

HyPUR-cel

, which creates a durable, flexible, and long-lasting foam. Finally, technical composite products include laminations, functional coatings, and

Sur-Fex

 surfacing. These composites can be used to add utility and durability to other materials.
The Primary Markets of
Rubberlite
Industrial.

Rubberlite

products are used to cushion products from stress, dampen movement and vibration ,and provide a seal against air, water, and other substances.
Transportation.

Rubberlite

products can be used to protect sensitive components that are used in the transportation industry, from aviation to aerospace travel.
Packaging.

Rubberlite

products can be used throughout the packaging, shipping, and logistics industry, to better protect devices and equipment.
Medical.

Rubberlite

products, including leading products such as

HyPUR-cel

, are used to improve the safety and comfort of many medical devices.
Consumer Goods.

Rubberlite

products can be used to reduce the cost and weight of consumer goods, while also increasing comfort and enhancing flexibility.
Rubberlite

provides industry leading flexible materials, ranging from durable and flexible foams to adhesives and coatings. Whatever your organization's industry is, it's possible that there are applications for these innovative technologies. Is your business interested in the benefits of

Rubberlite

products? Tom Brown, Inc provides only the best in adhesive and film technologies, including the

Rubberlite

line up. Contact Tom Brown, Inc today for a quote on

Rubberlite

products.

Manufacturers are now finding that structural adhesive tapes can save them both time and money. Environmentally-friendly, durable, and strong, structural tapes are one of the best replacements for traditional mechanical fasteners and mechanical bonding. Bolts, welding, and other methods of conventional fastening are more expensive and more likely to fail, for a few very clear reasons.
Structural Adhesive Tapes Reduce Distortion and Fatigue
One of the major issues with mechanical fasteners has to do with wear. Over time, metal fasteners will distort, tear, and fatigue. When this happens, it's often not just the fasteners themselves that need to be replaced; there is also associated damage to the attached materials. The very act of welding can potentially damage structural elements, as it introduces physical changes and heat distortion. In order to reduce potential wear and fatigue, more mechanical fasteners than are necessary are often introduced, and this can inflate the cost of a project as well as the project time. Altogether, mechanical fasteners can be inefficient and unpredictable. Comparatively, adhesive fasteners are able to dampen structural forces such as vibrations, thereby reducing wear on the surrounding materials. As a flexible material, adhesive fasteners do not permanently warp, distort, or wear; instead they are able to move with the structure to provide strong adhesion without the potential for damage. Structural adhesive tapes do not impact the structural integrity of other materials, because they do not require heating, cutting, or other damaging processes. Overall, this makes them a superior and safer product.
Structural Adhesive Tapes Are Faster and Easier to Install
Structural adhesive tapes can substantially reduce installation and maintenance time. With an adhesive bond, the tape simply needs to be applied to the materials and then and light pressure applied as it is put into place. For the most part, most adhesive tapes bond very quickly, allowing the installers to move on to other parts of the structure. Mechanical bonds comparatively take much longer, as welding, bolting, and other physical and precise activities have to be completed. This also involves large amounts of equipment, which are going to require training to use and which could potentially cause hazards if used improperly. In terms of a project, adhesive tapes make the installation and maintenance faster and easier, thereby reducing the cost of the entire project as well as reducing the risk of potential delays. By limiting the amount of safety concerns involved in the installation process, tapes make it less likely that anything could occur that would be detrimental, financially damaging, or time consuming.
Structural Adhesive Tapes are Lightweight
Many projects are looking for ways to improve efficiency. Structural adhesives do this in two ways: they both reduce the weight of a project and they increase the project's sustainability. Compared to mechanical fasteners, structural tape is far lighter. This means that projects can be built with reduced loads and that the project overall will be easier to construct. There will be fewer materials shipped by weight and the project itself will require fewer materials. Structural adhesive tapes are superior to mechanical welds in many ways. They are easy to install and naturally create a seal. If you're interested in any specialty tapes for your next product, check out Tom Brown Inc's inventory of specialty tape products and adhesives.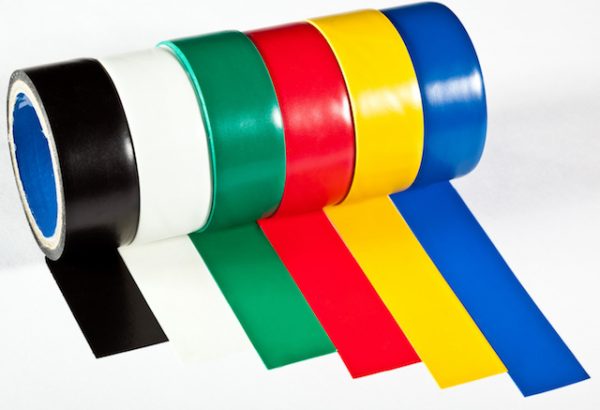 Flexcon Industrial is a leading provider of pressure sensitive adhesive tapes, insulation laminates, Stabrite® fluorescent films  and other related custom products.
Through Flexcon, industrial and commercial companies can acquire the products they need to complete installations, developments, repairs, and maintenance in a fast, efficient, and sustainable manner. Flexcon Industrial particularly focuses on pressure sensitive adhesive tapes and applications for its use.
Pressure Sensitive Adhesive Tapes
Flexcon Industrial provides pressure sensitive adhesive tapes for a variety of industries and applications. Pressure sensitive adhesive tapes and  release liners are provided in multiple thicknesses and sizes, all able to be customized and tailored depending on customer requirements. These pressure sensitive products are being used increasingly throughout constructive and automotive industries, as a method of reducing costs and improving sustainability.
Insulation Laminates
Flexcon also produces a wide variety of insulation laminates, which are able to serve as barriers within transformers, generators, and motors. These insulation laminates protect from temperature changes and dielectric breakdown , thereby making parts last longer. Insulation laminates don't just reduce the wear on parts; they also improve safety and reduce the cost and speed of maintenance. Though these laminates may be used primarily within industrial equipment, they can also be useful for other applications, such as automotive.
Custom Products
In addition to insulation and pressure sensitive adhesives, Flexcon products custom products such as thermosetting (b-stage) adhesives. Phenolic coated products, epoxy coated products, AFR coated products, and PVC heat seal are all provided through Flexcon with RoHS and REACH compliance. The adhesives that are used by Flexcon Industrial utilize proprietary adhesives  designed for extreme heat applications and with special, safety improving capabilities for flame resistance.
About Flexcon Industrial
Located in San Antonio, Texas, Flexcon has prided itself on developing its customer service and partnerships throughout the industry. Flexcon has been able to achieve success in a competitive market through research, development and innovative product design . The products provided through Flexcon are "off-the-shelf," tailored for each company and its needs.
A variety of industrial and commercial applications can be fulfilled in a sustainable and affordable way through Flexcon's product line. If you're interested in learning more about Flexcon Industrial and their products, Tom Brown, Inc can help. Tom Brown Inc. provides double coated film and foam Flexcon adhesive products , and can advise organizations on the right products for their applications.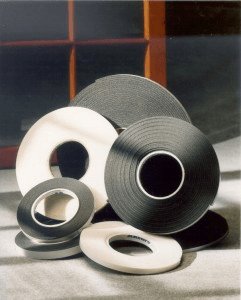 At Tom Brown, we provide a range of foam tape products from Adhesives Research, an independent developer of pressure-sensitive tapes, coatings, laminates and release liners. Adhesives Research manufactures a full line of pressure sensitive tapes to solve a variety of bonding and assembly challenges.
Tom Brown Inc. and the ARclad® Series
The ARclad® series foam tapes are designed to glaze insulated glass units (IG units)into PVC framing systems. At Tom Brown Inc., we carry ARclad® 2000, 3000, 4000 and 8000 series products. Each product has increasing strength and performance, with ARclad® 8000 providing the highest design pressure ratings. For customers seeking a cost effective foam glazing tape, the ARclad® 4000 series is durable and affordable. Tom Brown Inc. provides the following ARClad® products:
ARclad® 2000 Series- The ARclad® 2000 features a rubber based, high tack, high shear adhesive system. This product is perfect for PVC and aluminum.

ARclad® 3000 Series- This is a glazing tape series for PVC and aluminum. ARclad® 3000 is available in black and white, a range of thicknesses and can be delivered in long length spools.

ARclad® 4000 – ARclad® 4000 is a high performance acrylic adhesive that is available in a range of colors and thicknesses. This is the workhorse series in the line and has excellent resistance to moisture and UV light.

ARclad® 8000 – This top of the line product provides the best design pressure ratings and overall performance.
You can check out more about the Adhesives Research products that we sell by taking a look at our website.  
Contact Us To Purchase A Product
At Tom Brown, Inc., we carry a full line of foam sealing and bonding tapes. Our tapes can hold together metals, plastics, and almost anything you can think of. Our tapes keep out water and literally hold together trailers, trucks, and commercial window and wall systems.. We're a behind the scenes company, but our role in the lives of our customers is important. Located in Pittsburgh and Salt Lake City, we serve customers all over the surrounding areas and beyond. We're committed to providing the best tape products, in the right width, at the right time.. For samples or to discuss our tapes in greater detail, call us today at (800) 446-2298.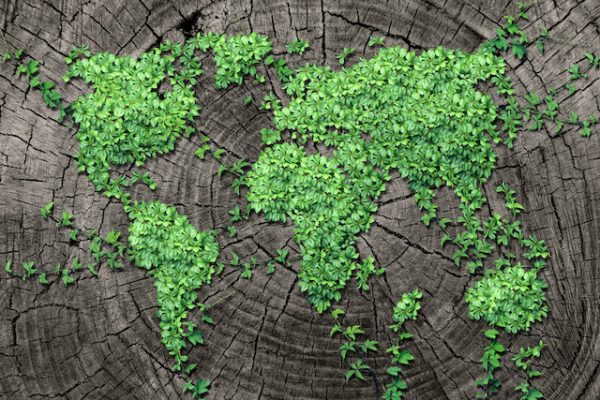 The Global Adhesives and

Sealants

industry has been changing quickly over the past decade. Not only have substantial strides been made in the chemical and physical composites available to the industry, but new uses have been discovered for adhesive and sealant products. Here are some of the major trends impacting the industry now.
Environmentally-Friendly and Sustainable Options
As with most sectors, the adhesives and

sealants

industry has been working towards more environmental and sustainable options. This is occurring in two major ways:
Sustainably sourcing chemicals and materials. The actual components of adhesives and

sealants

must be able to be recovered and created in a sustainable way. This means finding better locations to source these chemicals and materials and safer ways of doing so, often working on an international scale.
Producing safer end products. Adhesives and

sealants

are now being produced with lower amounts of emitting materials, thereby reducing the amount of environmental damage they could potentially cause. Many adhesives and

sealants

have now achieved 100% safety for VOC content, which makes them safer than many other types of chemical bonding.
Expansion Into New Sectors
Certain types of adhesive and sealant, such as tapes, are now being used throughout additional industries and applications. The adhesives and sealant industry is now working to ensure that these transitions occur smoothly and that their ramifications and potential consequences are fully explored. This may include stress testing, consultants, and revising standards of care. At the same time, the industry is also seeking new sectors in which products can expand. Adhesives and

sealants

are constantly improving, both in terms of sustainability and in terms of cost.
New Reforms for California and the TSCA
The U.S. Toxic Substances Control Act has needed reform since it was first adopted in 1976; at least that is the widely held opinion of the global adhesives and

sealants

industry. The industry has been working hard to revisit this issue, as it may block off chemicals that are both useful to the industry and that are not harmful to either the environment or to consumers. Since 1976, many additional processes have been discovered and new chemicals have entered into widespread usage. It is believed that it is now necessary to revamp the act to be more realistic. A larger variety of chemicals would  both improve the adhesives and

sealants

in use today and contribute to increased safety and industry growth.
Continued Growth Within the Market
Not only is the market expanding substantially in areas such as South America, but the industry totals were reported as a total of $12.5 billion as of 2013, which shows a gross profit of 29.5%. These profits are substantial and growing, covering exports to a total of 170 countries. As the market continues to grow, the need for superior products, better sustainability, and standardized testing becomes even more important. The market is growing and a wider variety of products are becoming available for different commercial, industrial, and even residential purposes. And that means that there are increased requirements for expertise. For everything from foam tapes to surface protection films, Tom Brown, Inc. can provide both consultation and quotes.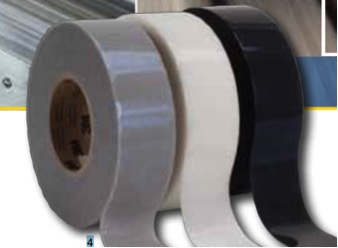 (Photo courtesy of 3M)

My typical approach for this blog is to offer readers some explanation of the various terminology, materials, test methods, and design considerations they might encounter when using pressure-sensitive tapes and gasket materials. I don't usually critique or review specific products but sometimes certain tapes really turn my head (you're probably thinking I have no life or am a real tape nerd…which is true!) Many of you have heard of 3M's VHB tape products. VHB tapes have been around since the mid 80's. Those products were truly ground breaking at that time and the product portfolio has grown substantially over the years to enable manufacturers to assemble anything from a cell phone to bonding an insulated glass unit into a high rise building. The Extreme Sealing Tape is born of this heritage but has some really interesting properties worth knowing about.
What Is Extreme Sealing Tape?
The tape consists of a flexible ionomer film with a foamed mass of 40 or 80 mil acrylic adhesive (and a very tacky acrylic at that) on one side. A film release liner protects the ionomer film /adhesive layer and allows the product to be self-wound into a roll. In case you are not familiar with the term "ionomer", the technical definition is a polymer that is comprised of repeating electrically neutral units with a fraction of ionized units that are covalently (shared electrons) bonded to the polymer backbone. A more practical way to think about ionomers is by thinking of DuPont's Surlyn which is a tough film made from ethylene (electrically neutral) and methacrylic acid (ionic). It's the tough outer cover used on golf balls and the film on the Extreme Sealing Tape is tough too.(and you can paint it) The 40 or 80 mil acrylic adhesive layer bonds on contact to many metal and plastic surfaces and can generate peel values in excess of 15 lbs./inch. It's "softness" allows it to easily conform over metal seams, contours and fastener heads and it seals out water like nobody's business! Extreme Sealing Tape was meant to compete with liquid sealants. It is easy to apply, and eliminates the mess associated with caulking guns. Its' unique design prevents it from cracking or crumbling, it resists high pressure washing, and can compensate for thermal expansion and contraction. All that in a roll of tape!
What Can You Do With It?
You can seal the roof seams on utility trailers or RV roofs, seal metal enclosures, tape around vent windows and skylights, seal a gutter or downspout, and use it pretty much anywhere you want to keep water out. Application steps are very easy:

(Photo courtesy of 3M)

Want a sample roll, technical data, or to discuss how to use this unique product? Call Tom Brown, Inc.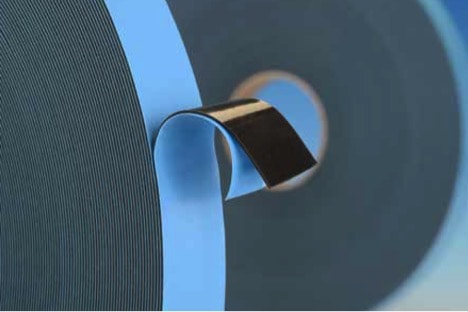 Release liners are that piece of paper or film that you remove to expose the adhesive on tapes or labels. Some people call it "the backing" but that is not exactly correct terminology. Release liners are produced for the most part by applying very thin coatings of silicone release agent to one or both sides of various papers or films. (there are some non-silicone release liners but they are very specialized and will not be covered here) Because the release liner is thrown away, not many give it a second thought-until it doesn't come off or function as intended. The truth is that there is an entire release liner industry that is a critical ally to the manufacturers of tape and label materials and there's a lot more going on than meets the eye.
The Basics- Carriers
First, let's look at the types of carriers that are typically used to produce most release liners:
Densified Kraft- a machine grade paper that has been run through a series of calendaring rolls to "smash down" the paper fibers into a sheet that has improved caliper control and ability to accept a silicone coating. These papers do not exhibit good dimensional stability in humid environments. They are often used in high speed rotary de-cutting operations.
Clay Coated Kraft- papers that have added clays or fillers added to the paper to improve surface characteristics. These fillers reduce the amount of exposed paper fibers and the paper exhibits better dimensional stability.
Polycoated Kraft- a paper that has a coating of polyolefin extruded onto one or both sides. The 'poly" coating (often polyethylene) encapsulates the paper fibers except on the edges and greatly improves dimensional stability. These papers resist curling better than other kraft liners. The poly coating does compromise the heat stability of the sheet during the adhesive coating operation so care has to be taken when using them. Also, the hardness of the poly coating has to be considered when they are used for kiss cut part production.
Polyethylene- a conformable film with excellent tear resistance that is available in a variety of thicknesses and densities. It has limited heat resistance during adhesive coating operations and silicone transfer can happen if the coating process is not properly designed. This liner (along with polypropylene) is often used on high performance bonding and assembly tapes since it exhibits excellent tear resistance and allows the liner to come off in one piece.
Polypropylene- not as thermally sensitive as polyethylene, this liner too has exceptional tear resistance and good dimensional stability.
Polyester- this film has superior caliper control and is often used in high speed kiss cutting and dispensing applications. Polyester liners are very popular for converted products in the medical and electronics industries.
The Basics- Silicone Chemistries
The two most common ways to think about silicone chemistry are in terms catalyst used and the energy system employed. The catalyst refers to the chemistry selected to "cure" the silicone coating (without proper cure, the silicone ends up contaminating the adhesive which is a not good!). The energy system refers to the type of equipment and process employed to achieve the cure.
Thermally Reactive Systems- these silicones use tin or platinum as the catalyst to initiate silicone cure in the presence of heat. Tin is the oldest type of silicone curing catalyst. It is available in emulsion and solvent forms and cures very well with low potential for silicone transfer but the longer dwell times needed for cure limit the substrates or carriers that can be selected. Platinum catalyst systems cure faster than tin based systems and are available in emulsion, solvent, and 100% solids forms.
UV Reactive Systems-these systems use a photo initiator in conjunction with a UV light source to cure the silicone release coating. The lower heat associated with this type of curing allows temperature sensitive materials such as polyethylene to be processed without excessive shrinkage.
Electron Beam Systems- the least common type of system due to the expense of electron beam curing equipment, these high energy systems use the energy from the electron beam discharge to initiate the reaction to cure the silicone coating.
Adhesives and Silicones- Working Together
The tape or label stock manufacturer and the release liner supplier have to be natural allies. Not every liner will work with every adhesive. The adhesive chemistry has to be considered along with the coating process for the tape or label stock. downstream converting operations such a slitting, die cutting, kiss cutting, and laminating need to be understood along with how the product will be applied in the field. For example, some rubber based adhesive don't work well with UV cured liners and some high tack acrylic adhesives don't like electron beam produced liners. Improper selection will result in a liner that is difficult to remove or doesn't remove at all. An unhappy customer is the result! If a densified kraft liner is selected for high speed kiss cutting and cost but will be applied via a dispensing system in an uncontrolled environment with high humidity, the applicator might jam and not perform properly. Throw away items like release liners and product packaging often get little of our attention. We want to get to what's inside the package or what's behind the release liner. The truth is that there is an incredible amount of science behind the selection of release liners and tape products. Tom Brown Inc. understands the importance of proper liner selection and can work with our customers to pick the right liner to meet your needs.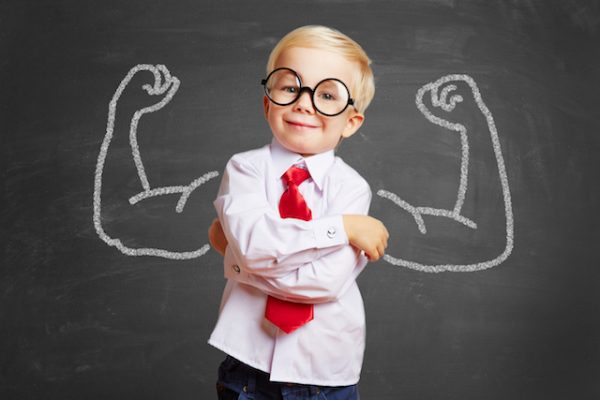 Just looking at the question above you will notice two very broad terms- "adhesive" and "strength". There are thousands of adhesive formulations-structural systems (such as epoxies, acrylics, and polyurethanes), pressure-sensitive products (tapes), and a myriad of sealants. If you ask someone what they imagine adhesive strength means, they will typically say something like, "how well it bonds one thing to another." That is a perfectly valid thought but a bit incomplete. For example, one adhesive might exhibit tremendous shear and tensile test values but might also be brittle and crack when exposed to excessive shock or vibration while a system with lower absolute tensile and shear values will handle the shock and vibration with no problems. So which system is stronger? Another adhesive system might demonstrate exceptional peel and shear strength when tested on one surface such as aluminum but fail miserably if the same aluminum has a powder coat paint applied. So the real question is, strong after exposure to what and in contact with what? Is it strong after underwater exposure? Strong after exposure to elevated or low temperatures? I recently attended a seminar for distributors and installers hosted by a premier supplier of architectural metal panel systems. This seminar featured "hands-on" instruction on installing several of their wall systems. One of the systems requires the use of a non-skinning butyl sealant along with a self-adhesive flashing tape on the interior corners. The butyl sealant would not be considered particularly "strong" with respect to tensile and shear values but it remains extremely flexible over its' service life and offers superior ability to seal out water and prevent incursion into the building.
How Is Adhesive Strength Measured?
Adhesive strength is often measured by tensile, shear and peel tests. (There are others too but we'll keep it simple for now)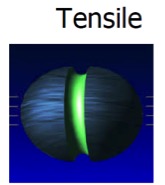 Tensile is a pull exerted equally over the entire joint. The pull direction is straight and away from the bond line. This is a useful test to understand how an adhesive might perform when a sudden load is applied such as a wind gust.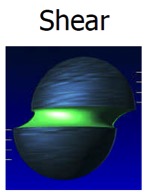 Shear is a pull directed across the adhesive, forcing the substrates to slide past each other. The test might be dynamic where one panel is bonded to another and pulled apart in a testing machine. The higher the load needed to "shear apart" the test panel the better its' ability resist sudden loads and thermal expansion. The test can also be run in a static mode where a constant load is applied and time to failure is recorded. Static shear value are useful in understanding how a system might perform if it must support a vertical load during service.
Peel is concentrated along a thin line at the edge of the bond where one substrate is flexible. This test is used extensively for pressure-sensitive tape systems to understand how well the adhesive "sticks" to the surface to which it is applied. All of these tests can be performed after various environmental and chemical exposures that mimic service conditions. This is why thorough testing and comparisons are needed before adhesives are recommended for each application. The adhesives, sealants, and tapes that are provided by Tom Brown, Inc. have been very thoroughly tested with different types of tape and adhesive products available for a multitude of commercial applications.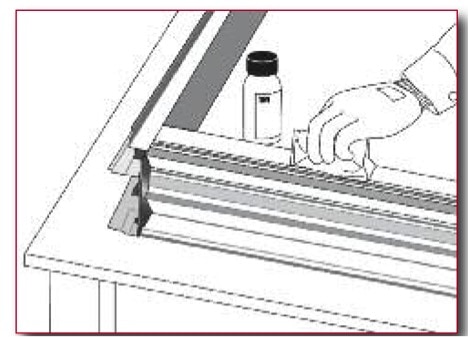 People use tapes every day and typically don't think much about them. They just expect them to stick when they're applied and most of the time they do just that with nothing more than light pressure from your fingers or hand. There are industrial tape applications however where things get a little more complicated and the risk of bond failure must be avoided at all costs. This is especially true for high strength acrylic tapes that are used in architectural and automotive applications. The use of painted metals that are painted with high performance architectural coatings, thermoplastic elastomers for automotive parts, and various other plastic and glass surfaces all can challenge acrylic bonding tape adhesion. Fortunately, there are very effective primers to help the fabricator or manufacturer overcome these adhesion challenges. It may be tempting to avoid the extra step associated with priming but here are three reasons not to do that:
Challenging Substrates
Many of today's engineering plastics, rubbers' and coatings are designed to take a beating and yet be cost effective. They can also be difficult to bond to due to inherently low surface energies. Primers acts as a  "bridge " between the tape and the surface. This is especially true when using silane coupling agents between a tape and glass surface. The appropriately named coupling agent has chemical functionality on one end of the molecule to assist with bonding to inorganic surfaces such as glass along with an organic side that works well with the tape. Result? A really great bond!
Superior Adhesion and Compatibility
The right primer results in superior adhesion between the tape and substrate. Simple peel testing will clearly show the significant increase in adhesion between an acrylic tape and a properly primed surface. The failure mode on a properly primed surface will be a cohesive failure meaning that the tape itself literally ruptures before the adhesive will let go. For those that know something about just how strong these acrylic tapes are, that's saying something!
Improved Quality and Longevity
Primers for tapes are relatively easy to apply. Only a thin coating is necessary and capital intensive equipment is not needed. Very often, simple dust free wipes are all that is necessary. The resulting increase in adhesion that is gained from the use of the right primer allows the bond to survive and thrive in adverse conditions. This might be sudden high wind loads on a high rise building façade or resisting repeated high pressure car wash cycles on automotive trim parts. Customers don't want their building, car, or other assembly to fail.  Proper tape and primer selection can make that a reality. Have questions about primers for high performance acrylic bonding tapes? Contact Tom Brown, Inc. for answers.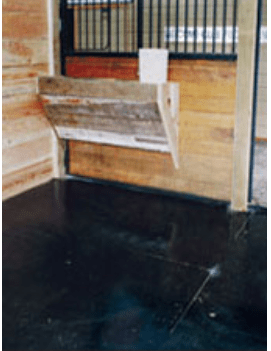 There are times when a single layer of a material simply is not suited to a project. This can occur throughout a myriad of industries, ranging from construction to furnishings. When multiple layers of material are needed, one of the easiest methods of assembly is through lamination. The process of large surface lamination occurs when two different surfaces are bonded together. These surfaces are generally the same size, but they may have differing properties.
The Most Common Uses for Large Surface Lamination
Wood veneer. Wood veneer is frequently attached directly to other, less expensive types of wood. Both these materials are porous, but it's important that the lamination be very strong, as this material will often be further processed to make furnishings and tools.
Transportation flooring. The non-skid flooring of transportation equipment often has to be bonded directly to metal and other materials. Transportation flooring adhesion is particularly important because it is a safety issue; failed adhesion could lead to tripping hazards.
In furnishings, fabric is often bonded directly to various foams. In this situation, flexibility is very important in the application; the materials will both need to retain their bond even as they may both experience bending or warping . Some furnishings may be made out of multiple bonded materials, such as leather over cloth.
Surfaces such as counters and table tops require a high pressure laminate material. This adheres a decorative (but still long-lasting) material to a more solid base, which could be made out of wood or even metal. This type of surfacing may need to be heat and damage resistant.
Requirements for Large Surface Lamination
When large surface lamination occurs, the most important aspect is the bonding. Both adhesives and tapes are frequently used for large surface lamination, and these materials need to be able to bond to both of the surfaces. Requirements include that the adhesive used must be able to cover the full surface of both materials. They need to be flexible in some instances and more rigid in others. The adhesive needs to allow for the positioning of parts in relation to each other, and it needs to be able to bond fairly quickly and permanently without the need for excessive fixturing.
Large surface lamination isn't only about the type of lamination, but also the size; because the surfaces are fairly large, the lamination needs to be strong, flexible, and more versatile. For situations in which a single-layer material cannot be used, TBI offers multi-layer laminates up to 64 inches in width. These premium multi-layer laminations can be further improved through the use of foils, plastic layers, pressure-sensitive layers, and other modifications. Both heat assisted lamination and cold roll lamination processes are available. If you're interested in a multi-layer laminate assembly, contact TBI today.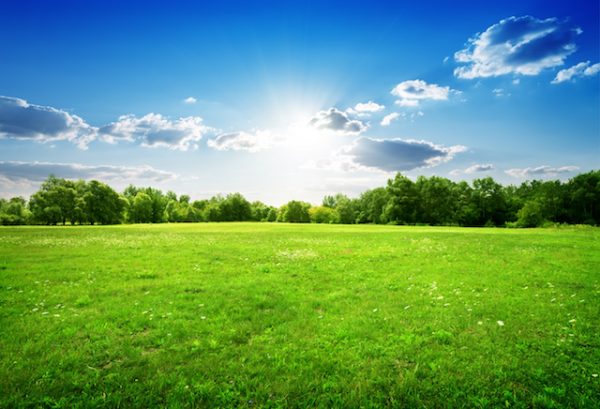 Brendan Brown, the COO of Tom Brown, Inc. has become the president of the SEAL (Sealant Engineering  and Associated Lines) Group. The SEAL Group is going to be meeting twice in 2017, both in Spring and Fall. These meetings are going to be incredibly important for those within the industry.
Mission of SEAL Group
SEAL Group has been established for the networking and trading of knowledge for those within the sealant and sealant-related industries. By bringing together the most notable voices in the business, the SEAL Group is able to further improve upon their products and deliver even better solutions for their clientele. Sealant engineering, waterproofing, and associated lines are all B2B industries with rapidly expanding applications. This means that a lot of adaptation and evolution has to occur within the industry. The better connected the industry is the more opportunities will arise. Matt

Birk

will be a guest speaker on Tuesday. This is a great addition to the industry information that will be disbursed. Matt

Birk

is a former players for the MN Vikings and Baltimore Ravens. Twice all-pro and six times Pro Bowl, Matt

Birk

was also the 2011 Walter Payton Man of the Year. In his presentation, he is going to discuss his career and how it relates to success in business. This will be an inspiring and unique presentation that is sure to give visitors something to think about.
The SEAL Group Spring Meeting
Registration is presently open for the SEAL Group Spring Meeting, which will take place from May 1st to May 3rd at the Radisson Blu Downtown Minneapolis Hotel. This exciting industry event is designed to bring those within the industry together to network, socialize, and discuss new and important trends. The industry and the technology that supports it is growing very quickly. Companies that aren't able to keep abreast of these new trends aren't going to be able to remain competitive. These industry meetings are held in areas with large numbers of entertainment venues, restaurant options, and even spa opportunities. For those who can't attend the Spring Meeting, a Fall Meeting will also be held from November 5th to November 8th, at the Hyatt Regency Coconut Point in Bonita Springs, Florida. Registration will occur for this relaxing event in the summer of 2017. This similar event will likewise bring with it many opportunities for network and connection. It's also located in a fantastic place for all types of relaxation; it's a vacation and an industry event in one. Tom Brown, Inc. is proud to have a part in the SEAL Group and proud to represent a large selection of products from leaders within the industry. For more information about the many adhesives that can operate as

sealants

, consider reviewing the adhesive selection at Tom Brown, Inc.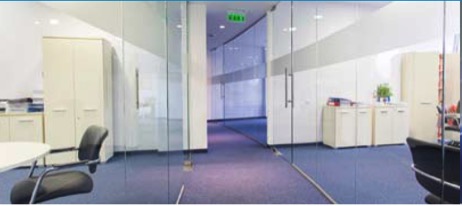 The first thing people think of when they think of glass is usually a window or a car windshield. While those are certainly the dominant applications for glass globally, glass is finding increasing use as an architectural design element on the interior of commercial and residential buildings.
Glass can be used as a partial partition, to enclose a full office or conference space, in glass elevators, or as a shower enclosure. These glass panels can contain unique graphics due to the prominence of large format printing processes and can also be etched or coated to look like stone or other surfaces.
As you might expect, adhesives and sealants play a large role in the installation of glass panels and yes, "there's a tape for that"!
These tapes are designed with a transparent acrylic core in thicknesses from 20 mils to 118 mils. They are typically applied along the edge of the glass panel and provide an easy, clean way to unitize the panels and provide nearly invisible sight lines.
These tape systems can be applied in a shop environment or in the field and the installation steps are not complicated.
First the glass edges needs to be cleaned. A simple 50:50 blend of water and isopropyl alcohol will remove any contamination and provide a ready to bond surface. Primer containing silane coupling agents can be used to enhance bond strength of needed.
Next the slit roll of tape is applied with a hand held guide along the edge of the glass panel and a small rubber covered roller is used to secure the exposed adhesive to the edge.

Next, a small piece of the release liner is "pig-tailed" to allow it to be removed when the panels are ultimately brought into contact. The panels can then be set into the bottom channel and brought into near contact. A double vacuum pad at the top and bottom of the partition can be applied to bring the panels into contact with one another.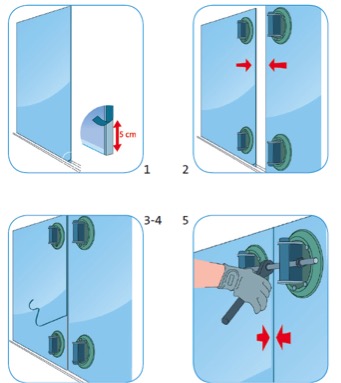 That's it! Once the panels are brought into contact, the tape will achieve 50-60% of it's bond strength and will reach 80% within an hour.
Want to learn more about transparent acrylic glass to glass bonding tapes? Contact Tom Brown, Inc. for more details.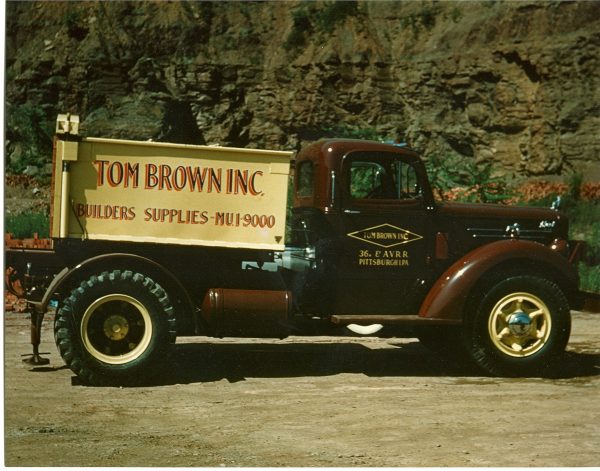 For over 80 years, Tom Brown, Inc. has been providing high quality building supplies to construction companies throughout the nation. First launched as Tom Brown Builder's Supply in 1936 and later incorporated as Tom Brown, Inc. in 1946, the business has remained dedicated to its customers and its product throughout the many decades. In recent years, Tom Brown, Inc. has focused on the manufacture of specialty tape and gasket materials, and remains a distributor of a wide array of specialty construction products.
A Century's Worth of History in Every Product
At the age of 13, Tom Brown took control over his father's business, The James Brown Feed and Grain Company. This was Tom's introduction to the world of business ownership. In 1915 he began working at Duncan and Porter Company, developing an interest in supplying industrial lime to the steel industry. He began to sell lime to building and construction companies in 1936 under the name Tom Brown Builder's Supply.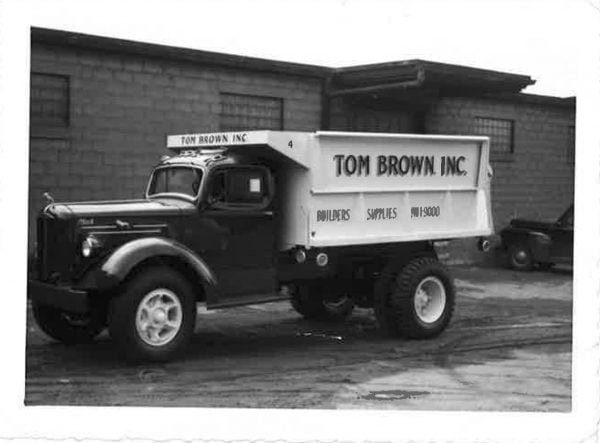 It wasn't until 1940, after the purchase of Heppenstall and Marquis Builder's Supply, that Tom Brownwould begin interest in wholesale distribution. Later, Tom Brown would go on to purchase the largest distributor of Andersen windows in the country, in addition to a wide variety of other businesses. In 1949, the focus would shift to architectural precast concrete, when Don Brown joined the company.

From Concrete to Sealant: A Natural Evolution
For decades, Tom Brown, Inc. focused on precast concrete production. Through this specialization, Don Brown learned more about the adhesives, sealants, and caulking materials that were needed to work with the concrete. Eventually, this led to the distribution of new tape and adhesive products. In the 1983, Kenny Brown shifted the organization's focus once again: this time to tape converting. 
TBI has remained a successful and growing business over the past 80 years by adapting to the changing needs of the market, and always staying a step ahead of the competition. While other suppliers were content to provide what the construction and building industry demanded, Tom Brown, Inc. was always looking for the next development in specialized technology. By adapting to changing markets, the business has been able to succeed where others have failed.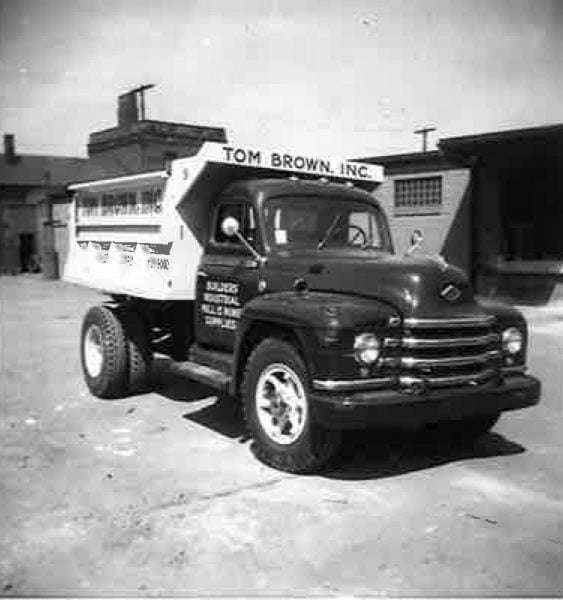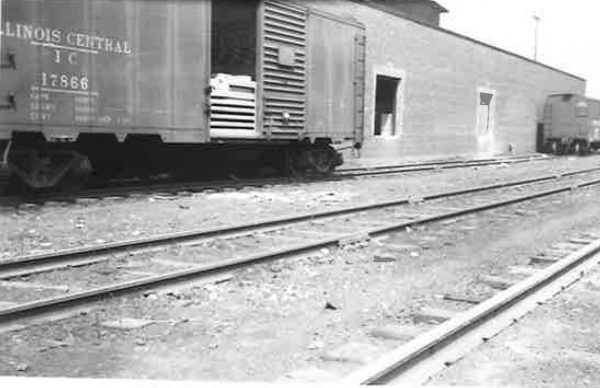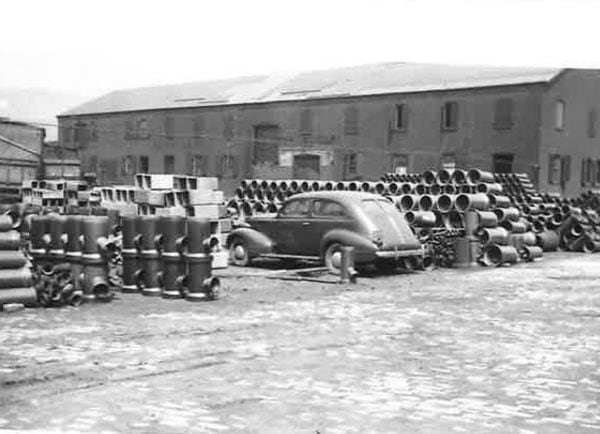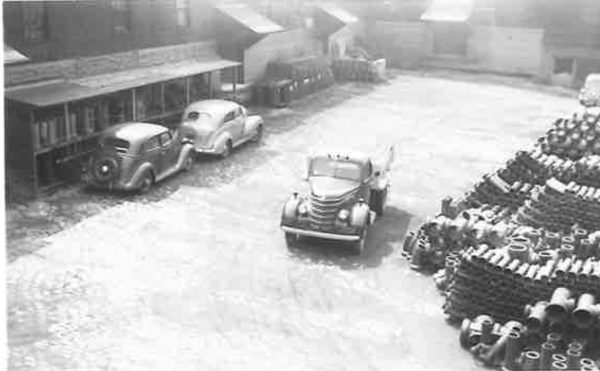 Tom Brown, Inc. Today
Though its products may have changed, the company's expertise within the construction and building industry remains unmatched. Headed by Brendan Brown, TBI today focuses primarily on tape and gasket manufacture and converting, sealants, caulking, and waterproofing. TBI provides tape conversion for both Norton (Saint-Gobain) and 3M, in addition to a variety of other industry leaders. 
Tom Brown, Inc. hopes to celebrate many more decades serving the industrial, construction, and building industries. It's not known what challenges lie ahead for the business, but the industry for specialty tapes and gasket materials is strong and growing. As a family-owned business that has spanned nearly a century, TBI puts its relationship with its customers and the industry first… and that's something that will continue for a long time to come. For more information about the history of TBI and to inquire about any of their specialty products or services, contact them today.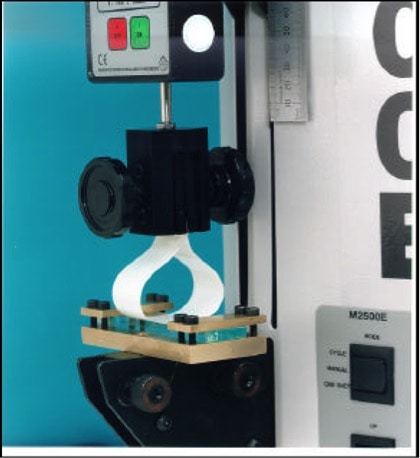 The human sense of touch (also called somatosensation) is considerably well developed and utilizes a rather large area of the brain and nervous system. The "mechanoreceptors" in our fingers consist of tactile, lamellar, and bulbous corpuscles that react to how rough or soft a surface might be along with skin stretch that allows us to sense slippage (or lack of slippage).
Examining a roll of tape visually provides little in the way of feedback about how suitable the tape might be for an application and since tape doesn't talk, our auditory system provides no useful information. Tasting the tape is not recommended and unless you are a trained formulator, smell doesn't help much either.
When you hand a roll of tape to someone, what do they instinctively do? They unwind a bit of it or peel back the release liner to expose the adhesive and they stick their thumb on it. The thumb is able to sense the relative "stickiness" or tackiness of the tape and usually the "stickier or tackier" it is, the greater the chance that the person will say…"this is really good stuff!"
Despite the thumb's sensitivity, that tactile feedback can be misleading about the ability of the tape do the job. Skin roughness, perspiration, and skin oils also can affect our perception and create a false impression of the tape.
High tack can be critical to some applications but there are many applications where it might be a real disadvantage.
There are many physical properties that can be measured with pressure-sensitive adhesive tapes but the main three properties that are typically reported are tack, peel adhesion, and shear. Shear will not be discussed in this article but we will take a slightly deeper dive into tack and peel.
While tack and peel are often correlated, they are not the same. Here's why…
Tack: How Quickly a Bond is Formed
Tack is the property that controls how quickly a bond is formed when it is brought into contact with a surface with very slight pressure. It is ability of the adhesive to "wet" the surface that it contacts.
There are applications where tack(specifically high tack) are important. Flying splices on paper or film converting machines and wire management hooks and clips for appliances are two applications where immediate loads will be applied and the tape must hold without delay.
Tack is sensitive to a variety of factors including the properties of the adherend (typically roughness or topography along with surface energy) along with temperature and processing conditions.
There are 4 principle test methods for measuring tack- loop tack, rolling ball tack, probe tack, and quick stick. Without going into too much detail about individual test methods, loop tack is often viewed as the most repeatable and consistent and many tape manufacturers now report it routinely. A loop of tape is formed and brought into contact with a test plate. The loop is then pulled away on a tensile testing machine and the value recorded.(see above photo)
Probe tack was popular for many years since it more or less resembled the "thumb tack" test but wide variability in the test data has often been observed. In this test, a metal probe is brought into contact with tape surface, allowed to dwell for a specified time, and then pulled away. The force of removal is reported in grams.
Rolling ball tack is a simplistic test where a ball bearing is released down a ramp onto a tape specimen. The adhesive "arrests" the motion of the ball bearing due to grab and a "plowing effect" and the distance need to stop the ball is reported. This test is often used as a quick QC test on a production line.
Quick stick also uses a tensile or peel tester as in the loop tack test to pull a tape specimen off at a 90° angle with short or no dwell time. This differs from normal peel adhesion testing since only the weight of the tape itself is used to initiate the bond or a very light 25 gram roller.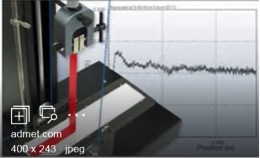 Peel: How Much Force Is Required to Remove the Bond

Peel adhesion testing is measuring the force required to remove a tape specimen from a test panel at a controlled angle (usually 180°or 90°), at standard rate, and with a defined dwell time.

The tape is applied using a weighted rubber roller to a stainless steel (or other panel material that is defined) and then allowed to dwell on that panel. The tape can be peeled away immediately but dwell times from 5 minutes up to 72 hours are common.

Some adhesive applications require temporary fixing of the tape to the surface with the intent of removing it in the future without adhesive residue. Think of the surface protection films used on appliances or paint masking tapes. In these applications, lower peel levels(and likely tack) are needed to impart stable removal over time.

In more permanent applications, higher peel forces will likely be needed in order to permanently affix the tape to the substrate or to bond two surfaces together. This does not necessarily mean that the tape must exhibit high tack (whether you test it with your thumb or a loop tack method). Many high tack tape systems depending on how they're formulated might have lower ultimate peel strength versus a tape that seems "not as tacky" but develops very high peel adhesion to specific surfaces.

One final note- peel testing on a standard stainless steel panel can be useful but it is imperative that peel testing also take place on the surfaces to which it will actually be applied. That peel testing will yield a much richer date set. Those panels can also subjected to various humidity conditions, high or low temperatures and chemical exposures that the tape will actually see. A much deeper understanding of field performance can be realized (and it may or may not have anything to do with tack as we perceive it).

Have questions about the tack and peel properties of adhesive tapes? Give us a call at Tom Brown, Inc. for more information.

Water jet cutting is a unique platform to produce parts from foam, plastic, cork, rubber, and many other materials both with and without an adhesive layer. It enables engineers to rapidly acquire prototype parts , begin their evaluation and testing protocols, and quickly adjust to what they learn.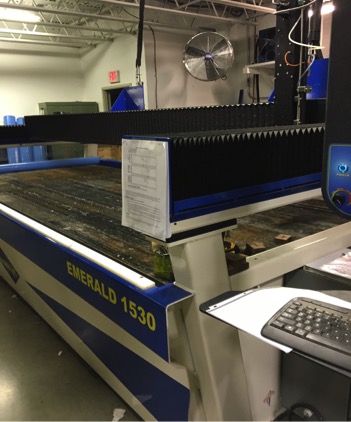 There are three primary reasons to why using Tom Brown's water jet platform for rapid prototyping service makes sense:
There is no need to wait for custom tooling
It is an inexpensive way to quickly receive highly accurate prototypes in quantities that make sense for this stage in the development process
Tom Brown, Inc. maintains a very large inventory of foams, plastic products, rubber, cork, and adhesive coated tape materials that can be processed in about 1 day or less.
No Custom Tooling A water jet uses a CNC interface that allows the machine to accurately cut parts without the need for hard tooling such as a rotary die or a flat-bed die. There's no waiting. If you have a CAD drawing, it can be loaded right into the machine and processing can begin. The 60,000 psi nozzle cuts parts without any heat exposure or burning. Once the CAD file is loaded into the machine, it can be stored for future production use or used as the basis for creating other tooling if another die-cutting technique is to be employed. Inexpensive Method to Gain Highly Accurate Prototypes Time is money. Aside from avoiding the wait for tooling, the water jet can cut prototypes within +/- 10 mils on the standard nozzle or can go down to +/- 5 mils with the finest nozzle. Since the parts are processed one at time, one or a few a parts can be cut to allow the engineer or designer to get an accurate reading on what the part looks like, how it functions, and allows rapid changes to fine tune the component. It provides proof of concept with minimal costs. Large Inventory Of In Stock Materials Having a large inventory of varied materials on hand means that we can often begin cutting the prototype the same day as we receive the CAD file. If you require a material we don't have, we can often obtain small samples using expedited delivery services and still get parts in your hands with a couple of days. Want to learn more about how Tom Brown, Inc. can help you with our rapid prototyping water jet cutting services? Contact us to learn more!

Foam is a lightweight, strong, durable, and pliable material that is becoming one of the leading alternative design materials throughout the automotive industry, aeronautics industry, and construction industry. Industry insiders have been exploring ways that foam can be used for a variety of different projects.

The Benefits of Foam as Alternative Design Materials
Foam is able to be installed in areas where other materials simply would not be pliable or lightweight enough. Primarily, foam is fitting into the same area in which plastics originally fit: it's a way to save on cost and add value, with a more versatile material.
Foam is able to:
Either expand or be offered in shapes that can suit nearly any design 

infrastructure.
Reduce the weight of designs substantially without compromising on structural 

stability.
Perform natural insulating functions, which can be enhanced through different 

foam composites.
Be installed easily without extensive training, resources, or overly 

specialized equipment.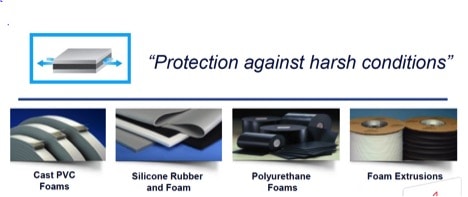 Foam Moving Into the Future

Foam materials are often sustainable and environmentally friendly. Foam products are often supplied with a pressure-sensitive adhesive on one or both side and don't typically require extensive installation processes as other materials and fastening methods might.  Foam is a low VOC substance (volatile organic compounds). LEED credits can often be realized in the construction industry when using foam materials.

Foam is rapidly gaining ground throughout a variety of industries and is anticipated to continue building in popularity. Because it is a durable and inexpensive solution, the foam can be used to improve upon existing designs and to reduce budgets on projects that are being planned. As foam advances in technology, it is likely to become even stronger, more lightweight, and more durable.

One of the easiest to use technologies available today is foam-based tapes, which are easy to install and convey many of the benefits of foam as a design material. Contact Tom Brown, Inc. today to learn about the many products available from Saint Gobain, 3M, Adhesives Research, and Rubberlite.

Many manufacturers, particularly in the fenestration, construction, and transportation industries are familiar with butyl sealants. They are typically blends of butyl rubber and polyisobutylene. They have a long history of use in metal panel joints, curtain wall joints, secondary glazing seals, and flashing because of their resistance to water, moisture penetration, and overall outdoor performance. The downside is that they can be tricky to apply, difficult to clean up, experience shrinkage, and can "pump out" in areas under compression.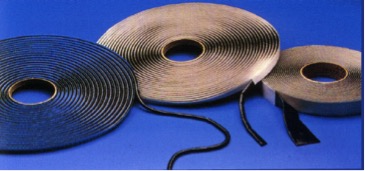 What if you could combine the performance characteristics of butyl sealant with the ease of handling common to tapes? Well, now you can. BCF (butyl coated foam) does exactly that by combining a compressible PVC foam core with a high tack butyl sealant on the outside of the extrusion. The foam is available in 3/16" to ½" diameter tube shapes or as 3/8"-1.5" wide strip in thicknesses from 1/8" to 3/16" . BCF comes on rolls just like double-coated tape (seen on the photo above)or it can be laminated to a release liner and cut to length. It's easy to handle and apply due to the foam core, requires no clean up, and will not pump out during use. The foam core and butyl sealant are formulated for UV and ozone resistance and exhibit excellent weatherability. Typical applications include bus bodies, windows, mullions, metal building panels, trailer and RV roof and window seals. Contact Tom Brown, Inc for samples and technical data on our line of butyl coated foam materials.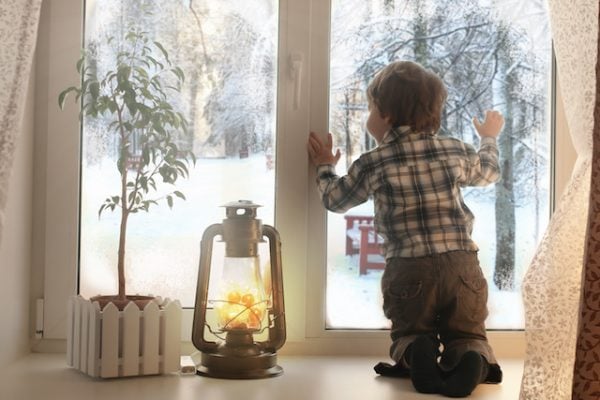 Residential windows have come a long way from the wood and aluminum single hung, double hung, and casement windows we remember from our youth. Those windows were cold, they often leaked air, and during certain weather conditions would have condensation form on them.
Today's window systems feature double or triple pane insulated glass units that often feature low e coatings to help either transmit or trap heat and sunlight depending on the part of the country in which you live. Those insulated glass units are sealed into frames made from PVC, fiberglass, wood, and metal clad wood.
As the window has become more of a custom design element and has increased in value, the idea of protecting it has taken on greater importance.
When a window is installed during the construction process, there are most likely other building steps in process at the same time. These include the application of stucco, brickwork and other masonry, and painting. Protecting the window glass and frame from paint spray, masonry and stucco splash and cleanup chemicals such as muriatic acid becomes important when the value of the window is high and clean up is expensive in terms of wasted time and money.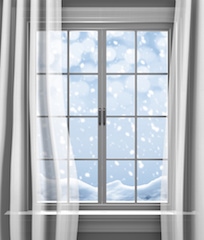 Window OEMs often chose to offer windows with surface protection pre-applied for their upper end range of products to maintain a pristine condition and to promote brand value. Window installers and contractors often add surface protection films on the job site to prevent wasted effort in cleaning steps that are easily avoided by application of surface protections films.
Tom Brown, Inc. has the right range of surface protection films designed for the residential window industry. The range features UV stabilized polyethylene films in both clear and blue tint that are coated with UV stable acrylic adhesive systems. These cross-linked acrylic adhesives can be selected for use on just the glass surface and also for adhesion to the framing materials. They can be easily applied in line via lamination at the factory or by hand at the jobsite. They tolerate outdoor exposure and remove easily when the job is completed leaving the homeowner with a pristine product and the window OEM and contractor with a happy customer.
Contact Tom Brown, Inc.for your free window film sample and to learn more.
Current global demand for pressure-sensitive adhesives is valued at approximately USD $52 Billion or roughly 47 billion square meters per year and is expected to grow to USD $73.5 Billion by 2024¹. To give you some perspective on those numbers, 47 billion square meters is over 18,000 square miles of tape or enough to cover the entire state of New Jersey more than twice! The US demand for pressure sensitive tapes is 9.9 billion square meters per year or approximately 25% of the global total. That's enough to cover more than half the state. Where did our big industry get its start? Who invented pressure-sensitive adhesive tapes? To answer those questions we have to go back over 160 years.
¹Market Research Engine, "2019, "Global Adhesive Tape Market"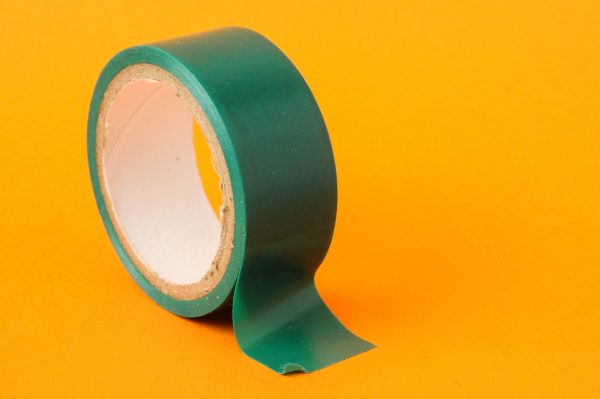 Necessity is the Mother of Invention
In 1845, a surgeon named Dr. Horace Day made the first crude surgical tape by combining India rubber, pine gum, turpentine, litharge (a yellow lead oxide), and turpentine extract of cayenne pepper and applying that mixture to strips of fabric. It was the first "rubber-based" adhesive and Dr. Day used it in his practice as a surgical plaster.
Larger scale manufacturing of similar medical tapes began in 1874 by Robert Wood Johnson and George Seaburg in East Orange, NJ. That company would soon become the Johnson & Johnson Company we know today. Later in 1921, Earle Dickson who bought cotton for Johnson & Johnson noticed that the surgical tape kept falling off his wife Josephine's fingers after cutting them in the kitchen. He fixed a piece of gauze to some cloth backed tape and the first Band-Aid ® was invented.
It took almost 75 years from Dr. Day's first crude tape until the early 1920's when the first industrial tape application appeared. The application was electrical tape (although the adhesive was more of a cohesive film than the electrical tape we know today) to prevent wires from shorting.
The second major industrial tape application was a result of the rise of the American automobile in the 1920's. Two toned automobiles were becoming popular and auto makers needed a way to produce clean, sharp paint lines while using the new automatic paint spray gun. They started using the surgical tape that was available but the paint wicked through the cloth backing and caused defective paint jobs. 
Richard Drew, an engineer at Minnesota Mining and Manufacturing (3M) happened to be at a local body shop testing their WetorDry® brand sandpaper in 1925 and he saw the workers struggling to get clean paint lines. He went back to his lab and created a 2 inch wide crimp backed paper tape that became the first "masking tape" for painting. In case you've ever wondered, the brand name "Scotch" came about when Richard Drew was testing some of his paint masking tape and the auto body painter yelled at him to "take that tape back to your "Scotch" (indicating that they were being cheap) bosses and tell them to put some more adhesive on it!" The name was soon applied to the whole product line and became one of the industry's most recognized brand names. 
Richard Drew also founded the first tape laboratory at 3M in 1926 and went on to create a clear, water proof tape to seal cellophane food wrap for bakers and grocers. This cellulose tape became what we know more commonly as Scotch Tape and consumers soon learned that they could repair torn book pages, documents, and even ripped window shades with this new product.
Jumping ahead to 1942 and World War II, Johnson & Johnson developed duct tape to seal canisters and repair equipment for the military. The tape was a basically a polyethylene coated cloth tape with good "quick stick" properties that made it easy to use in the field for emergency repairs. The world never looked back and duct tape can be found in almost any home or tool box.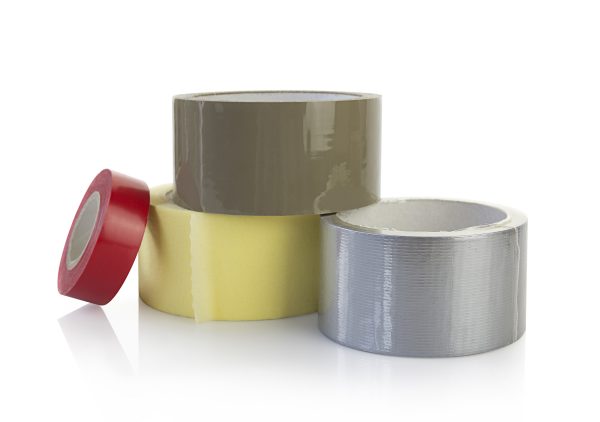 After the War
Pressure –sensitive tape usage really started to grow in the 1960's and 70's. During this time there were tremendous strides made in adhesive formulation strategies and the emerging acrylic adhesive systems.  Adhesive performance improved significantly and the availability of new backing materials such as polymer films and foams and silicone release liners surged. These factors drove innovation and the creation of many new types of tapes for a variety of applications.
Moving ahead to the early 1980's, we see the introduction of VHB acrylic foam tapes by 3M. This was truly an industry leading innovation as tape could now replace mechanical fasteners which had been unheard of up till then.
Today, acrylic foam tape performance has improved even more and 3M's VHB Structural Glazing Tape actually holds the insulated glass units into mid and high rise buildings!  Who ever thought a tape could do that?
And that's not all. We are seeing amazing innovations in adhesive tapes used in the healthcare industry. Adhesives designed to stick to different types of skin and remove without skin trauma or even when wet are commonplace. Medical devices such as strip to measure blood sugar in diabetics are made of precision coated adhesive films.
Most of us carry a cell phone and there are 25-30 pieces of various die cut tapes bonding the various layers together and sealing out dust, dirt, and moisture. 
And it's not going to end there.
Explore Pressure-Sensitive Adhesives at Tom Brown, Inc.
The tap products we convert at Tom Brown, Inc. can easily trace their origins to these early pioneers but they have come much further. The adhesives on our double coated film tapes we use for gasket fabrication is a synthetic version of that India rubber used by Dr. Day in 1845. The acrylic adhesives on our high performance bonding and sealing  tapes are more sophisticated. They rely on the reaction of various acrylic monomers in solvent. They can do amazing things such as holding large pieces of glass into metal extrusions on large building without the need for mechanical fasteners.

Now you know some of the origins of our industry. Just take a look at

Tom Brown's tape products

and you can see that pressure-sensitive products have come a long way since Dr. Day's first invention.

Emergency vehicles go through a lot while they are in service. Moreover, emergency vehicles also need to remain in commission for as long as possible: the less time a vehicle spends being repaired or compromised due to structural problems, the better. There are materials that can be used to extend emergency vehicle service life and reduce total cost of ownership.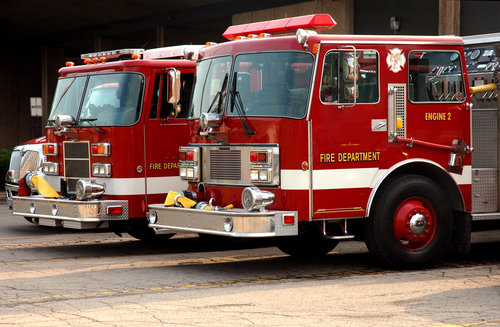 Adhesive Tape Products for Panel Bonding and Sealing
Adhesive tape products can be used to substantially improve the life of a service vehicle in a variety of ways:
Bonding Body Panels With Ease
Tapes will quickly bond panels without having to be fastened with screws or rivets. Additionally, tapes seal across the entirety of the frame or joint, thereby distributing stress evenly. Mechanical fasteners focus stresses in one area and can create stress fractures in that area. Think of an emergency vehicle bouncing down rough or unpaved roads.
Bonding Body Panels With Ease
Most emergency and fire services are operating on a budget and many are volunteers services. Because of this, they need to be exceptionally aware of the cost of their fleet. Tapes are viscoelastic and easily absorb shock and vibration. Tapes are up to 41% quitter and transmit 30% less vibration at highway speeds. Long-term, tape systems will require fewer repairs and will allow vehicles to remain in commission longer.
Sealing Seams While Bonding
Tape is beneficial over mechanical fasteners as it provides a seal along the entire bond line. When using mechanical fasteners, holes are created which result in ingress points for water and the potential for corrosion. Sealing is critical; without a good seal, roofs and side panels could easily leak. Leaks create structural damage and corrosion decreasing overall vehicle service life.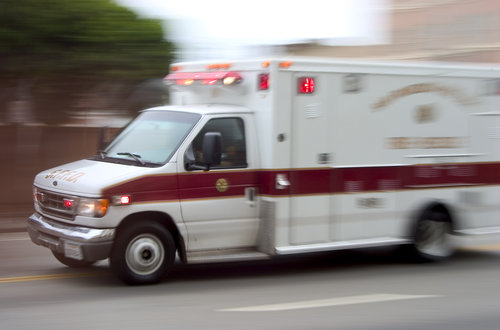 Tom Brown, Inc. offers specialized adhesive products
that are designed to improve upon 
fire apparatus and emergency vehicles. Through the use of these products, companies 
can significantly improve upon the longevity of their vehicles.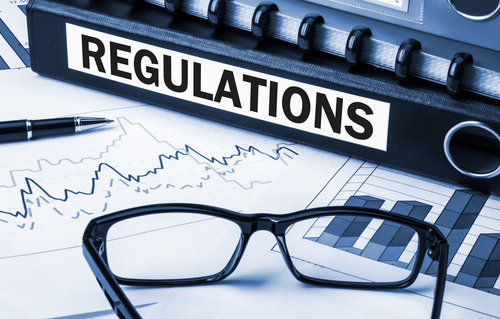 Adhesives and sealants need to meet certain global industry standards for use within the engineering and manufacturing communities. These standards are meant to ensure that there is consistency across the categorization and classification of adhesives and sealants, and to provide predictable results when these adhesives and sealants are used.
Not only is this a product quality issue but also a safety and hazard issue, as engineers and designers must be aware of the properties that each adhesive or sealant displays.
Through rigorous standards, engineers and designers can feel free to plan their developments without worrying about unpredictable behavior.
Standard Testing Methods for Adhesives and
Sealants
Adhesives and sealants all have standard testing methods to predict how they will perform during usage. For adhesives and tape systems, standard test methods will test the strength of adhesive bonds by using a variety of test methods in a variety of situations. Examples might include:
  

Peel Adhesion at 180° and 90° angles for tapes

  

Overlap shear tests for structural adhesives

  

Elongation and tensile modulus

  

Block shear strength for structural adhesive systems

  

Dynamic and Z tensile tests for foam tapes

  

Static shear tests for tape systems
These standard tests plus others will be used to determine whether adhesives may be suitable to specific applications. Similarly, sealants will undergo testing processes for shrinkage, extrudability, curing time, and other issues that could potentially arise during application and usage. The adhesive properties of the sealant will be tested, as will the performance of the sealant in a variety of environments. Other elements, such as staining, might also be tested.
Standard Specifications for Adhesives and
Sealants
Liquid adhesives and tapes have standard test methods for different forms of adhesive, such as Epoxy structural adhesives or light cure systems. Because there are general types of adhesives and tapes, it must be ensured that each adhesive or tape lists relevant physical properties for these broad-spectrum categories. This gives engineers and designers a better idea of the products that they are evaluating, even if they may not have worked with a

particular

product.

Sealants have similar standard specifications, including latex sealants, joint sealants, silicone sealants, and more. Again, these sealants are classified into broad spectrum primarily for the purposes of predictability and ease of use.
Test methods and specifications matter very little if the physical properties of these products are not consistent with the intended end use. By having consistent test methods, standards, and application practices, engineers are able to collaborate and ensure that the right products are being used. Without understanding test methods and application processes,, adhesives, tapes, and sealants could fail due to a poor material selection process and improper application practices.
When choosing adhesives, tapes, and sealants for new projects, engineers and designers will be able to easily compare these products on an apples-to-apples basis because of the comprehensive test methods and standards that have been developed. All of
the adhesive, tape, and sealant products from Tom Brown, Inc.
have been thoroughly tested and the data sheets are readily available for review. Contact Tom Brown, Inc. for data sheets, samples or quotes on our products today.
Before sending materials into production, it's important that companies be aware of the tolerances of the technology they're using. Die cutting and slitting are both advanced production technologies that are designed to produce simple components and products. Tight tolerances might be critical in some cases and not as important in others. Tolerances impact the precision of each item over the course of the run.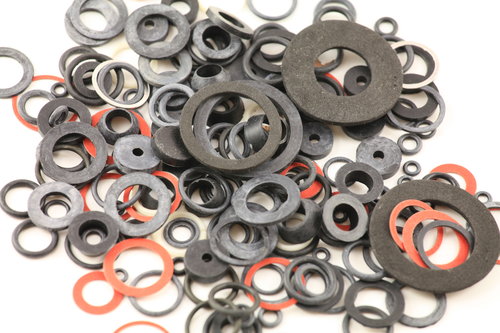 Die Cutting and Tolerances
There are three primary methods of die cutting which are used at Tom brown, Inc.: flat bed, rotary, and water jet Each of these have different applications. Flat bed die cutting is primarily used for moderately sized and small runs. It's a very cost-effective, fast, and simple method of die cutting, with the ability to process materials of varying thicknesses up to about 1/8". The die tolerance itself is +- 0.005" but there are some products (particularly PVC foams) which may shrink slightly after the cutting operation. Rotary die cutting is a high precision method of producing high volume runs. Rotary die cutting has higher costs but is a much faster process. Rotary die cutting can hold a tolerance of +/- 0.005" or better. Finally, water jet cutting is a method of cutting using a CNC interface that is primarily used for customization, rapid prototyping, and smaller runs. Water jet cutting is slower but is very useful for cutting very thick materials or very large format materials. This method can hold a tolerance of +/- 0.010"
Slitting and Tolerances
The process of slitting can be used in preparing materials for die-cutting or as a standalone process. Slitting is often done for films, foams, tapes, textiles, and other thin materials. As with die cutting, there are multiple methods of slitting. The two major methods of slitting at Tom brown, Inc. are log slitting and rewind slitting . Log slitting can process wider rolls and is generally used as a one step standalone slitting process. This slitting method can hodl +/-1/32" and can even hold tighter tolerances with some materials. Rewind slitting is usually used in preparation for die cutting and will both slit the materials and rewind them. This slitting method can hpld +/1/32".
Summary
Die cutting is the process of essentially cutting various materials into discrete parts or kiss cutting the parts against a release liner or carrier to form the component. It is used to create many products such as gaskets and tapes. Slitting, on the other hand, is used to produce roll goods. Both of these processes can be used together to fabricate parts to meet the manufacturer's end use requirements. Consultation with a professional converter can help you determine which processes are best for your product. Tom Brown, Inc. offers comprehensive die cutting and slitting services.
Contact Tom Brown, Inc. today to get a quote on your next converted product.
Curtain wall applications tend to be extremely complex endeavors, and it's easy to understand why. Not only does the assembly of a curtain wall take time, but installation also requires specialized equipment and safety procedures to ensure optimum performance.  There are ways to improve upon the process, making it both faster and more affordable. One of the easiest methods is through the use of pressure sensitive structural bonding tapes.

Better Management of Stress Across the Entire Joint
Common assembly methods for curtain wall systems include a "captured" system where the metal extrusion holds the glass in place along with a gasket and sealant. Structural sealants are the other proven method for assembling the curtain wall – particularly unitized and cassette systems.
Structural glazing tapes provide a third option for assembly that can save time and money. The tapes adhere to the entirety of the surface of the framing system, distribute stresses over the entire bond line with out the need for any complex equipment. This enables the curtain wall to resist thermal expansion and contraction and handle sudden wind loads as well as varying environmental conditions.
Reducing the Amount of Time Required for Installation
Tape bonding is a relatively straightforward process. The extrusion and the glass must be cleaned; typically with a 50:50 isopropyl alcohol and water solution. The tape can then be applied by hand or by common X-Y glazing tables that many fabrication facilities already have.  Then the bond line needs to be rolled with hand held roller or compressed using a pneumatic pressure tool to apply a 15 psi pressure to ensure that tape achieves optimum wet out. The unit can be handled immediately. When liquid sealants are used, there are quality checks that must be performed on the sealant prior to application to ensure the sealant is mixed and performing properly. Once the sealant is applied, it needs time to cure and set before any further assembly operations can be performed.
Absorbing Shock and Resisting Vibration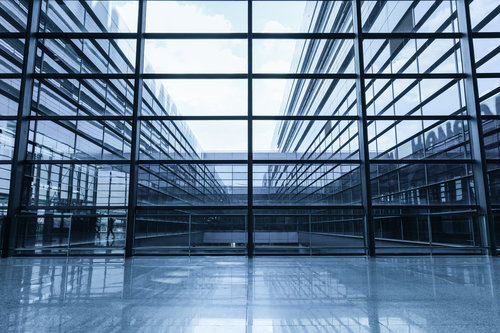 Structural glazing tapes are viscoelastic. This means they exhibit both viscous and elastic behavior when undergoing some type of deformation. Common deformation would include thermal expansion and contraction of the metal framing system and the glass which have very different rates of expansion and contraction, sudden wind loads, and the constant load applied from the weight of the glass itself.
These tapes have high internal strength yet maintain enough flexibility to handle these deformation conditions with ease.
Providing More Environmentally Friendly Solutions
Pressure sensitive tapes are an environmentally friendly solution for curtain wall applications. They have no VOCs (volatile organic compounds) and are considered "articles" (like a roll of duct or masking tape) and require no specialized safety or handling training to avoid employee exposure or injury.
There are specific 3M pressure sensitive tapes that are designed for curtain wall and architectural panel applications. Tom Brown, Inc. offers the right products for curtain wall, commercial window ,and architectural panel applications. Contact Tom Brown, Inc. today to learn more about these products.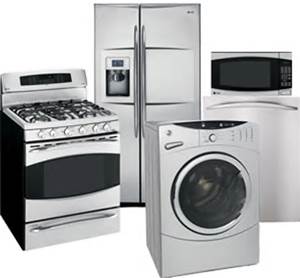 Pressure sensitive tapes are seeing increasing use throughout all industries, including appliance applications. Pressure sensitive tapes have numerous advantages over traditional methods of mechanical and chemical bonding: they are cost-effective, durable, and easy to install. Depending on the application, appliance manufacturers, installers, and repairers may be able to both save money and time by switching to pressure sensitive tapes.
The Advantages of Pressure Sensitive Tapes 
Pressure sensitive tapes don't require curing. Pressure sensitive tapes can often be introduced into use immediately after they are installed. They do not require any curing process, so they make the actual process of installation much faster. Because they do not require curing, these tapes can also sometimes be moved and repositioned as needed.
Pressure sensitive tapes are affordable. Compared to methods of chemical and mechanical bonding, pressure sensitive tapes are far more cost-effective. They save money in multiple ways; by being faster to install, there's a decrease in work hours needed. By being simpler to install, there's less of an investment in equipment. 
Pressure sensitive tapes don't require specialized equipment. Mechanical fasteners require costly materials such as drills and welding equipment, while chemical fasteners may require pumps, guns, and other application equipment. Pressure sensitive tapes can generally be directly applied without the need of special equipment, reducing the amount of money companies need to invest in their physical assets.
Pressure sensitive tapes are environmentally friendly. Pressure sensitive tapes do not give off the

VOCs

(volatile organic carbons) that most chemical bonding products do. For environmentally friendly companies, pressure sensitive tapes can fit in easily to green initiatives.
Pressure sensitive tapes are accurate. Because of the easy and simple application process — and the ability to potentially move the tape as needed — pressure sensitive tapes can be far more accurate. A chemical or mechanical bond will be very difficult to correct. A pressure sensitive tape bond can be corrected with ease. 
Applications in the Appliance Industry
Pressure sensitive tapes are particularly useful throughout the consumer electronics and appliance industry. Part of this is the pressure sensitive tape's ability to function even during extreme heats, which consumer appliances and electronics may consider. Pressure sensitive tapes can also substantially reduce the cost of an appliance, making it more competitive on the consumer market. Because the method of bonding does not require physical alteration of the appliance, pressure sensitive tapes can also be used to make more attractive appliances. Pressure sensitive tapes are very easy to shape to fit certain appliances and can radically decrease the amount of time required during the assembly process.
Companies in the manufacturing or appliance industry may want to explore the benefits of pressure sensitive tapes for their mechanical or chemical bonding. Not only can it save them time and money, but it can also lead to a durable and attractive end product. Tom brown, Inc carries 300 Series, 200 MP Series, and 350 Series 3M tapes, all designed for rigorous commercial applications.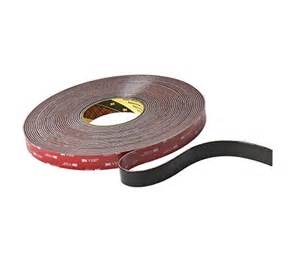 Designed for strong and immediate bonding, structural glazing tape is a cost-effective alternative to wet glazing and mechanical fasteners. Structural glazing tapes are primarily used to bond windows and architectural panels into metal frames, eliminating the need for fasteners. Structural glazing tape is designed to be extremely durable, long-lasting, and easy to install.
Faster and Easier Application by Structural Glazing Tape
Structural glazing tape is a specialized, double-sided acrylic tape that is affixed and bonds to both surfaces. Rather than having to mix, pump and apply conventional wet glazing or adhere mechanical fasteners, fabricators can simply apply the tape directly to the surfaces and complete the assembly. The use of structural glazing tape speeds the assembly process by establishing immediate bonds with no drying or fixturing required. Once the tape has been applied, the surfaces can be immediately handled, thereby also reducing the bottlenecks often associated with wet glazing.
Saving Money through Structural Glazing Tape
As noted, a simpler installation process costs less in terms of labor hours. But that's not all. Structural glazing tape is also more affordable in terms of capital expenditures. When it comes to other methods such as wet glazing and mechanical fasteners, specialized equipment is needed. Wet glazing often requires expensive pumps, which come with purchase costs, maintenance costs, and repair fees.
Structural glazing tape does not require any expensive application tools, especially those with moving parts that can be difficult and expensive to maintain. In terms of total applied cost, structural glazing tape is far more affordable than mechanical fasteners and other similar options.
Securing Glass, Metal Panel, and Canopy Systems
Structural glazing tape has been shown to be extremely durable. It is UV resistant, performs over a wide temperature range, and resists environmental conditions over long periods of time. Both the tensile strength and dynamic shear strength of structural glazing tape is significant, with the ability to withstand temperatures up to 300 Fahrenheit short-term and 200 Fahrenheit long-term. Long term warranties are available with structural glazing tape with proper testing and certification prior to assembly.
When properly installed and applied, structural glazing tape has many advantages over more traditional methods of glazing and bonding. Structural glazing tape can be used to rapidly secure glass and other architectural panel materials directly to frames, and canopy systems. Unlike liquid adhesives, wet glazing, or mechanical fasteners, no special equipment is necessary. In terms of cost and labor, structural glazing tape can be seen as superior to other methods.
Tom Brown, Inc. offers a large inventory of structural glazing, acrylic foam tapes and other professional and commercial grade adhesive tapes , designed to provide the best performance at the lowest cost. Contact Tom Brown, Inc. today to find out more about their structural glazing products.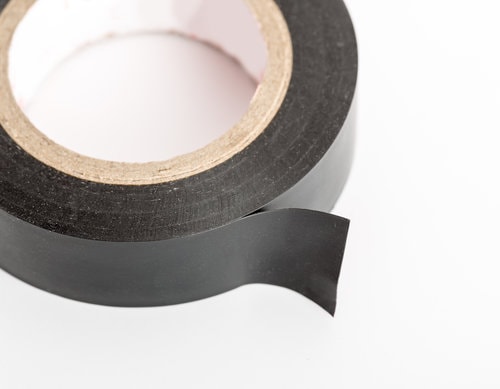 EPDM: the acronym stands for "ethylene propylene diene monomer" and is a class of synthetic elastomer that has some cross linking that enhances it resistance to weathering and temperature extremes.
  

Excellent UV, ozone, and weathering resistance

  

Wide service temperature range

  

Resistant to acids

  

Poor fuel resistance

  

High resilience (bouncy)
PVC/NBR and PVC/NBR/CR Blends: alloy type combinations of polyvinyl chloride, nitrile butadiene rubber, and chlorinated rubber that combine the best properties from each to create an elastomer with overall enhanced performance.
  

Excellent fuel resistance

  

Good fire resistance (vertical burn)

  

Good shock absorption capabilities
ECH: "epichlorohydrin" is a versatile elastomer that is extremely popular in the automotive and transportation markets. It is similar to nitrile rubber but exhibits enhanced resistance to fuels and heat making it ideal for "under hood" applications.
  

Combines resistance to various fuels, oils, and fluids along with  high temperature capability

  

Service temperature range from -40˚F to 300˚F (intermittent to 325˚F)
Urethane:  chemically a "polyurethane diisocyanate" that exhibits excellent resistance to cracking, cuts, abrasion, chemicals, and resists heavy loads.
  

Has excellent "memory" – recovers to its' original dimensions (technically referred to as compression set resistance)

  

Limited temperature capability -25˚F -250˚F

  

Resists ozone, hydrocarbons, oils, and greases

  

Poor resistance to ketones, esters, and chlorinated hydrocarbons
Polyethylene: a cost effective choice for a wide range of industrial applications where high temperatures will no be encountered.
  

Good mechanical properties

  

Excellent  thermal insulating properties

  

Competitive cost
Gasketing materials don't appear to be a particularly interesting topic but in truth there is a surprisingly large body of polymer technology that enables manufacturers to be successful with gasketing applications.
The purpose of this short article is to expose you to the basic elastomeric gasketing  materials and some of their strengths and weaknesses.
The Basics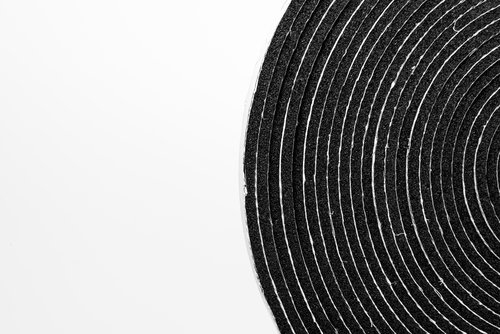 Neoprene: also know as polychloroprene, can be offered in an open cell configuration or closed cell format sealing against dust, dirt, and moisture.
  

Resists degradation better than natural or synthetic rubbers

  

Has excellent elongation properties

  

Extremely resilient material (bouncy)
As you can see, there are a variety of elastomeric materials to chose from for gasketing applications and we have only briefly described the more popular materials. There is much more to learn about each of these materials and Tom Brown, Inc. can provide all of the technical data and information you need to make a sound engineering decision for your next gasket application.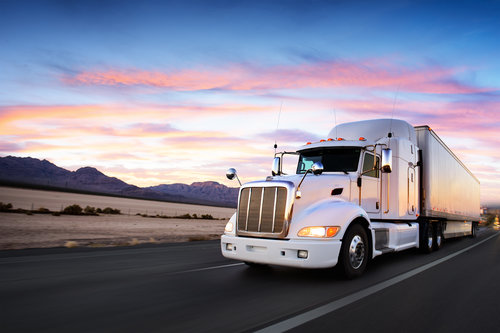 Truck trailers require a significant investment for any company. It's in a company's best interest to make sure that each trailer lasts a long time to protect their investment. Better trailer maintenance doesn't only reduce the cost of replacing the trailers; it also improves upon the safety and security of the truck drivers and their load.
Reduced Trailer Life With Mechanical Fasteners
Traditionally, mechanical fasteners are used throughout the process of trailer assembly. Mechanically fastened joints naturally compromise the structure of a trailer's individual components. These fasteners often need to be punched through the frames or panels, thereby putting additional stress on them. If these fasteners are not placed the right way, they will cause damage over time. Regardless of whether they're positioned properly, they will still cause vibration throughout the frame of the trailer due to their moving parts. This vibration will affect both the trailer and its load. 
The Benefits of Adhesive Fasteners
Utilizing tape bonding rather than mechanical fasteners can extend the life of a trailer substantially. Rather than mechanically attaching panels and frames, adhesive fasteners can be used to bond the surfaces. This bonding will be both 40% quieter and have 30% less vibration when compared to a traditional mechanically fastened joint. Not only will this ensure that the trailer will last longer, but it will also increase customer satisfaction. 
Adhesive fasteners minimize the potential for corrosion, which can easily lead to entire parts of trailers having to be repaired or replaced. They also provide for a more attractive look on the exterior of the trailer, as the panels will not have been punched through. Both paint and vinyl can be applied over the exterior of trailers for the purposes of branding and advertising.
The Use of Adhesives and Tapes in Trailers
Adhesives are used in place of rivets, fasteners, and welds. Both adhesives and sealant can be used together to provide an exceptionally powerful bond that is also water-tight. Water resistance is especially important when it comes to trailer assembly, as it ensures that the trailer's products will remain safe.
In addition to ensuring that trailers last a long time, adhesive tapes also substantially reduce the costs related to assembling trailers. Adhesives are both more affordable and faster to use. The faster the construction is, the fewer hours of labor are necessary. Items such as trailer floors can be installed in 10% of the time that could be required through the use of mechanical fasteners.
Adhesive tapes are increasingly being used throughout trailer assembly, repair, and maintenance. Not only are adhesive tapes cost-effective, but they are also simple and easy to use. Through the use of adhesive tapes, businesses can ensure that trailers are easy and fast to construct and last as long as possible. Tom Brown, Inc. provides both 3M and Flexcon branded adhesive tapes that are perfect for numerous commercial and industrial applications.
The title of this blog sounds esoteric and perhaps a bit pompous; like a thesis that a grad student might submit for a postgraduate degree.
In reality, nothing could be further from the truth.
Understanding how adhesive tape products can be tested
and how those test results correlate to real world field conditions can provide useful information to trailer designers and engineers.
Static Sheer Testing
Static shear testing allows the engineer to measure the tape's ability to maintain a bond under a constant load that is applied parallel to the tape's surface. In the real world, think of a vertical panel that is bonded to a frame and you now have that constant load acting on the tape.
Now let's make it more relevant by placing the test specimens in a chamber and ramping the temperature from 0˚C to 100˚C.
The test method used is ASTM D3654 and the overlap area is 1 square inch with a 1 Kg weight applied.
The data table below shows the maximum temperature reached where the tape system failed cohesively before reaching a minimum of 10,000 minutes (approximately 7 days)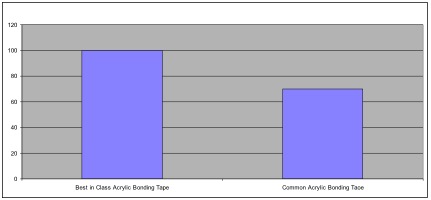 Dynamic Shear Adhesion
Like the static shear test, dynamic shear testing is typically conducted in a controlled lab environment. There is nothing wrong with that and the data is quite reliable. However, exposing the test specimens to a set of more extreme conditions is very useful to an engineer wondering what happens to a tape bonded seam or lap joint during thermal expansion and contraction or from sudden unforeseen forces such as gusting winds.
ASTM D1002 is the commonly accepted dynamic shear test method using  a 1"x 1" overlap on stainless steel panels. The lap joints were ramped from room temperature to 85˚C and 85% RH for 20 hours and then for the final 4 hours of the cycle, the temperature was lowered back to room temperature and then to -40˚C for 30 minutes and then ramped back up to room temperature. This cycle is then repeated 10 times. The specimens are then placed in a tensile tester, pulled apart, and the values recorded.
The temperature ramp up and down is a great replication of thermal expansion and contraction common in tape bonded frames and panel members. The viscoelastic nature of tape is what allows it to distribute the stress along the bond line without overstressing the bonded substrates.
After 10 of these cycles, here's the kind of data you will see (values in pounds per square inch):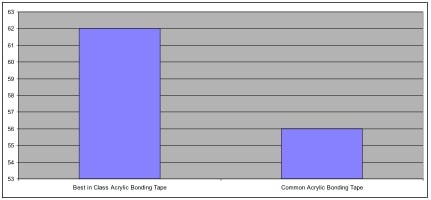 Want to learn more about tape bonding for truck and utility trailer applications?
Contact Tom Brown, Inc.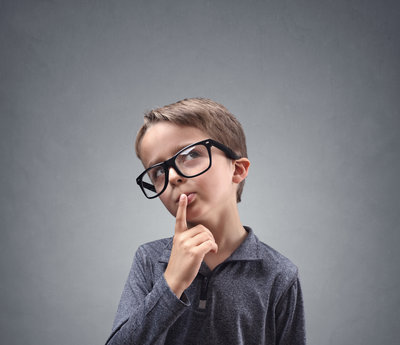 In part one of our series, we explored the first set of "screens" to help narrow the myriad of tape options that are available to manufacturers. These were:
The type of assembly being considered

The materials to be bonded (substrates)

The manufacturing process itself

What the product encounter during its' life cycle(end use requirements)

Cost considerations
Sometimes, it's helpful to understand the basic pressure-sensitive adhesive chemistries and the physical performance tests that are used to characterize tapes. (Yes, I know this is kind of boring but bear with me and I'll make it as easy as I can!)
Adhesive Chemistry 101
There are three basic pressure-sensitive chemistries:
Rubber based or rubber/resin as it's sometimes called

Acrylics

Silicones
We're going to limit our discussion to the very basic pros and cons to keep this simple:
Rubber Based
The oldest type of pressure-sensitive adhesive consisting of a rubber (natural or synthetic) that is tackled by the addition of various resins.
Pros
Can be easily formulated

Adheres quickly to many surfaces

Economical
Cons
Poor temperature resistance

Poor chemical resistance

Variable UV resistance
Acrylics
The "workhorse' of the tape world.
Pros
Tack, peel, and shear can be varied

Good UV resistance

Good temperature resistance
Cons
May not adhere quickly

More expensive than rubber
Silicones
The most "specialized" of the three.
Pros
Balanced peel and shear

Excellent temperature resistance

God UV resistance
Cons
Low tack and quick stick

Very expensive
Common Tape Test Methods
While many blogs could be written on this subject, we'll keep to the basics.
Peel Adhesion
– the force necessary to remove a tape sample from a surface after a specified time at a specified rate of removal, While stainless steel is the most common test surface, the tape can be tested on other application specific surfaces. The values are usually reported in ounces per inch width (or the metric equivalent) or pounds per inch width. Some tape companies use high medium or low designations ( Not as useful in my opinion)
Shear
– a test to measure the internal or cohesive strength of the adhesive tape. Normally performed in the "static mode", a weight is attached to a specified overlap and the time to failure is noted. The time to failure is a relative indication of shear strength. In the "dynamic mode" an overlap joint is placed in a tester and pulled apart at a specified rate. That value when the lap joint is sheared apart is the shear strength. Often report in pounds per square inch or metric equivalent.
Shear testing can also be performed at elevated temperatures which can be very useful information if the tape is expected to operate in such environments during use.
Well, that's about it for Part 2. In Part 3, we'll tie all of this information together using some real world examples. In the interim, if you have any questions on matching tapes to applications, just contact Tom Brown, Inc.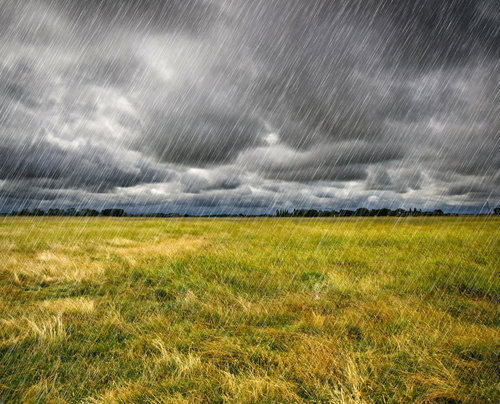 Trailers can be notoriously difficult to effectively waterproof. Not only do they have a multitude of ingress points for water, but they are also often driven at highway speeds with shifting loads creating stresses on joints and fasteners. These ingress points need to be thoroughly protected as water is often being forced through as the trailer is pulled down the road. The interior of the utility trailer can easily become saturated in these conditions. The cargo can be damaged and the trailer service life is compromised. Tape-applied solutions can reduce reliance upon mechanical fasteners and can effectively seal joints along the roof and sides creating an effective water barrier.
The Challenges of Waterproofing Utility Trailers
Truck and utility trailers often utilize various mechanical fasteners. These fastening systems result in holes being made in exterior panels and frame materials. Each of these holes and the resulting joints is an ingress point for water.
Replacing Fasteners With Adhesive Tapes
Truck and utility trailers often utilize various mechanical fasteners. These fastening systems result in holes being made in exterior panels and frame materials. Each of these holes and the resulting joints is an ingress point for water.
Reliably strong fasteners such as rivets and welds can be safely replaced through the use of advanced adhesives and tapes. When adhesives and tapes are used in lieu of mechanical fasteners, the structural integrity of the trailer is not compromised. Further, tape systems offer short term reposition ability if parts are misaligned during fabrication. There are numerous other benefits to adhesive tapes:
They are more attractive; they seal and bond in one easy step and create a smooth bond line that is nearly invisible.

They can bond different types of materials, unlike welding, which makes them naturally more versatile.

They are viscoelastic. They distribute stresses along the entire bond line and excel in high-vibration environments. Tapes tolerate thermal expansion and contraction, which will often make mechanical attachments expand or fracture.

They reduce process steps such as weld grinding and sealing individual penetrations from mechanical fasteners.
Using Adhesive Tapes With Fasteners
Of course, there are situations in which adhesive tapes alone may not be enough or where current designs already call out the use of mechanical fasteners. In these situations, adhesive tapes can be used alongside fasteners for improved performance in panel bonding and stiffener attachment applications.
Extreme Sealing Tapes ® (3M registered trademark) can be applied over mechanical fastener heads and along joints to effectively seal out water and the elements.These tapes come in a variety of thicknesses and sizes, are easy to apply, and do not require any major capital investments for installation.
Waterproofing a truck or utility trailer can be made easier with the right type of tape or adhesive. Tom Brown, Inc. offers a wide variety of adhesive tapes that can provide waterproofing and more.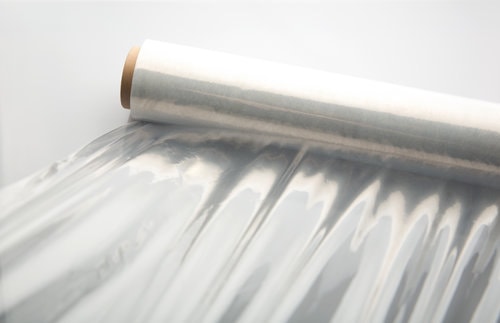 There are many opportunities for accidental damage throughout the process of manufacturing, painting, shipping, and installing architectural products. Surface protection films are designed to protect manufactured products from harm prior to their installation. These films come in a variety of thicknesses, materials, and even colors, depending on their intended applications. These films can even be designed to protect manufactured products after the installation has been completed.
Different Types of Surface Protection Films
Surface protection films are available in polyethylene, polypropylene, PVC, polyurethane, and blended films
.
 Depending on the environment the surface protection film will encounter, the film  thickness will usually range from 2-5 mils These films are all designed to be removable and to not leave
any adhesive residue behind once they have been removed; in this way, they are able to protect the manufactured product without adding any complexity to the installation process. These films have another advantage of not adding on significantly to either shipping size or shipping weight while still providing some level of protection.
Applications for Surface Protection Films
Surface protection films can be used on virtually any type of surface, ranging from plastic to wood. In terms of electronic devices, they are often used on glass and keypads, designed to protect them until the consumer is able to use them. In construction, these films are often used on cabinets and natural stone. They are able to protect these vital construction materials before they are installed. They may be used to protect flooring against damage, especially hardwood planks. It may also be used on all types of polished metals, to reduce the possibility of scratching and marring.
Surface Protection Films in Architecture
As noted, these films are used very often in construction materials. In terms of architecture, they will often be seen on glass windows and metal extrusions. Metal building panels and painted extrusions will often be protected by these films. When properly selected, these films can resist UV light and the elements during shipment and installation which can take several months especially in high rise construction. These films can protect the building panel, window, curtain wall, and painted extrusions from damage while it is being shipped and then installed at the job site. This protection films are one of the easiest ways to protect surfaces from damage throughout the installation process. In essence, they are an inexpensive  insurance policy against claims and returns. With the benefit of avoiding scratches, scuffs, and UV damage, these films may be recommended for any manufactured product that could be potentially damaged during transit and handling. Contact Tom Brown Inc to
learn more about the variety 
of these films offered
.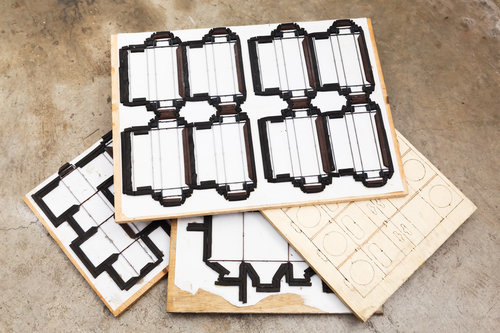 When it comes to manufacturing, productivity is incredibly important. Through kiss cutting, businesses are able to improve upon the handling of their manufactured parts. Not only does this increase convenience and efficiency, but it also creates a more accurate and precise product. Kiss cutting can be utilized on a variety of different materials in many different thicknesses, making it a versatile option for the manufacturing of parts.
What Is Kiss Cutting?
Kiss cutting is the process of cutting manufactured parts so as to leave it attached to a backing usually a silicone release liner or a carrier tape. The parts can be wound and delivered in rolls or can be cut into discrete parts. Kiss cutting requires extreme precision; the entirety of the component itself must be cut through while the backing remains intact. The finished part can then be removed from the adhesive backing as necessary.
What Are the Advantages of Kiss Cut Parts?
Kiss cut parts are often used when parts need to be automatically dispensed on an assembly line. Kiss cut parts are typically easy to use and to handle. Workers are able to take the parts from the backing individually and place them as needed or a machine can automatically dispense them and wind up the release liner.
Kiss cut parts are also extremely convenient. They are very easy to store, especially in rolls and kiss cut parts can be cut from the roll individually. Finally, kiss cutting is a very versatile form of supplying component parts that easily lends itself to a variety of materials.
What Are Some Types of Kiss Cut Materials?
Kiss cutting is generally done with rubber, foam, sponges, and other pressure-sensitive tape materials. Kiss cutting is normally accomplished with rotary or flat bed presses, making it ideal for high volume runs. Stickers and labels are among some of the most common types of kiss cut materials that most people will see.
Though the machine into the finished shape cuts through the sticker or label itself, the backing is not. This results in a part that can be easily removed.  Kiss cutting can also be used to create rubber gaskets and seals.
For more information about the different types of die-cutting and the benefits of kiss cutting, contact Tom Brown, Inc. today .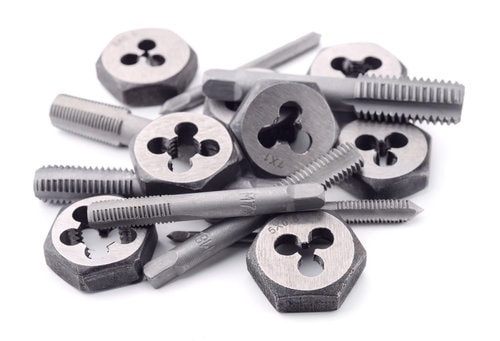 Die cutting is one of the best ways to produce high quality parts and components with minimal waste. Because die cutting is a very precise procedure, it can be used to cut fairly expensive materials and to create tight tolerance, finished products. There are three major types of die cutting process that are best for producing high quality goods . Each of them is best suited to specific applications and end products.
Water Jet Cutting
The best solution for rapid prototyping and custom, large format components, water jet cutting uses a CNC interface to direct a high powered jet of water. Water jet 
cutting is often used during the production and testing phases of product development, 
as it doesn't require a physical die for the cuts. Instead, it uses a digital file and is able to 
cut through materials of almost any thickness.
For many custom products, water jet cutting is exceptionally valuable. Water jet cutting will never lose accuracy because the cut will always be from the same digital file. The 
production is a little slower, but the products are always of consistently high quality. For 
custom products that may need to be altered depending on the customer, it's the best 
solution; there are no physical dies that need to be altered. Just as precise as any other 
die cutting process, water jet cutting can also be used for early prototyping and demos.
Water jet cutting is generally used for either small batches or medium batches. For high 
volume requirements, water jet cutting may not be ideal.
Rotary Die Cutting
Rotary die cutting is a high speed cutting process
intended for very high volume 
production
. Rotary die cutting has very tight tolerances and is well-suited 
to any product that had to be produced quickly. However, the die costs are higher when compared to flat bed dies. Many high quality 
parts will use rotary die cutting to achieve a balance between speed and quality.
Flat Bed Cutting
A little slower but more affordable die costs than rotary die cutting, flat bed cutting is well-suited for medium to high volume production of specific products. Flat bed cutting can cut through most materials and most thicknesses, but isn't able to cut through quite as many materials as other die cutting processes. Flat bed cutting requires a steel rule die which is more affordable than rotary dies  and yet can maintain high levels of accuracy. Die cutting is a very flexible method of production and consequently is one of the most popular and frequently used. Die cutting is also valuable if moderate 
amounts of products need to be turned around very quickly.
When creating die cut, high quality parts, the type of process matters. The entirety of 
the product may need to be cut in one process or different components of the product 
may be better off in different types of process, to be later assembled. Expertise may be 
needed to accurately determine the right type of cutting for the product. Contact the 
professionals at Tom Brown, Inc. to find out everything you need to know about the 
available die cutting processes for you.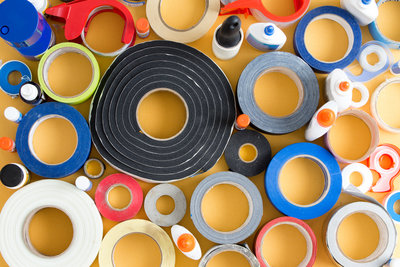 Pressure-sensitive adhesive tapes (often referred to as adhesive tape, sticky tape, or just tape) utilize a family of permanently tacky adhesives designed to be applied with light pressure. These adhesive systems differ from other types of adhesives in that they don't require any type of moisture, oxygen (or lack of oxygen), solvent, or heat to establish a bond.
There are literally thousands of different tapes available on the market. Some of the differences among them are significant and in other cases the differences can be extremely subtle.
For purposes of this article, we will focus on tapes used for bonding and assembly applications primarily in manufacturing settings.
The first set of "screens" to help narrow the myriad of tape options include:
The type of assembly being considered

The materials to be bonded (substrates)

The manufacturing process itself

What the product encounter during its' life cycle(end use requirements)

Cost considerations
Type of Assembly
Getting clear on the type of assembly you are designing seems rather obvious but it really does help separate the 'wheat from the chaff".
Is it a small area bond such as a wire management hook, screw anchor, or metal or plastic housing?
Is it a gasket or seal? Is it filling a gap?
Are you attaching trim, nameplates, or badges?
Are you fabricating more structural components such as bonding large metal, glass, or composite panels to a frame system?
Materials to be Bonded
Simply put, not all tapes stick to every surface. For example, some adhesive systems have tenacious bonds to bare metals but will not adhere well to a painted metal surface.
Pressure –sensitive adhesives work primarily through a concept commonly called  "wet out " or the ability to flow and develop intimate surface contact with the substrates.
Wet out is a function of surface energy, surface texture, and cleanliness.
Some materials such as stainless steel, polycarbonate, and polystyrene have higher surface energies and are easier to bond to while other substrates such a polyethylene, polypropylene, or PVDF (polyvinylidene fluoride) can be much more challenging.
Various tapes have been designed with adhesive systems to work effectively with all of these surface energies.
The texture of the surface can also play a role in bond strength. Softer adhesive can systems "flow" into the microscopic "hills and valleys" in  the surface to develop increased surface area and bond strength while firmer systems might adhere primarily to the "peaks" and generate lower adhesion values.
Cleanliness can significantly influence tape performance and service life. Manufacturers all indicate that the surface should be clean and free of dust, dirt, moisture, and other fluids such as oils. The presence of these contaminants block the adhesive from establishing intimate contact with the surface thus reducing or compromising bond strength.
The Manufacturing Process
How do you manufacture the assembly now? Is the process locked down or is there any room for change? How many steps are there in the current process?
Will you apply the tape by hand, via a laminating system, or via an automatic or semi-automatic applicator? The beauty of tapes is their versatility. Small parts might be able to be applied via hand quite easily while other tape require more robust and consistent pressure to ensure long service life and performance.
End Use Requirements
Will the final product be used indoors or outdoors? Will it encounter any chemicals? If so, what chemicals must it resist?
Will the tape be asked to resist very high or very low temperatures?
Tape manufacturers have done an outstanding job formulating adhesive systems to withstand almost anything you can throw at them. Doing the homework up front saves surprises later when you find out that a bond is compromised and worse, yet, you have an upset customer.
Cost Considerations
Tapes vary widely in cost depending on what they are made from what they are being asked to do. There are very inexpensive tape products that will do some jobs very nicely but they operate in a very narrow performance range and can give  some nasty surprises if specified in an application beyond their means.

In many assemblies, the unit cost of the tape is very low. Mere pennies in some cases and much more in others.

The more interesting question is what will a tape allow you to do? It's the total applied cost exercise. It's a harder concept to think about but it makes a huge difference! Tapes let you select lighter weight materials in many cases. You eliminate rework, clean up, replacing mechanical fasteners, and a host of other benefits that are often overlooked when considering costs.

Tom Brown, Inc. has a wide selection of bonding and assembly tapes to meet the needs of manufacturers. Contact Tom Brown today to learn more. Rubber, films, and plastics; all of these can be formed through traditional die cutting methods. Die cutting is a fast and easy method of shaping materials with relatively low structural integrity, such as paper and fiberboard. Through die cutting, these materials can be precisely and quickly shaped with consistent accuracy. The final product, however, will be most influenced by the material selected.
The Different Types of Die Cutting Methods
Three of the most popular types of die cutting method include flat bed die cutting, rotary die cutting, and

waterjet

cutting. Each of them may be better suited to specific types of materials or fabrication. For the most part, most die cutting methods can be used for most production; it's mostly a matter of what is most economically viable. Flat bed die cutting is the simplest method of die cutting. It's ideal for situations in which large amounts of material must be cut in a short period of time. It's also an extremely versatile and flexible solution; because of the methods used in flat bed die cutting, it can be used with virtually any material. Rotary die cutting is used for high volume, high accuracy production. The only downside to rotary die cutting is that it has a tendency to be more expensive than flat bed die cutting. It is, however, faster. Finally,

waterjet

cutting is often performed when parts need to be manufactured due to changing specifications.

Waterjet

cutting allows for the

CNCing

of materials of different thickness and hardness. Because dies don't need to be constructed, the actual product can be changed on-the-fly. It can be more expensive for high volumes but is usually less expensive for individual cuts. Laser cutting is very similar, but uses lasers rather than a jet of water.
Material Selection for Die Cutting
Die cutting is best and most commonly used on materials that have relatively low structural strength. Plastic and plastic films are among the most common materials used for die cutting. Foam, thin metal sheet, rubber, and fiber are also commonly used for die cutting. The hardness of the material will have the most impact on the methods of die cutting that can be used. Flat bed die cutting is often used for harder materials, as it can exert a large amount of force on the material.

Waterjet

and laser cutting are more commonly used with softer materials. Die cutting is generally used for high volume manufacturing, either to produce final products or to produce the parts of products. Because it can be used for such a wide assortment of materials, die cutting can fit into many manufacturing processes. Tom Brown, Inc. provides comprehensive die cutting processes, including flat bed, rotary, and

waterjet

cutting. Contact Tom Brown Inc. today to learn more about their die cutting processes! This is just a simple starter post to let our friends and customers know very soon, we're going to start sharing helpful information, resources, and all sorts of articles about some of the exciting things we're doing at Tom Brown, Inc. Stay tuned.