The manufacturing of PVC windows typically involves welding in the corner to create a unitized frame or sash. In many cases, these welded areas will resemble a common picture frame with 45° mitered corners. These welds are achieved by bringing the PVC profile corners into contact with a heated plate or platen at a specific temperature for a specified time, resulting in a controlled melt of the PVC plastic. Once the plastic is melted, the heated platen is withdrawn and the corners are brought together to create the weld.
How Do PTFE Coated Fabrics and Tapes Work?
If the PVC profile was brought into contact with the bare metal of the heating platen, it would not only melt, but also would adhere to the plate and build up until the heat transfer was interrupted, leading to a mess with poor welding results. The PTFE (polytetrafluoroethylene, most common brand name is Teflon®) coated fabric or tape solves this by putting a non-stick surface between the bare metal and the PVC profile.
The PTFE-coated fabric is produced by applying multiple layers of PTFE coating to a fiberglass fabric. These multilayer coatings provide abrasion-resistance, non-stick properties, while allowing effective heat transfer from the metal platen to the plastic profile. A silicone adhesive can be applied to one side to create a "peel and stick" product for platens that have no clamps or clips to hold the fabric in place. Other welder platens do have clips or clamps that preclude the need (and extra expense) for the silicone adhesive.
So What Is PTFE?
PTFE (polytetrafluoroethylene) is a synthetic fluoropolymer made from the polymerization of tetrafluoroethylene. In simpler terms, it's a high-performance material that is resistant to heat, chemicals, and moisture. PTFE has outstanding non-stick, low-friction properties that make it ideal for use across industrial manufacturing, and PTFE's resistance to heat, chemicals, and moisture makes it a long-lasting and durable solution.
Green Belting Industries Ltd.
Green Belting Industries manufactures a wide range of fabrics, tapes, and belts to support various manufacturing processes. For PVC window manufacturers, their 100 Series Tapes are very effective for most window welders and can be provided with and without silicone adhesive.
They also offer a DXL Series with a higher performance coating that results in improved abrasion resistance and longer life for fewer part changeovers.
To view the welding process, please see the Green Belting YouTube video below:
The Advantages of Die Cut Parts
Window manufacturers often resort to cutting the PTFE to size to match the metal platen dimensions using scissors or paper cutters. This process is not only time-consuming, but also results in excessive material waste.
TBI can cut any of the PTFE fabrics or tapes to shape quickly and accurately using our flat-bed die-cutting presses. Ranging simple rectangles and squares to any intricate shape, they are custom packaged in any quantity specified per box. This saves shelf space, and makes inventory counts go much faster.
Want to know more about how Tom Brown, Inc. can help you streamline your PVC welding operation? Contact us at www.tombrowninc.com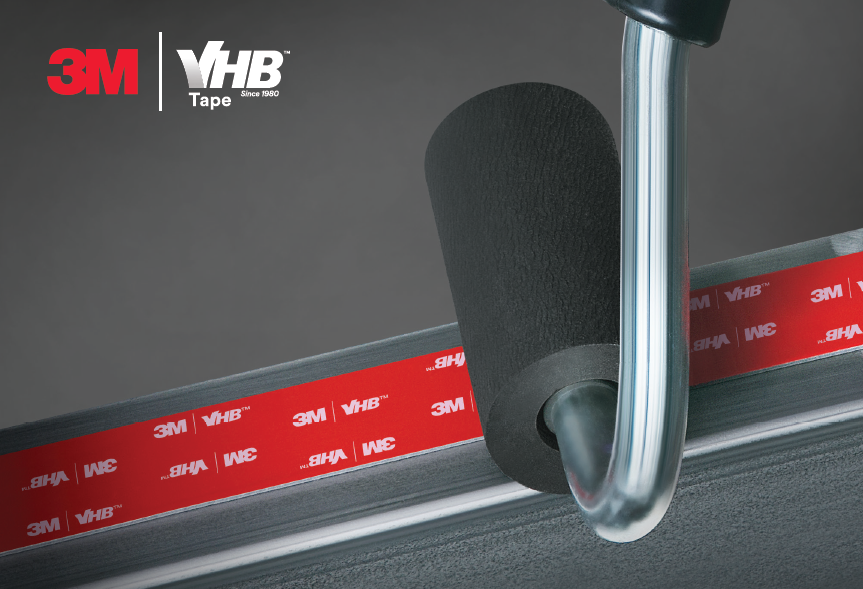 Supply chain disruptions have been a fact of life for the past two years. Even a large company like 3M has not been spared. Some of the VHB tapes in their portfolio such as the workhorse RP series were part of that disruption. To 3M's credit, they put their best and brightest technical minds on the problem and developed the new VHB RP+ series in several months.
What is RP+?
The RP+ series features a conformable acrylic foam core and a multi-purpose adhesive ideally suited for medium and high surface energy materials including metals, plastics, and glass. The "RP" stands for Right Product, Right Performance, Right Price while the "+" was added to show the addition of improved short-term high-temperature performance (up to 450°F) and long-term performance up to 250°F. There is also a 90-mil version now available.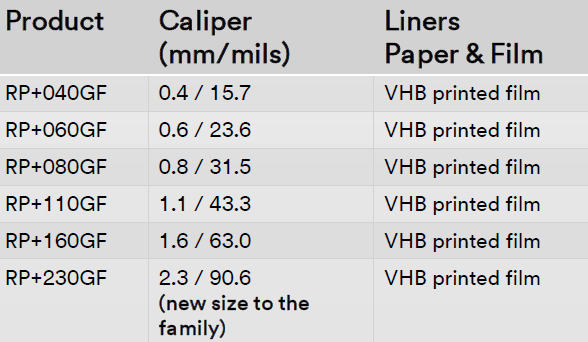 Physical Properties
The RP+ series combines good peel adhesion with solid dynamic shear values that enable it to perform well in many applications. This combination of properties makes it a "workhorse" type product.


Applications
VHB applications fall into four broad categories:
Panel to frame
Stiffener to panel
Lens window /glass bonding
Trim and nameplate attachment
These four applications can be found in six core market areas where VHB tapes have performed well for many years:
Transportation
Construction
Metal Fabrication
Appliance
Electronics
Signage

How Can a Converter Help?
An experienced converter can help you select the best VHB tape for your application, provide guidance on the appropriate surface preparation to ensure long-term performance, and discuss options for VHB tape application from manual to fully automated systems.

The 3M VHB RP+ series and many other VHB tapes can be supplied as custom slit rolls to any width, die-cut parts, or spools.

Want to know more about 3M VHB tapes? Contact Tom Brown, Inc, today. www.tombrowninc.com

Some of you may have read my last post on supply chain challenges with silicone sealants used in residential window fabrication. I'm going to reiterate a few of those same points as they also relate directly to commercial fenestration applications.
The Background
Silicon is the key ingredient to produce the organosilicones used for silicone rubbers, sealants, and adhesives. China is responsible for approximately 70% of the world's silicon production. 30% is used for the polycrystalline silicon used for chips and photovoltaics, 40% is used for organosilicones, and 30% is used for silicon alloys. China has experienced severe flooding in areas that produce the raw silicon. Power outages and production cutbacks have strained their ability to meet demand. (Silicon production is a very energy intensive process). These circumstances along with manpower cutbacks due to the pandemic and logistics challenges have created a "perfect storm" leading to multiple price increases, allocations, and severe supply chain disruptions. Fortunately, there is a very robust tape option from 3M that can potentially mitigate some of the supply chain disruptions.
Structural Glazing Tape
Since 1990, 3M has been providing B23F and G23F VHB structural glazing tapes as the primary bonding method for permanently bonding glass and spandrel panels to aluminum framing systems in curtain wall, window wall, and other commercial applications. The acrylic foam core of this viscolelastic tape dissipates energy (think of sudden wind gusts) and relaxes stresses along the entire bond line. The result is a strong, tough, yet durable bonding system that has been installed in over 30,000 building projects.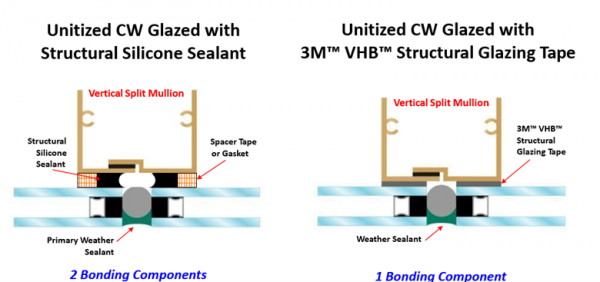 (Diagram of structural silicone and structural glazing tape joints courtesy of 3M)

The biggest "aha moment" that fabricators experience when they try these tapes is increased throughput. You can tape much faster than you can apply sealants. Applying tape takes fairly simple tools and easy-to-follow processes. The learning curve is very short. There are no pumps to maintain and no ongoing quality checks to verify that two-part sealants are being mixed correctly. Additionally, you can handle and transport taped units immediately. Now productivity benefits in the fab shop are great. However, at the end of the day, this is about adhering glass and panels to buildings. 3M has done an outstanding job putting these tapes through some very serious test protocols. They have one of the most sophisticated accelerated aging labs in the world. These VHB structural glazing are the most thoroughly tested, and documented tapes in the history of the industry. One small sample table of accelerated aging with temperature and humidity cycling appears below.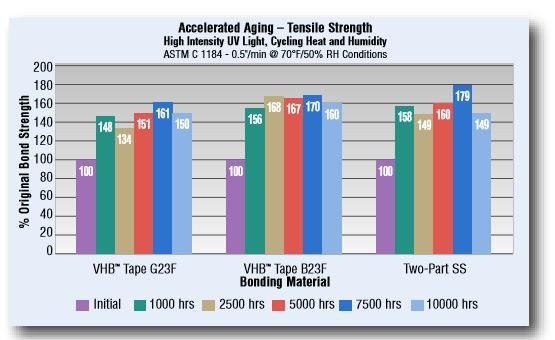 (Data table with up to 10,000 hours comparing VHB to two-part silicone courtesy of 3M)

Not every fenestration system is designed to incorporate structural glazing tapes, but a surprising number are made with an SGT option. Those systems appear in the table below: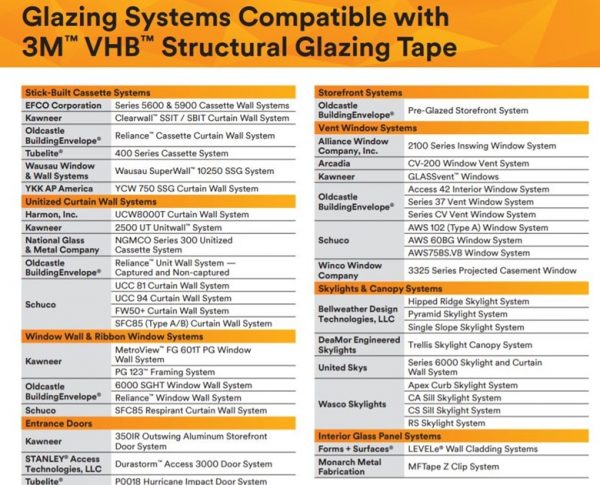 Outlook
The supply chain disruptions with silicone materials are forecasted to last another 12 plus months. Additional monomer production capacity is underway by Dow, Momentive, Wacker Chemie, Elkem, and Shin-Etsu Chemical Co. but, these capital expansion projects are not short-term fixes and take time to bring online. 
We've learned some hard lessons about how fragile supply chains can be over the last 20 months. Having options gives us some leverage to solve problems creatively and 3M VHB structural glazing tape is one of those options.
Want to know more about 3M VHB structural glazing tapes and what they can do for you? Contact Tom Brown, Inc today at 
www.tombrowninc.com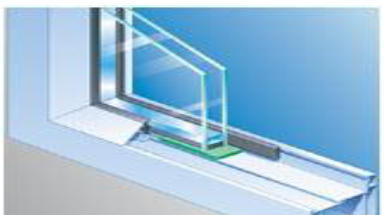 The demand for silicone rubber materials surged in late 2020 and has increased through 2021. While the aerospace and medical markets have long used silicone materials, the automotive market is increasing its' usage. Car manufacturers now use silicone materials in under the hood applications and the growing electric vehicle sector is utilizing silicone products for battery packs. 
This demand has stressed the supply of silicone sealants used in the fabrication of residential window systems. Fortunately, there are tape options to help window companies manage this challenge.
The Background on Silicon Shortages
Silicon is the key ingredient to produce the organosilicones used for silicone rubbers, sealants, and adhesives. China is responsible for approximately 70% of the world's silicon production. 30% is used for the polycrystalline silicon used for chips and photovoltaics, 40% is used for organosilicones, and 30% is used for silicon alloys.
China has experienced severe flooding in areas that produce the raw silicon. Power outages and production cutbacks have strained their ability to meet demand. (Silicon production is a very energy-intensive process). 
These circumstances along with manpower cutbacks due to the pandemic and logistics challenges have created a "perfect storm" leading to 300% increases in prices, allocations, and severe supply chain disruptions.
Residential Windows
Residential window manufacturers sometimes use fast-curing silicone sealants to install the IG unit into the sash. Without question, these sealants provide an excellent bond and a water-tight seal.
Glazing tapes can be an excellent option to use in place of sealants while the supply chain remains unpredictable. Tapes are easy to apply, require little in the way of specialized training for correct application, and offer no mess or squeeze out into the sight lines.
Technical Data
Tapes are certified to AAMA (now FGIA) 810.1 "Expanded Cellular Glazing Tapes, Type1" and have been used successfully since the 80's on PVC, fiberglass, and aluminum framing systems.

Typical Physical Properties on ARclad® 4000 Series Glazing Tapes

Outlook For Silicone Materials
The supply chain disruptions with silicone materials are forecasted to last another 12+ months. Additional monomer production capacity is under way by Dow, Momentive, Wacker Chemie, Elkem, and Shin-Etsu Chemical Co. However, these capital expansion projects take time to bring online. It's another wake up call for companies to have multiple sourcing options to help manage these supply chain challenges and assure consistent supply to customers. Want to know more about how glazing tapes can be integrated into your window production? Contact Tom Brown, Inc. today at www.tombrowninc.com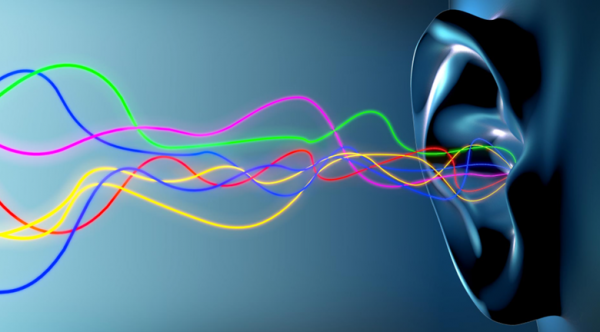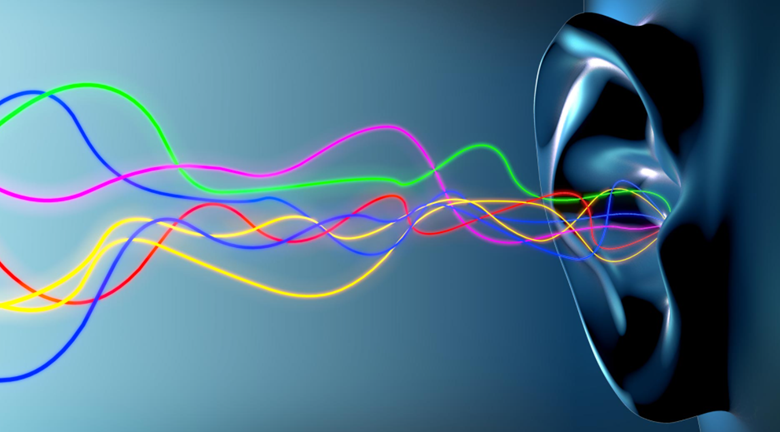 The two primary sources of noise are airborne noise and structural noise. Airborne noise results from the interaction of a vibrating surface with the surrounding air (think of a speaker) while structural noise results from the vibrational energy that travels through a structure, as well as other surfaces it might contact. While the noise from a radio or television might be desirable, other sources of noise from machinery, between floors in a building, or inside our car can be highly undesirable. There are a variety of strategies to reduce and control unwanted noise. Fabricated foam and adhesive parts play a significant role in achieving those reductions.
Airborne Noise
The primary strategies for reducing airborne noise are absorbers and barriers. Lightweight open cell foams are a very cost-effective way of attenuating noise in the air; particularly low frequencies. The open cell structure can absorb sound waves reducing the amplitude of the wave as the sound energy is transformed into heat. These materials include open cell polyether and polyester foams as well as reticulated (cell walls are removed to increase porosity) foams.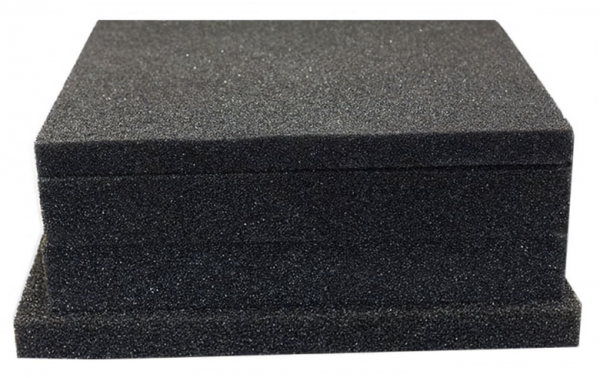 (Open Cell Urethane Foam)

Low density, closed cell foams can act as both an absorber and a blocker and do better with medium to high frequencies. PVC and low density cross-linked polyolefin foams can be used in these applications. Synthetic blanket materials such as 3M Thinsulate and fiberglass composite materials are also effective solutions for attenuating unwanted airborne noise. These materials can be supplied with a pressure-sensitive adhesive backing to facilitate easy installation and are easy to die cut into the final shape using flat bed, waterjet or flash knife cutters. Low density, closed cell foams can act as both an absorber and a blocker and do better with medium to high frequencies. PVC and low density cross-linked polyolefin foams can be used in these applications. Synthetic blanket materials such as 3M Thinsulate and fiberglass composite materials are also effective solutions for attenuating unwanted airborne noise. These materials can be supplied with a pressure-sensitive adhesive backing to facilitate easy installation and are easy to die cut into the final shape using flat bed, waterjet or flash knife cutters.
Structural Noise
The solutions for structural noise are a bit different. In a manufacturing environment, machinery is the typical source of vibrational noise. In a car, the engine and associated systems are usually the sources. Left unchecked, the repetitive motion of parts and surfaces can result in material fatigue and reduce reliability over time. Isolation is one of the principal strategies to minimize vibrational noise. Dense foams and microcellular foams are ideal material choices for use with heavier objects as these foams decouple the source from surrounding surfaces or housings that would otherwise amplify the sound and vibrations. These materials can be offered with or without adhesive and are easy to die cut for easy application. In some applications, bonding and isolation can be accomplished in one step. The use of acrylic foam tapes such as 3M VHB permit two rigid surfaces to be bonded together (for example a metal building façade panel to a stiffener). Any vibrational energy places the tape into elongation mode even though it is constrained by the two rigid surfaces. (constrained layer damping) The energy is transformed into heat as it damps the vibrations. Another strategy to use constrained layer damping is to apply a thick foil with a soft pressure sensitive damping adhesive such as 3M's Vibration Damping Foil Tape. The thick foil acts as a constraining layer and the adhesive goes into elongation mode converting the vibrations into heat. Again, these products are easy to die cut and apply. Tom Brown, Inc has the experience to help you address your noise and vibration challenges with a broad portfolio of foams and tape products designed to meet your needs. Contact us today at www.tombrowninc.com. There are truly some fantastic buildings that were recently built or are in the construction process. The curtain wall, window wall and metal building panel designs have pushed the envelope in terms of aesthetics and environmental performance. Our eyes are immediately drawn to the glass, metal panels, and other features as they should be because the real beauty is truly there. However, I'm always curious about the things behind all that beauty; the thousands of fasteners, caulking, backer rod, tapes, and other components that help hold it all together and make it functional. I was walking by the waterjet the other day and saw windowsill splice blocks being cut for a metal building panel project. It got me thinking about many of these small, seemingly insignificant parts that we provide or façade applications. Sometimes, these small parts play a big role!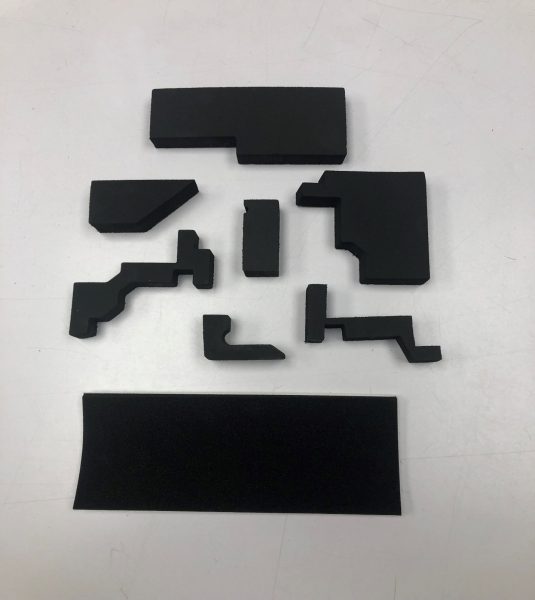 Foam Technical Properties for Façade Applications
There are a number of choices for the elastomeric foams that might be considered for these types of parts. One of the workhorse products is SCE41B from Rubberlite, Inc. SCE41B is a blended foam consisting of neoprene, EPDM and SBR (styrene butadiene rubber). This blend offers excellent oxidation and ozone resistance, resistance to acids and alkali, and passes UL 94 HBF burn tests. This foam is easy to compress for easy installation yet has high enough tensile strength for easy removal.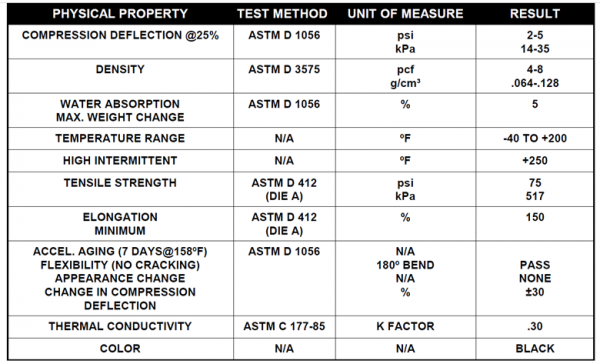 Want to know more about how foam parts can help with façade applications? Contact Tom Brown, Inc today. www.tombrowninc.com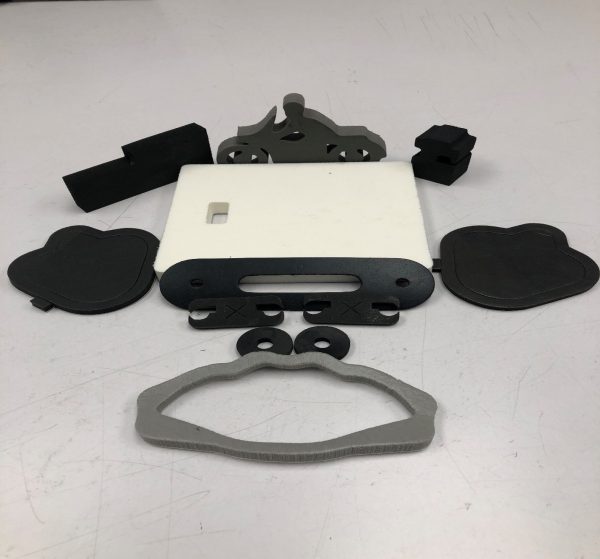 I've always liked the term "workhorse".  Some might think that anything called workhorse is common, unremarkable, or just boring. I've always thought workhorse is a compliment. It means strong, reliable, and able to work day in and day out without drawing a lot of attention to itself. When considering gasket materials, the workhorse analogy is very useful. There are a handful of gasket materials that do an excellent job for 75-80% of gasketing and sealing applications. The "thoroughbred" gasketing materials such as silicones and fluroelastomers are highly specialized. They have broader performance properties especially for low and high temperature exposure but come with a much higher price tag.
Background on Gasket Materials
The materials outlined in this post will typically have an operating temperature range of -40° to 250°F (-40° to 121°C). Some of them such as cross-linked polyethylene (XLPE) will only handle an upper temperature limit of about 200°F (93°C). Some of them are available as solid rubber and also in foam or sponge format (foam and sponge are often used interchangeably but there are some differences).  Some are only available as a foam. In the case of foam or sponge, there can sometimes be open cell versions or closed cell versions.
PVC (Polyvinyl Chloride)
Closed cell PVC is available in a variety of densities and exhibits excellent UV resistance, cushioning, and sound damping properties. It is used in many gasketing and sealing applications with a service temperature range of -40°F to 200°F. The Norseal® brand of PVC foams from Saint Gobain are available in gray and black with or without adhesive for easy installation.
Polyurethane (PU or just urethane)
Polyurethanes are available in both foam and solid forms. Solid polyurethane is extremely abrasion resistant and typically used in very special applications. The foam version, also called microcellular urethane foam, is more common. The very fine cell structure gives this foam excellent compression set resistance so it will not collapse and can be resealed many times. These foams also offer excellent shock dissipation along with moisture and chemical resistance and are available in several densities.
EPDM (Ethylene Propylene Diene Monomer)
EPDM is a synthetic elastomer that is available in both solid and sponge form. The diene monomer permits this rubber to cross-link giving EPDM it's excellent UV and aging characteristics; especially outdoors. EPDM performs well in temperatures from -60° to 250°F but its' Achille's heel is poor resistance to hydrocarbons such as oil, gasoline, and kerosene.
Neoprene (Polychloroprene)
Neoprene is also a workhorse synthetic elastomer available in both solid and sponge form in soft, medium, and firm densities. It is the antithesis to EPDM in two ways; it has great resistance to oils, gasoline, grease, and kerosene but does not exhibit the UV and aging stability that EPDM possesses. It has the same 250°F upper end service temperature as EPDM.
Nitrile Rubber (Nitrile Butadiene Rubber – NBR, Buna-N, Acrylonitrile Butadiene – ACN)
Nitrile rubber is also a synthetic elastomer with very good resilience. Properties can be adjusted by varying the acrylonitrile to butadiene ratios. The lower the acrylonitrile content, the lower the Tg and the higher the ratio the better resistance it will have to gasoline, oils, and many other chemicals. It has excellent tensile strength and is resistant to petrochemicals. This makes it the ideal choice for O-rings and other automotive and aerospace gasket applications. Nitrile rubber has a service temperature range of -40°to 225°F.
Cross-Linked Polyethylene (XLPE)
Cross-linked polyethylene foam undergoes a cross-linking step via irradiation or chemical cross-linking to yield a closed cell foam with higher tensile strength and compression set resistance than common polyethylene foams. It is an ideal gasket material where the upper temperature limit will not exceed 180°F.
Blended Foams
As the name implies, blended foams seek to capitalize on the strengths of some elastomers and limit weaknesses by blending them. Two workhorse foams from Rubberlite are their SCE41B (a blend of neoprene, EPDM, and styrene butadiene rubber) and their VNN IV1 (a blend of PVC, nitrile rubber, and chlorinated rubber. Both of these blended foams  have a service temperature range of -40° to 200°F. and excellent physical properties for gasketing applications.
Summary of Gasket Materials
The term "workhorse" does not necessarily mean unremarkable or boring. It can signify strength and reliability. There are seven classes of workhorse foams that can handle 75-80% of gasketing and sealing applications. These gasket materials can be provided as die cut parts, slit rolls, or laminated to other materials. TBI has the materials science and process expertise to help you with your project. Contact us today at www.tombrowninc.com.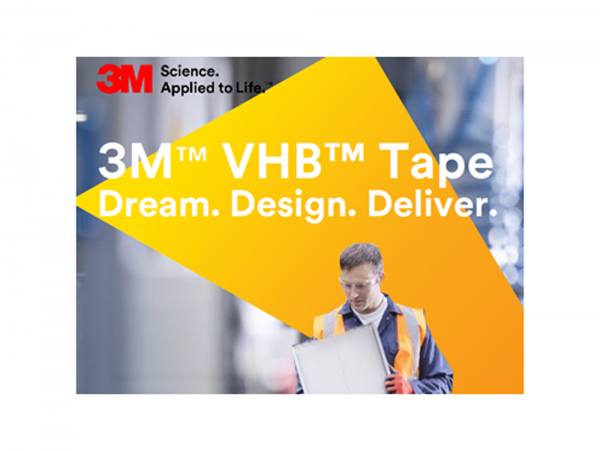 Many folks know that I'm a huge fan of 3M VHB™ acrylic foam tapes. I was in the industry when they were introduced in 1980 (yes, I've been in this field that long and longer) and I continue to be a strong advocate. Why? Because VHB™ tapes  continue to push the boundaries of what a tape can do. The newest addition to the North American VHB™ portfolio (now near 100 products) is 4972-35. This is a 0.138" (3.5mm) thick, gray tape. The thickest VHB tape available before the release of this new offering was 4959F which is a .120" thick, white foam.
How 4972-35 Can Help
Parts to be bonded can have a myriad of features such as channels, lips or rolled edges, and complex geometries. Large parts will sometimes have planarity issues between one bonding surface and the other. These features often necessitate the need a thicker tape to extend beyond the feature or fill a gap so that a good bond can be achieved. The 4972-35 delivers that capability and in a neutral gray color for a nearly invisible bond line.
Features and Technical Data
Gray, 0.138" (3.5mm) conformable foam with a multi-purpose acrylic that bonds to medium and high surface energy materials including glass, metals, and a wide variety of paints and plastics including plasticized PVC
Creates a permanent seal against water and moisture
Stresses and energy are absorbed by the foam and protect the bond line
Closed cell acrylic chemistry is proven to withstand extreme environments
90°Peel (ASTM D3330) 28 lbs/inch
Normal Tensile (ASTM D987) 70 lbs/sq. inch , 480kPA
Overlap Shear (ASTM D1002) 57 lbs/sq. inch, 393kPA
Excellent resistance to salt water, motor oil, hydraulic fluids, and kerosene
Good resistance to alcohols, jet fuel, and gasoline
Summary of The Thickest Tape
The addition of 4972-35 to the VHB™ portfolio adds design flexibility for bonding applications that may have channels, rolled edges, complex geometries, or planarity issues. The tape can be delivered in slit rolls, spools, or as die cut parts. Want to learn more about 4972-35 or try it in your next application? Contact Tom Brown, Inc. today. www.tombrowninc.com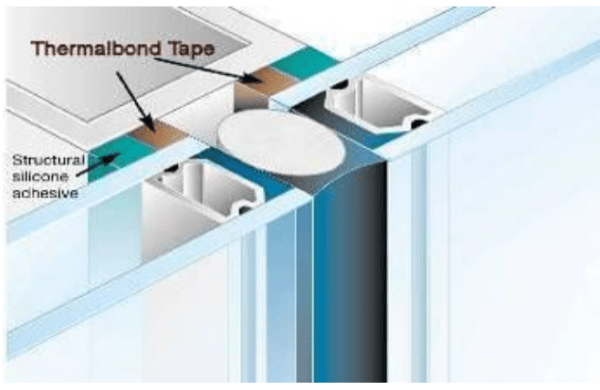 Bryan Harrison is the Technical Service Manager for the Thermalbond® spacer tape product line at Saint-Gobain. He kindly agreed to be interviewed for this blog post. All images used are sourced by Saint-Gobain Tape Solutions.
Bryan, can you give us a little history lesson on the Thermalbond® portfolio? How long has it been around and what prompted its' development?
Sure. We were approached when structural glazing was really getting off the ground. It was 1978 and the industry knew that a structural silicone could do the job, but they needed a solution that would allow them to fabricate the facade while maintaining spacing until the one part structural silicone cured. Back then the glass would be held in place with Dutchman clips for 21 days until the silicone fully cured. The first job that we did was a Saks Fifth Avenue retrofit in Pittsburgh. It was mirrored glass glazing and we used the V2100 series. They came to us and explained the criteria; avoiding three-sided adhesion, an open cell structure to allow moisture in, and a high performing adhesive. In 1985, we launched a sister product (to the V2100) V2200. It was a darker shade of black to better match most of the structural silicones being used. Also, a lot of the glazing was starting to be performed in a shop environment rather than on site so things were easier to control. For example, you don't have all the issues of field glazing with the outside of a building in the elements. Around the 2010 timeframe, structural glazing trends shifted to using more gray colored silicones. We launched a gray color option meant to address that trend. It's not meant to be an exact match for any one gray, but it's meant to blend in when you're stepping back and viewing the building. In 2012, we launched Thermalbond® Xpress. It was really designed to continue the move toward design flexibility. It has features that allow it to be used in applications where you don't need adhesive on one side, want easy repositionability and a very consistent look through glass.
Can you describe in more detail how the Thermalbond® structural spacer functions in the application?
At the start of the fabrication process, you clean your frames and get those ready to apply the Thermalbond®. You apply the adhesive on the face (unwind) side of the Thermalbond® to the frame. You can proceed with attaching the glass immediately or may tape several frames first (in a batch process). The blue release liner is left in place until you're ready to apply the glass, marble, or other material to the frame. Typically, people use small pieces of wood as spacers to help get the glass properly positioned. You then pull out the blue release liner to the side and work your way around the frame removing the wood pieces as you go to produce a nice, smooth appearance. The adhesive system is strong enough to allow the unit to be moved to another station immediately. At that point, the structural silicone is dispensed around the perimeter and the Thermalbond® maintains the space. The open cell structure allows any gas to escape and permits moisture penetration to help facilitate sealant cure. Some shops will stack the units vertically but most will stack horizontally or put them right into a shipping container.
When you think about Thermalbond® versus other competitive products, what makes it distinct and unique versus other materials?
I already mentioned the open cell structure. The idea behind that was that structural sealants require moisture to cure and we really want to get the maximum amount of penetration, especially when you're on the side of a building. Most polyurethane foams are water blown. Thermalbond® is a different type of technology. The cells are very fine and discreet. If you look at the edges, it looks just like a closed cell material. Some of that is for the aesthetics but also for its' ability to hold weight. Several years ago, we instituted a branded liner on the Thermalbond® line. We did that because we were starting to see counterfeits from overseas. If you're counting on a spacer to make sure that your structural silicone sealant project is done correctly, you want to make sure you're getting the right material. We then introduced new technology with Thermalbond® Xpress.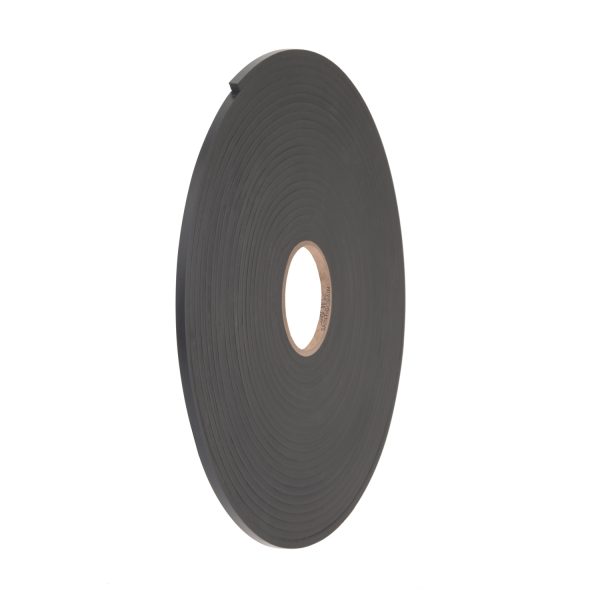 You don't have a release liner with this product so there's very little subsidiary waste and it lets you apply the product very quickly anywhere on the surface. From an aesthetic standpoint, there's a huge advantage with the way the air / glass interface looks, much more consistent. It does have some real advantages for flooring applications. Beyond that is silicone sealant compatibility, which of course is the starting point for everything. If you aren't compatible with the structural sealant, you have a big problem.
Since Thermalbond® is designed to work hand in hand with structural silicone can you talk a little bit about compatibility with sealants that are typically used in this type of application?
Sealant (compatibility) tests have been around for quite a while. ASTM 1087 is fairly standard. Some companies will do a modified version of 1087. You apply a bead of the structural sealant to whatever it will contact in the structure and age for 21 or more days in a variety of conditions; mainly UV exposure. You're looking for any color shift because the sealants, interestingly enough, will exhibit a color change if there's any incompatibility. Whatever (structural silicone) you use it must be compatible otherwise your warranty is at risk. Nobody wants a facade to come off a building prematurely. One of the great things about being in this market for a long time is that the major sealant manufacturers have Thermalbond® compatibility data on file.
Can you expand a little bit on the Thermalbond® Xpress part of your portfolio?
We use the same core technology as the rest of the Thermalbond® line so the compatibility, the curing advantage, and the vapor transmission properties are still there. Unlike the standard Thermalbond® with adhesive on both sides, there's adhesive on the unwind side and a release surface on the other side. it allows you to do two things. Since there is no release liner to remove it's very quick to apply. Since the second surface has a release coating, the IG unit can be easily maneuvered into place. The Xpress is used in flooring applications, ground floor, and sometimes second floor levels where you want really nice aesthetics.
You've been the technical service manager for this product line for quite a while. What are some of the coolest projects where you've seen Thermalbond® used?
One that's near and dear to my heart is One World Trade Center. I was involved with The Freedom Tower and I like the way the building looks. It's got sloped glazing and is part of a skyline that people recognize from all over the globe. The project used our V 2100 series. There's also the Marina Bay Sands Resort in Singapore. That structure has a very iconic look. There are three towers and they end up going up to a huge infinity pool on the roof. The building used V 2200 series. Then going back to a job that was before my time was the Jumeirah Beach Hotel in Dubai. The hotel really has this amazing design feature that's designed to look like a wave and a ship. One of our other divisions produced a film that makes the sail for the ship. Structural sealants in general have allowed buildings to really become the vision of the architect. Thanks for joining us Bryan!