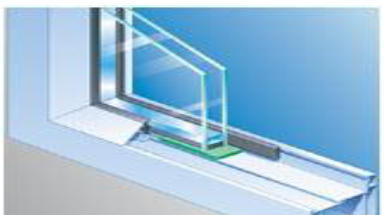 The demand for silicone rubber materials surged in late 2020 and has increased through 2021. While the aerospace and medical markets have long used silicone materials, the automotive market is increasing its' usage. Car manufacturers now use silicone materials in under the hood applications and the growing electric vehicle sector is utilizing silicone products for battery packs. 
This demand has stressed the supply of silicone sealants used in the fabrication of residential window systems. Fortunately, there are tape options to help window companies manage this challenge.
The Background on Silicon Shortages
Silicon is the key ingredient to produce the organosilicones used for silicone rubbers, sealants, and adhesives. China is responsible for approximately 70% of the world's silicon production. 30% is used for the polycrystalline silicon used for chips and photovoltaics, 40% is used for organosilicones, and 30% is used for silicon alloys.
China has experienced severe flooding in areas that produce the raw silicon. Power outages and production cutbacks have strained their ability to meet demand. (Silicon production is a very energy-intensive process). 
These circumstances along with manpower cutbacks due to the pandemic and logistics challenges have created a "perfect storm" leading to 300% increases in prices, allocations, and severe supply chain disruptions.
Residential Windows
Residential window manufacturers sometimes use fast-curing silicone sealants to install the IG unit into the sash. Without question, these sealants provide an excellent bond and a water-tight seal.
Glazing tapes can be an excellent option to use in place of sealants while the supply chain remains unpredictable. Tapes are easy to apply, require little in the way of specialized training for correct application, and offer no mess or squeeze out into the sight lines.
Technical Data
Tapes are certified to AAMA (now FGIA) 810.1 "Expanded Cellular Glazing Tapes, Type1" and have been used successfully since the 80's on PVC, fiberglass, and aluminum framing systems.
Typical Physical Properties on ARclad® 4000 Series Glazing Tapes

Outlook For Silicone Materials
The supply chain disruptions with silicone materials are forecasted to last another 12+ months. Additional monomer production capacity is under way by Dow, Momentive, Wacker Chemie, Elkem, and Shin-Etsu Chemical Co. However, these capital expansion projects take time to bring online. It's another wake up call for companies to have multiple sourcing options to help manage these supply chain challenges and assure consistent supply to customers. Want to know more about how glazing tapes can be integrated into your window production? Contact Tom Brown, Inc. today at
www.tombrowninc.com