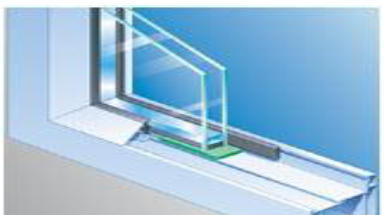 The demand for silicone rubber materials surged in late 2020 and has increased through 2021. While the aerospace and medical markets have long used silicone materials, the automotive market is increasing its' usage. Car manufacturers now use silicone materials in under the hood applications and the growing electric vehicle sector is utilizing silicone products for battery packs. 
This demand has stressed the supply of silicone sealants used in the fabrication of residential window systems. Fortunately, there are tape options to help window companies manage this challenge.
The Background on Silicon Shortages
Silicon is the key ingredient to produce the organosilicones used for silicone rubbers, sealants, and adhesives. China is responsible for approximately 70% of the world's silicon production. 30% is used for the polycrystalline silicon used for chips and photovoltaics, 40% is used for organosilicones, and 30% is used for silicon alloys.
China has experienced severe flooding in areas that produce the raw silicon. Power outages and production cutbacks have strained their ability to meet demand. (Silicon production is a very energy-intensive process). 
These circumstances along with manpower cutbacks due to the pandemic and logistics challenges have created a "perfect storm" leading to 300% increases in prices, allocations, and severe supply chain disruptions.
Residential Windows
Residential window manufacturers sometimes use fast-curing silicone sealants to install the IG unit into the sash. Without question, these sealants provide an excellent bond and a water-tight seal.
Glazing tapes can be an excellent option to use in place of sealants while the supply chain remains unpredictable. Tapes are easy to apply, require little in the way of specialized training for correct application, and offer no mess or squeeze out into the sight lines.
Technical Data
Tapes are certified to AAMA (now FGIA) 810.1 "Expanded Cellular Glazing Tapes, Type1" and have been used successfully since the 80's on PVC, fiberglass, and aluminum framing systems.

Typical Physical Properties on ARclad® 4000 Series Glazing Tapes

Outlook For Silicone Materials
The supply chain disruptions with silicone materials are forecasted to last another 12+ months. Additional monomer production capacity is under way by Dow, Momentive, Wacker Chemie, Elkem, and Shin-Etsu Chemical Co. However, these capital expansion projects take time to bring online. It's another wake up call for companies to have multiple sourcing options to help manage these supply chain challenges and assure consistent supply to customers. Want to know more about how glazing tapes can be integrated into your window production? Contact Tom Brown, Inc. today at www.tombrowninc.com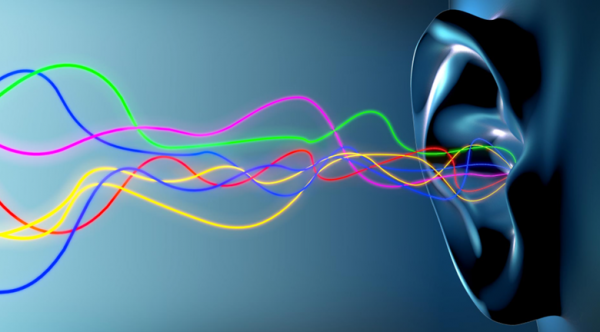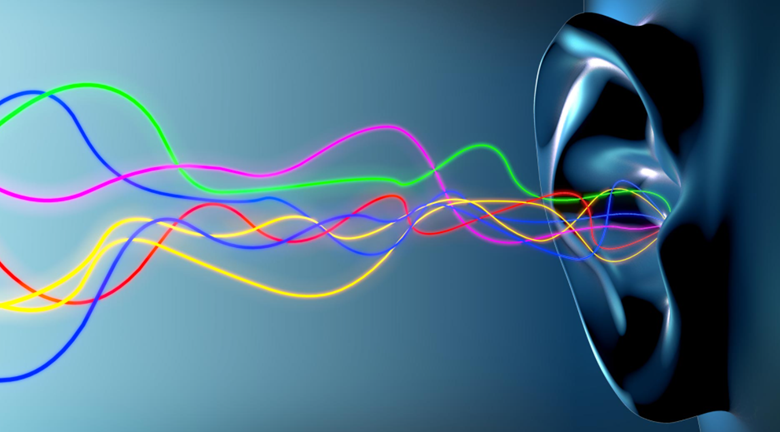 The two primary sources of noise are airborne noise and structural noise. Airborne noise results from the interaction of a vibrating surface with the surrounding air (think of a speaker) while structural noise results from the vibrational energy that travels through a structure, as well as other surfaces it might contact. While the noise from a radio or television might be desirable, other sources of noise from machinery, between floors in a building, or inside our car can be highly undesirable. There are a variety of strategies to reduce and control unwanted noise. Fabricated foam and adhesive parts play a significant role in achieving those reductions.
Airborne Noise
The primary strategies for reducing airborne noise are absorbers and barriers. Lightweight open cell foams are a very cost-effective way of attenuating noise in the air; particularly low frequencies. The open cell structure can absorb sound waves reducing the amplitude of the wave as the sound energy is transformed into heat. These materials include open cell polyether and polyester foams as well as reticulated (cell walls are removed to increase porosity) foams.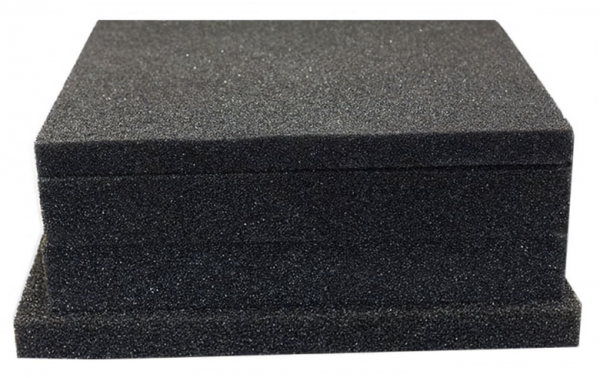 (Open Cell Urethane Foam)

Low density, closed cell foams can act as both an absorber and a blocker and do better with medium to high frequencies. PVC and low density cross-linked polyolefin foams can be used in these applications. Synthetic blanket materials such as 3M Thinsulate and fiberglass composite materials are also effective solutions for attenuating unwanted airborne noise. These materials can be supplied with a pressure-sensitive adhesive backing to facilitate easy installation and are easy to die cut into the final shape using flat bed, waterjet or flash knife cutters. Low density, closed cell foams can act as both an absorber and a blocker and do better with medium to high frequencies. PVC and low density cross-linked polyolefin foams can be used in these applications. Synthetic blanket materials such as 3M Thinsulate and fiberglass composite materials are also effective solutions for attenuating unwanted airborne noise. These materials can be supplied with a pressure-sensitive adhesive backing to facilitate easy installation and are easy to die cut into the final shape using flat bed, waterjet or flash knife cutters.
Structural Noise
The solutions for structural noise are a bit different. In a manufacturing environment, machinery is the typical source of vibrational noise. In a car, the engine and associated systems are usually the sources. Left unchecked, the repetitive motion of parts and surfaces can result in material fatigue and reduce reliability over time. Isolation is one of the principal strategies to minimize vibrational noise. Dense foams and microcellular foams are ideal material choices for use with heavier objects as these foams decouple the source from surrounding surfaces or housings that would otherwise amplify the sound and vibrations. These materials can be offered with or without adhesive and are easy to die cut for easy application. In some applications, bonding and isolation can be accomplished in one step. The use of acrylic foam tapes such as 3M VHB permit two rigid surfaces to be bonded together (for example a metal building façade panel to a stiffener). Any vibrational energy places the tape into elongation mode even though it is constrained by the two rigid surfaces. (constrained layer damping) The energy is transformed into heat as it damps the vibrations. Another strategy to use constrained layer damping is to apply a thick foil with a soft pressure sensitive damping adhesive such as 3M's Vibration Damping Foil Tape. The thick foil acts as a constraining layer and the adhesive goes into elongation mode converting the vibrations into heat. Again, these products are easy to die cut and apply. Tom Brown, Inc has the experience to help you address your noise and vibration challenges with a broad portfolio of foams and tape products designed to meet your needs. Contact us today at www.tombrowninc.com.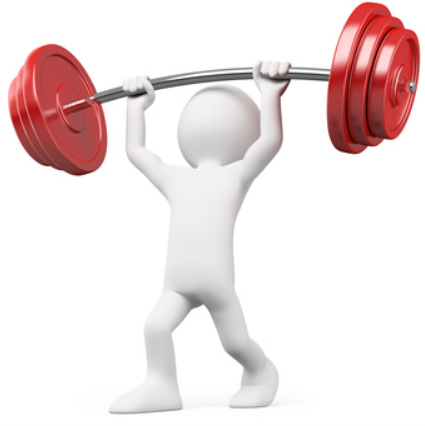 Recently, I was reviewing the keyword search terms people used to reach our website. The following is just a sampling of the searches that came up most frequently:
"Most powerful double sided tape"

"Strongest double sided tape"

'Super strong double sided tape"

"Strongest double sided tape for glass"

Strongest double sided tape for walls"

"Best double sided tape"

"Super strong sticky tape"
You get the idea. People want an easy way to determine the best double sided tape to use. It's human nature to want to know who or what is "the best"—the best NFL team, baseball team, college, restaurant, etc.—we like to know where we should invest our time and attention.
With sports, it's not as hard to answer that question. There are agreed-upon rules and competitions to rank teams or individuals. The person or team with the best results is the winner. For other things, it's not nearly that easy. Here's the spoiler; tapes are one of those things and answering the question about "the best" tape overall is technically impossible. The applications, surfaces, and operating conditions vary so much that tapes that are the best in one arena might fail badly in another. 
However, it is possible to talk about double coated tape products that do several things exceptionally well and are excellent "go-to" products when considering bonding and assembly applications.
Defining a Double Coated (Sided) Tape
A double coated or double sided tape is a specific tape format where a pressure-sensitive adhesive is coated onto both sides of a carrier or in some cases with acrylic foams — a foaming agent can be incorporated into an adhesive matrix and then" foamed" so the resulting tape is monolithic but in fact, has adhesive on both sides. A release liner can be applied to both sides of the tape or more often a double siliconized liner is used that allows the tape to be wound on itself (also referred to as self-wound).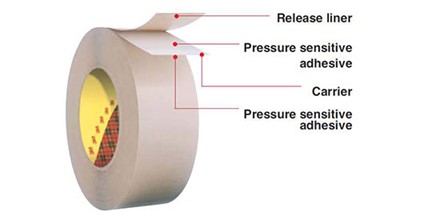 (Photo Courtesy of 3M)
Types of Carriers and Impact
Carriers or backings are an important element of the double coated tape because they have a significant influence on the physical properties and the ultimate performance of the tape. These properties impact the selection of the best tapes for a given application.
Contributions of Carriers
Flexibility

UV resistance

Thickness and density

Tensile strength

Elongation

Moisture resistance

Abrasion resistance

Electrical/ and thermal conductivity or insulation

Color

Transparency

Flame Retardance
Common Foam Carriers
Acrylic 
Polyethylene 
Polyurethane 
PVC (polyvinyl chloride)
Common Film Carriers
Polyester
Polypropylene
UPVC (unplasticized polyvinyl chloride)                                                   
Other Carriers
Tissue
Paper
Nonwovens

Matching Tape and Application: Questions to Narrow the Field
Ask the following questions to decide which tape will work best for your situation.
What is the end-use and what are you trying to accomplish? You should be able to answer this in one sentence most of the time.

 

What materials are you bonding? There is no "one tape fits all" with double coated tapes. You have to identify what you want to   bond together so you pick the best candidates. Different classes of materials act very differently.
 Are there any gaps to fill? The tape must have the right gap-filling ability for any uneven or non-planar surfaces. 
 What stresses or loads will be present in the application? The forces can include shear, tensile, cleavage, and peel. If you can identify these forces, you can choose a tape that will maximize your chances for success.
 Is the bonding surface rough or smooth? Rough surfaces usually require tapes with higher adhesive coat weights or thicknesses to allow the adhesive to flow into surface irregularities and provide better wet out. Better wet out will yield higher bond strengths.
 What are the application temperature and service temperature? What are the conditions where the tape is applied and what high or low temperatures will be encountered during service life? Some tapes work exceptionally well at low temperatures and others have excellent high-temperature performance. 
 Will there be any exposure to UV light, chemicals, or moisture? These factors along with temperature and the various forces outlined in question 4 will create the operating environment for the tape. 
"Go-To" Product Recommendations
In the introduction, I stated that it is impossible to pick only one "strongest double coated tape" due to the high degree of variability and performance requirements encountered in each application. There are, however (in my opinion) a group of "best in class" or "go-to" tapes that are a great starting point for many applications. Here they are:
Double Coated Foam Tapes
Acrylic Foam Tapes
3M VHB – the VHB portfolio contains almost 100 products and they are all excellent! 

Saint Gobain Norbond® Acrylic Foams – especially the new A7600
Double Coated Polyethylene Foam Tapes
Adhesives Research – 2000 and 4000 Series

Berry Plastics – GTW / GTB Series

Adhesives Applications- 7016B, 65016B, and 7316B

Mactac – IM1863
Double Coated Film Tapes
This section is broken down by surface energy classification since there are more double coated film tapes than any other type.
Double Coated Film Tapes for HSE (high surface energy metals and plastics)
3M 92015
Double Coated Film Tapes for Foam Bonding and Rough Surfaces
3M 9832

Berry Plastics 350 Series
Double Coated Film Tapes for LSE (low surface energy plastics and paints)
3M 93015LE

Berry Plastics 650 Series
The products listed are those where I have observed success with a number of customers over many applications. It is not intended to be all-inclusive or to leave any manufacturers out. I can attest that there are other double coated tape manufacturers such as Scapa Group, Intertape Polymer Group, Tesa, and Avery Dennison who all produce excellent high-performance double coated tapes.
If you have an application for bonding or assembly where you think a double coated tape might work, don't hesitate to contact us at Tom Brown, Inc. We'll set you up with the samples and the technical data you need to begin your evaluation and succeed!
www.tombrowninc.com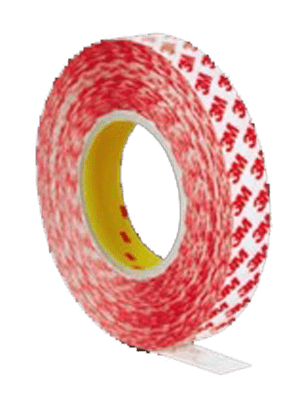 It's probably obvious by these blog posts that I really enjoy sharing the innovation I see in the tape world. It excites me that we continue to see tapes doing things that most folks never thought they could. I was able to join a virtual "3M Converter College" session this week on 3M's newest thin film bonding tape; GPT-020F.
What is GPT-020F?
The folks at 3M will be the first to tell you that they love acronyms. Some have related meanings to the products and some don't. This new tape's name actually does have some meaning. The "GPT" stands for general purpose tape. The 020 correlates to the tape's thickness of 200 microns (about 8 mils) and the "F" at the end stands for a film release liner. The GPT-020F is a double coated film tape. It features 3.7 mils of clear, solventless acrylic adhesive coated on both sides of a ½ mil polyester film. It comes with a tear resistant, 3.9 mil white BOPP (biaxially oriented polypropylene) film liner.

What Makes It So Special?
The adhesive system on this tape is what really sets it apart. It adheres to high surface energy materials (like stainless steel) but also has excellent adhesion to medium surface and low surface energy materials such as polypropylene. Peel adhesion values are over 100 ounces/inch (about 11N/cm) for most surfaces. The thick adhesive coating allows fast wet out (instantaneous adhesion) and can easily handle textured surfaces. The amazing feature (and testament to the innovative chemists at 3M) is that these high adhesion values don't come at the expense of shear strength. There are a number of "red liner" double coated tapes that have been on the market for long time. They do have good peel values but they don't have the shear strength, chemical resistance, and temperature resistance of the GPT-020F. It really is a leap forward in tape performance.
Thin Film Bonding Applications
Sometimes when you call something "general purpose" it can imply that it's not a high performance product. Nothing could be further from the truth with this tape but I think 3M called it "GPT" because this tape can do so many things so well! Here are just a few application areas where the GPT-020F can really shine:
Light boxes and indoor/outdoor signs
Decorative trim attachment for appliances
Furniture trim attachment
Metal fabrication
Sporting good and gym equipment
Plastic to plastic bonding
POP/POS displays

Summary
3M GPT-020F is the newest thin film bonding tape that features solventless acrylic adhesive technology that combines both outstanding adhesion to high, medium and low surface energy materials along with excellent shear strength. The high shear strength provides excellent top end temperature resistance (375°F), chemical resistance, and UV stability. Want to know more about GPT-020Fand how it can solve your bonding application? Contact Tom Brown, Inc today! www.tombrowninc.com .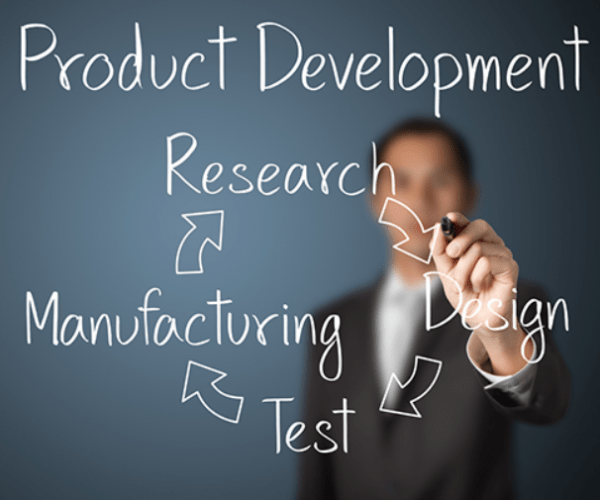 Engineers spend endless hours developing new products and revising current designs to meet market demand. The timelines are demanding, which can make it feel like there are never enough hours in the day. It's understandable that tapes (and die cut parts made from tape products) are not always at the top of the to do list.  Yet these products can be critical in the bonding and assembly process or for sealing and gasketing applications to maintain product integrity. Fortunately, tape converters are well positioned with a unique set of "tools" that can produce solutions to save both time and money.
Material Portfolio and Selection
Converters know and source products from a variety of the most reputable tape and raw material manufacturers. Each manufacturer offers certain product lines that are "best in class" in terms of performance and cost.  Having a broad product portfolio brings maximum problem solving capabilities to almost any project. However, a broad product portfolio is nothing if it can't be applied effectively. Invest time answering key questions with a converter will shorten the path to a solution. These key questions will typically involve looking at the surface, environment, joint stresses and the product application. Questions to ask include:
Surface –What is the type of surface, surface energy, geometry, texture, and preparation?
Environment –What are the chemicals the tape or die cut part will encounter?   What is the UV exposure and the high/low temperatures?
Joint Stresses –What are the physical forces that will be acting on the bond line during service?
Tape or Part Application –How will the tape or die cut part be applied?
Answering these questions typically takes less than half an hour.  More importantly, these questions  acts as a "screening system" that allows products to be included or eliminated from further consideration.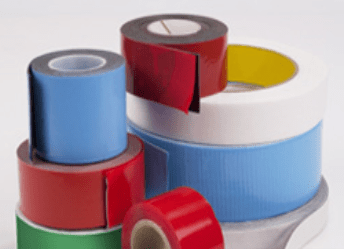 Rapid Prototypes
Competent converters have equipment and processes that allow prototypes to be prepared quickly. This can be as simple as slitting rolls for evaluation or by utilizing "digital die cutting" methods such as waterjet, flash knife, or laser to produce precision parts; often within 24 hours. When you combine the material selection screening questions with the rapid prototyping capabilities, the evaluation and qualification process can start immediately. Any additional tweaks or changes can be usually be incorporated rapidly and new prototypes presented.
Deployment
While the final evaluations are in process, it's time to consider effective deployment of the tape or die cut part. If the solution requires rolls of tape, decisions on how the tape will be applied need to be considered. In many cases, tape is hand applied and there is nothing wrong with this approach. In other cases, a hand held, tabletop, or semi automatic dispenser might be much better suited for certain manufacturing situations. The converter should have the right connections to help with these requests. Die cut parts can have even more options. The parts can be cut through into discrete parts, kiss cut on a roll, or have tabs and extended liners. While removing a liner from a discrete part is fairly simple, it may take an extra second or two to do this instead of removing a kiss cut part or utilizing an extended liner. A second or two doesn't seem like much. However, when you add up thousands of seconds over a year, the savings can usually be measured in days or weeks.
How Can We Help?
Tom Brown, Inc. is a full service converter with a unique set of tools that can be rapidly deployed to help customers solve product development challenges; especially those that happen under time pressure. Our broad product portfolio, material selection experience, rapid prototyping capabilities, and process engineering knowledge can significantly reduce product development time when solving bonding, assembly, gasketing, and sealing challenges. Contact us to discuss your project. www.tombrowninc.com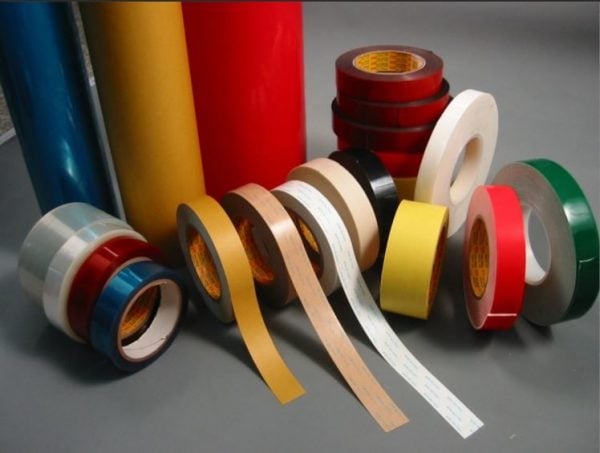 Many of us have a roll of masking or duct tape that's been sitting in our garage or basement for quite a while. It probably doesn't unwind as easily as it did when it was new and it might look a little rough.
What you are observing is the interplay between shelf life and storage conditions. Tapes and die cut parts made from tape products come with a shelf life and a set of recommended storage conditions. It's easy to overlook this seemingly mundane information but it's important to understand them both so that you get the best performance from your products.
Shelf Life
All reputable tape manufacturers list the recommended shelf life for their products. The most common time frames listed are anywhere from 6 months to 2 years. The primary reason for the difference in shelf life is the composition of the tape itself; the adhesive system, the backing, and release liner if it has one. Certain adhesive systems such as acrylics and silicones are very stable chemically and resist aging. Other adhesives such as rubber/resin systems often have antioxidant and UV stabilizer packages added to improve aging characteristics. 
Another factor in determining shelf life is an aging study. Aging studies can be conducted using natural or real time aging, accelerated aging, or a combination of both. Real time aging is very reliable but is not always practical as this process can require too much time to get to market. 
Accelerated aging is a procedure that utilizes elevated temperature as a way of exposing the tape or die cut part to stresses that will simulate real time aging in a compressed time frame. Physical testing on the aged tape specimens (peel, tack, shear, and liner release) are performed after exposure and this data can be compared to room temperature control samples and real time aged samples to understand which properties might have been negatively affected by the accelerated aging conditions. The stability of the physical properties can then be used as evidence to establish a shelf life.
The last factor is determining shelf life is risk management. Risk management is where product managers, business leaders, and legal tend to get involved. They typically consult with the technical group to get a recommendation but they will decide how much risk they are willing to incur as a business and this will influence the stated shelf life. Some companies are more risk averse than others and their shelf life statements often reflect this bias.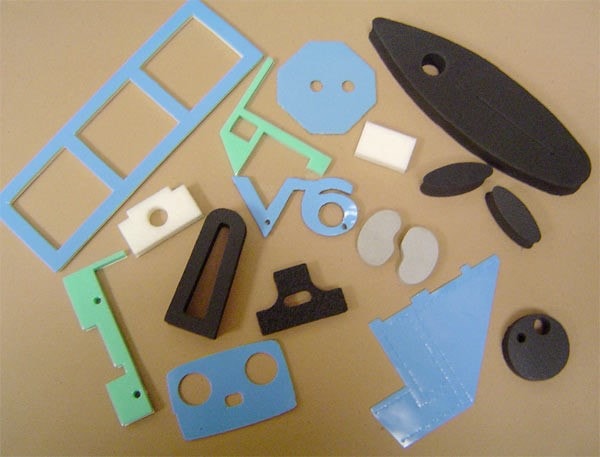 Storage Conditions
There tends to be strong agreement among tape manufacturers that optimum storage conditions are 70°F (21°C), 50% relative humidity, out of direct sunlight.
Some will expand this by quoting a range; 70°F +/- 20°F and 50% RH +/- 20% as an example. There is little doubt that optimum storage conditions will maximize (and even prolong in many cases) shelf life. 
Tapes and die cut parts are stored in warehouses most of the time. Some of these warehouses are temperature and even humidity controlled. Many of them are not. Warehouses can experience large swings in temperature and humidity as the seasons change. If your warehouse sees large swings in temperature; particularly high temperatures over 95°F, the tape is experiencing accelerated aging in a similar way to a formal aging study. 
Extending Shelf Life
We are often asked if a tape or die cut part is "still good" after it may have been at the customer's facility for an extended time; usually beyond stated shelf life. The good news is that unlike the fairy tale "Cinderella", tapes and die cut parts don't turn into a pumpkin at midnight of their shelf life. The performance of most tapes is not projected to change significantly even after the shelf life expires.
In most cases, questions will be asked about storage conditions and then the tape or die cut part can be inspected to check appearance and tack and compared against unaged material. Samples can also be sent for physical testing either to the tape manufacturer or an outside lab. 
If the material has not been adversely affected and especially if it has been stored correctly, the shelf life might be able to be extended for a short period of time. 
Summary
The shelf life and storage conditions are often the most overlooked items on a technical data sheet. Most tape products list a 6 month to 2 year shelf life. Shelf life is determined by the composition of the tape, backing, and release liner along with aging studies that document the performance of the tape in real time and/or accelerated aging conditions. 

Optimum tape and die cut part storage conditions are usually listed at 70°F (21°C) and 50% relative humidity but warehouse conditions are usually more variable than the ideal. The best way to understand how to store your tapes or die cut parts is to talk with a knowledgeable converter. Contact us at www.tombrowninc.com

When you've been in any type of business for a long time, you sometimes realize how much you take for granted or assume that other people know or understand. That hit me the other day when I was reviewing tape technical data sheets from two different manufacturers and realized that the data listed might not be easily understood by someone who isn't in the tape business. Here are some of the common test methods and data listed in many tape technical data sheets and some guidance on how to apply that information to your application.

(more…)