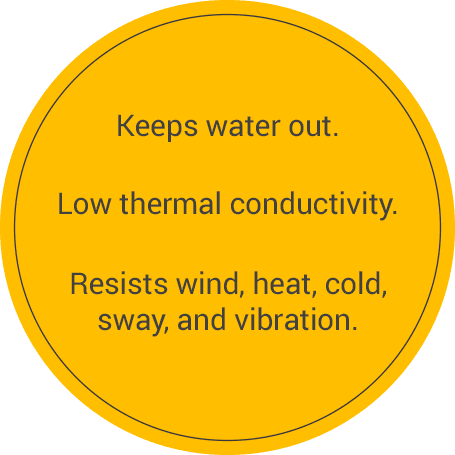 What will our products do for your products?
Tapes uniformly distribute stress along the entire joint – screws, rivets, and welds concentrate mechanical stresses. Tapes can be used for static or dynamic loads and are self shimming.
Tapes are viscoelastic – they absorb shock and allow movement to resist wind and vibration without delaminating and will not pump out
Tapes bond and seal simultaneously – tapes create strong bonds that seal out water, dirt, dust, and other contaminants

Typical Commercial Window, Curtain Wall, and Cladding Applications
Architectural Panel and Glass to Frame Bonding- tapes can easily replace traditional riveting, welding, or liquid applied adhesives for metals and glass. The panels are aesthetically smooth and have no distortions common to mechanical fasteners.
Stiffener to Panel – tapes can easily bond stiffeners to panels to improve support and rigidity. The tapes form fast, strong bonds and assemblies can be handled immediately.
Spacer Tapes – provide on site and shop glazed options using high strength open cell foams that permit structural silicones to cure via air or moisture.
Self Adhesive Gasketing- gaskets of almost any shape or size made from a variety of rubbers or foams designed for robust seals and interfaces.
Trim Attachment- tapes quickly mount trim parts and other assemblies quickly without the need for fixturing.
Mullions- tapes provide a fast easy way to mull windows and entry ways.
Plugs and Baffles- die cut baffles and plus in almost and shape and size.
Free Information Sheet
See How Specialty Tape Products Can Improve Appearance, Reduce Production Costs and Extend the Service Life of Commercial Windows & Curtain Walls