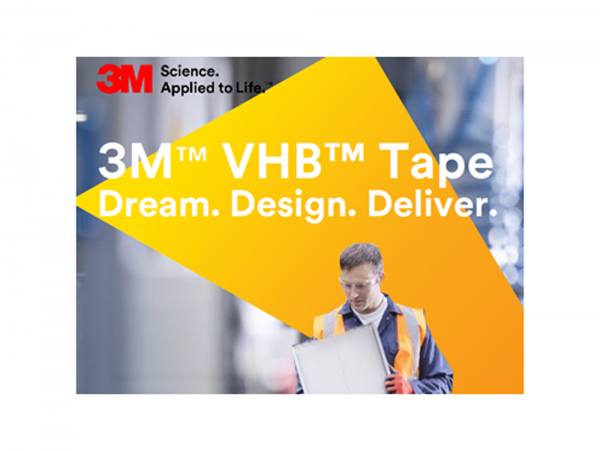 Many folks know that I'm a huge fan of 3M VHB™ acrylic foam tapes. I was in the industry when they were introduced in 1980 (yes, I've been in this field that long and longer) and I continue to be a strong advocate. Why? Because VHB™ tapes  continue to push the boundaries of what a tape can do. The newest addition to the North American VHB™ portfolio (now near 100 products) is 4972-35. This is a 0.138" (3.5mm) thick, gray tape. The thickest VHB tape available before the release of this new offering was 4959F which is a .120" thick, white foam.
How 4972-35 Can Help
Parts to be bonded can have a myriad of features such as channels, lips or rolled edges, and complex geometries. Large parts will sometimes have planarity issues between one bonding surface and the other. These features often necessitate the need a thicker tape to extend beyond the feature or fill a gap so that a good bond can be achieved. The 4972-35 delivers that capability and in a neutral gray color for a nearly invisible bond line.
Features and Technical Data
Gray, 0.138" (3.5mm) conformable foam with a multi-purpose acrylic that bonds to medium and high surface energy materials including glass, metals, and a wide variety of paints and plastics including plasticized PVC
Creates a permanent seal against water and moisture
Stresses and energy are absorbed by the foam and protect the bond line
Closed cell acrylic chemistry is proven to withstand extreme environments
90°Peel (ASTM D3330) 28 lbs/inch
Normal Tensile (ASTM D987) 70 lbs/sq. inch , 480kPA
Overlap Shear (ASTM D1002) 57 lbs/sq. inch, 393kPA
Excellent resistance to salt water, motor oil, hydraulic fluids, and kerosene
Good resistance to alcohols, jet fuel, and gasoline
Summary of The Thickest Tape
The addition of 4972-35 to the VHB™ portfolio adds design flexibility for bonding applications that may have channels, rolled edges, complex geometries, or planarity issues. The tape can be delivered in slit rolls, spools, or as die cut parts. Want to learn more about 4972-35 or try it in your next application? Contact Tom Brown, Inc. today.
www.tombrowninc.com