Many sealing and gasketing applications require subsequent drilling for the insertion of screws, bolts or rivets to complete an assembly. The auguring action of a drill bit or screw can cause the foam gasket or seal to rip or tear. This compromises the integrity of the seal itself.
The V-710 series from Saint Gobain solves this problem by taking a medium density PVC foam and adjusting the PVC formulation so that the foam won't move or twist when the fastener is inserted.
V-710 Series Product Features and Properties
The V-710 series utilizes a 10 lb per cubic foot density PVC foam core. This means you have a very cost effective way to produce seals and gaskets that will work hand in hand with drilling and various mechanical fasteners.
One side of the foam core is coated with a pressure-sensitve  acrylic adhesive system designed to adhere to a variety of surfaces; helping to fixture the foam in place until it is drilled, mechnical fasteners inserted, and then put under compression. The foam is dimensionally stable, resistant to weather, fungus, and oxidation, and maintains its' flexbilty at low temperatures.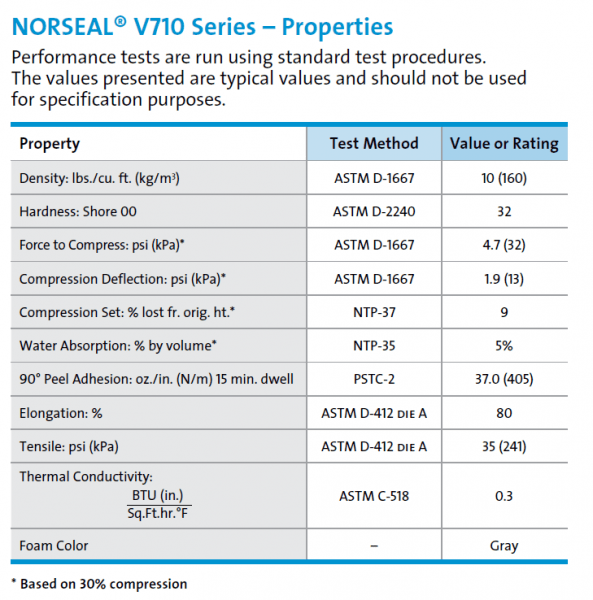 Applications
This product works exceptionally well in product assembly operations.. The V-710 series excels at sealing out water, air,and dirt in truck cab roofline seals and vehicle overlap seals.  In the construction industry, it is an excellent choice for corrugated panels, modualr wall systems, HVAC seals, and outdoor lighting fixtures.

Product Options
The V-710 series is available in gray with a pressure sensitive acrylic adhesive on one side for easy fixturing and it comes in 5 thicknesses.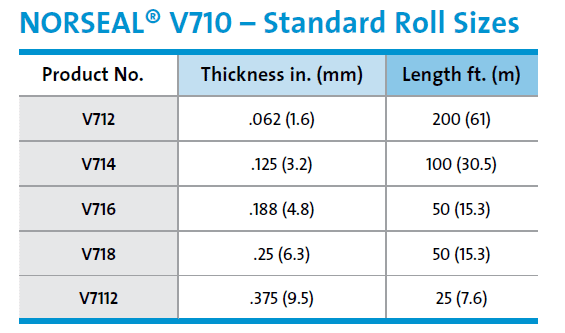 The V-710 series is truly a unique product line that solves distortion and tearing issues that compromise seal integrity when mechanical fasteners are used for final assembly operations.  Contact Tom Brown, Inc. today for a sample roll or a die cut V-710 gasket.