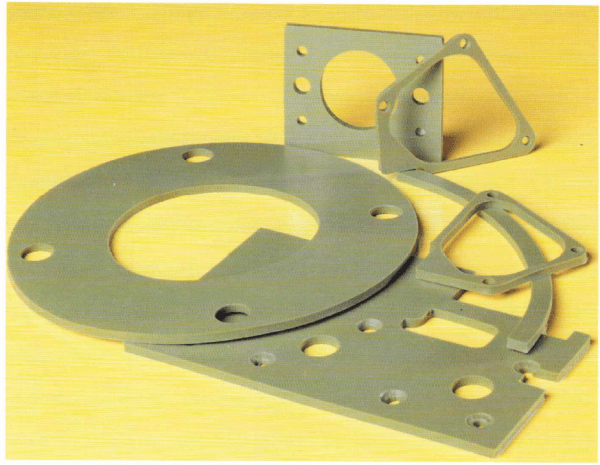 Silicones are a large family of elastomers with a unique chemical structure that  gives them superior high and low temperature capabilities that are unavailable in other families of elastomeric materials.
Silicones are very inert and, therefore, resist sunlight, ozone, oxidation, water and various chemicals. They contain no acid-producing chemicals and do not initiate corrosion.
Thermal Stability
Silicone's physical performance properties are not affected by prolonged exposure to low temperatures (100°F), or high temperatures (+500°F), and can even withstand intermittent exposures to higher temperatures. (see Figure A below)
Silicones far outperform other elastomers in general service life, compression set resistance, electrical strength, and non-stick properties. They also exhibit good chemical resistance. Some solvents, such as gasoline or aromatic hydrocarbons, may cause temporary swelling of the polymer. But the material will return to its original dimensions after evaporation.

Variations
Silicones are available in solid rubber, sponge and foam rubber forms with a variety of  durometers. General purpose silicone rubber is extremely versatile and is often the best choice for applications involving high heat and pressures.
Silicones can be modified with fluorinated compounds to improve chemical resistance and phenyl chemistry to drive low temperature performance even lower to -130°F.
Fillers can be added to gain electrical conductivity, thermal conductivity and flame retardant properties. Fiberglass reinforcement can be added to improve dimensional stability.
Figure B below shows the compression-set comparisons for various grades of silicone rubber, sponge and foam.

Adhesive Options
Silicones exhibit low surface energy, which can make them a bit tricky to laminate with adhesives and achieve good anchorage. Tom Brown, Inc. has the know-how to modify the surface to permit lamination with either silicone or acrylic adhesive systems for gasket attachment or general bonding. Silicone pressure-sensitive adhesive exhibit temperature performance similar to that of the silicone elastomer (100°F to +500°F). Acrylic adhesives are a cost-effective option for some applications, but you trade away some of the temperature range. These adhesives will typically work in the -20°F to +350°F range.
Want to know more about silicone elastomers? Contact Tom Brown, Inc. today for samples, technical data, or to discuss your specific application.
(Photos and table courtesy of Saint Gobain Tape Solutions)