Curtain wall applications tend to be extremely complex endeavors, and it's easy to understand why. Not only does the assembly of a curtain wall take time, but installation also requires specialized equipment and safety procedures to ensure optimum performance.  There are ways to improve upon the process, making it both faster and more affordable. One of the easiest methods is through the use of pressure sensitive structural bonding tapes.

Better Management of Stress Across the Entire Joint
Common assembly methods for curtain wall systems include a "captured" system where the metal extrusion holds the glass in place along with a gasket and sealant. Structural sealants are the other proven method for assembling the curtain wall – particularly unitized and cassette systems.
Structural glazing tapes provide a third option for assembly that can save time and money. The tapes adhere to the entirety of the surface of the framing system, distribute stresses over the entire bond line with out the need for any complex equipment. This enables the curtain wall to resist thermal expansion and contraction and handle sudden wind loads as well as varying environmental conditions.
Reducing the Amount of Time Required for Installation
Tape bonding is a relatively straightforward process. The extrusion and the glass must be cleaned; typically with a 50:50 isopropyl alcohol and water solution. The tape can then be applied by hand or by common X-Y glazing tables that many fabrication facilities already have.  Then the bond line needs to be rolled with hand held roller or compressed using a pneumatic pressure tool to apply a 15 psi pressure to ensure that tape achieves optimum wet out. The unit can be handled immediately. When liquid sealants are used, there are quality checks that must be performed on the sealant prior to application to ensure the sealant is mixed and performing properly. Once the sealant is applied, it needs time to cure and set before any further assembly operations can be performed.
Absorbing Shock and Resisting Vibration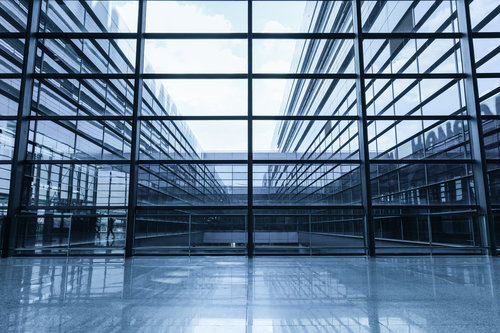 Structural glazing tapes are viscoelastic. This means they exhibit both viscous and elastic behavior when undergoing some type of deformation. Common deformation would include thermal expansion and contraction of the metal framing system and the glass which have very different rates of expansion and contraction, sudden wind loads, and the constant load applied from the weight of the glass itself.
These tapes have high internal strength yet maintain enough flexibility to handle these deformation conditions with ease.
Providing More Environmentally Friendly Solutions
Pressure sensitive tapes are an environmentally friendly solution for curtain wall applications. They have no VOCs (volatile organic compounds) and are considered "articles" (like a roll of duct or masking tape) and require no specialized safety or handling training to avoid employee exposure or injury.
There are specific 3M pressure sensitive tapes that are designed for curtain wall and architectural panel applications. Tom Brown, Inc. offers the right products for curtain wall, commercial window ,and architectural panel applications. Contact Tom Brown, Inc. today to learn more about these products.