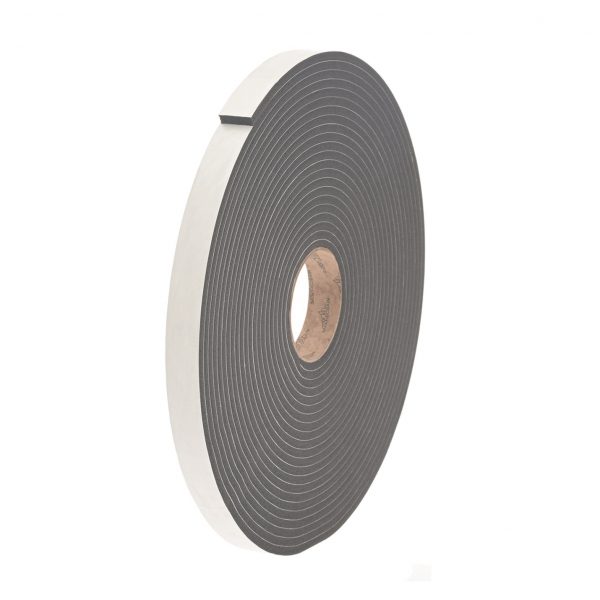 Some tapes, like some people, don't draw a lot of attention to themselves. They might not be particularly flashy but they consistently get the job done. Saint Gobain's Norseal® PVC foam tapes are a great example. When you have gasketing, sealing, and cushioning applications, these products are real "players" and deliver proven performance time after time.
What is PVC Foam?
PVC (polyvinyl chloride) foam is a compressible, flexible, closed cell material available in various densities (6-15 lbs./cubic foot). This versatile foam is produced by applying a PVC resin matrix onto a single side siliconized paper release liner. The liquid PVC is applied to the non-silicone side of the paper and then heat along with blowing agents initiate the "foaming". Process controls allow the foam thickness to be controlled. An acrylic pressure-sensitive adhesive is then applied in line, dried, and then wound into a master roll.
Technical Advantages of PVC Foam Tapes
PVC foam tapes provide an effective seal against water, dirt, and air infiltration when compressed 30%. Additional advantages include:
Mitigates vibration and impact
Good weathering resistance
Superior chemical resistance to polyurethanes
Service range of -40°F to 180°F
Available in thicknesses from 0.063" to 0.500"
Typical physical properties of the Norseal® V740 series (medium density)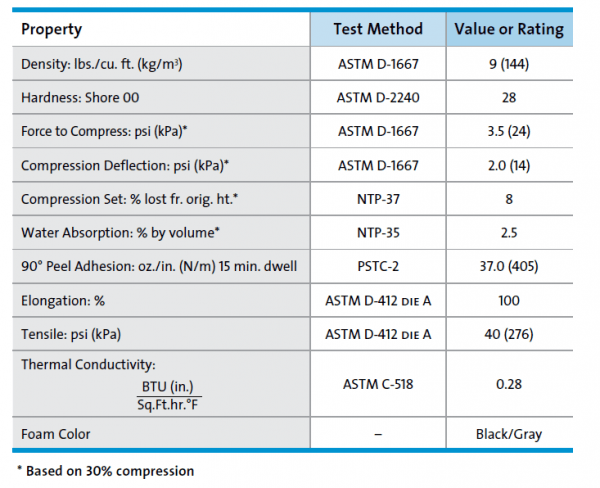 PVC Foam Tape Applications
PVC foams are used in the automotive, building and construction, transportation, HVAC, general industrial, and many other markets. The lower density foams are great for weather-stripping and thin gauge materials where you need maximum conformability and sealing at lower pressure. The medium density with their added strength and impact resistance are used widely in many applications and the high density PVC foams offer maximum cushioning, vibration damping, and abrasion resistance. Some specific application examples:
Truck cab and body seals
Foundation to sill gaskets
Die cut gaskets
Window and door weatherstripping
Concrete forms
Wall systems
Toolbox lid seals
Corrugated wall seals
Log home seals
HVAC seals
Shipping container seals
Roof rail seals
Use and Handling
PVC foams are most often used in roll form. Large 54-56" wide log rolls of the foam are loaded on to a "log slitter" or single knife slitter and the individual slit rolls are cut to the precise width for each application. The slit rolls can easily be hand applied or affixed using a semi-automatic lamination station. The paper liner carrier sheet is then removed to expose the PVC foam surface for sealing. Slit rolls can also be traverse wound into spools. Spools are very similar to the line on a fishing reel or a spool of thread. The main advantage of spools is that much longer lengths of PVC foam can be wound onto a common core. This is particularly useful for continuous manufacturing operations such as extrusion lines where downtime for roll changeovers must be minimized. PVC foams can also be easily die cut using a variety of techniques. Flat bed and rotary die cutting are most common for small to medium size parts. Larger parts can be processed on waterjet or flash knife cutting equipment. Laser cutters can be used but there will be noticeable char on the edges of the parts which is usually unacceptable.
Summary
PVC foams are extremely versatile materials for sealing, gasketing, and cushioning applications. They may not be the fanciest tape products but they offer exceptional, consistent performance in many diverse applications. Want to learn more or get samples for your project? Contact Tom Brown, Inc. today.
www.tombrowninc.com