Microcellular polyurethane foams are everywhere and chances are, you don't even know it. Pick up your cell phone, get in your car, or turn on your computer and odds are that microcellular polyurethane foam is there sealing and protecting against bumps, shocks, and isolating against vibrations.
What are Microcellular Polyurethane Foams?
Microcellular foams are designed to contain billions of tiny gas bubbles that are less than 50 microns (thus the name "microcellular") in size. These foams are produced by dissolving  gases in varying amounts into the polymer under high pressure. A process called nucleation helps the bubbles or cells form into a fairly uniform pattern and the gas selected has a strong influence on the density of the resulting foam.
What Does All That Mean?
The resulting foams from the production process result in high performance materials that:
Offer excellent compression set resistance

Are highly resilient and will not collapse even after repeated opening and closing

Seal out moisture and are resistant to oils, greases, and aliphatic hydrocarbons

Noise isolation at high frequencies and vibration isolation at large amplitude and low frequencies

Maintain flexibility even in extreme conditions

Exhibit low outgassing and non-fogging properties

Are easy to die cut into intricate shapes

Microcellular Foam Applications
The number of applications and markets where microcellular polyurethanes are used is too large to list in one short blog post but some of the more popular applications include:
Electrical and electronic housings and enclosures

Cellular phones

Electronic gaskets

Instrument panels

Bumpers and pads

Automotive gaskets
Physical Properties
One of the premier manufacturers of microcellular polyurethanes is Saint Gobain. The densities available run for super soft to very firm. The workhorse K series data set is shown below to give some reference points for the more important properties.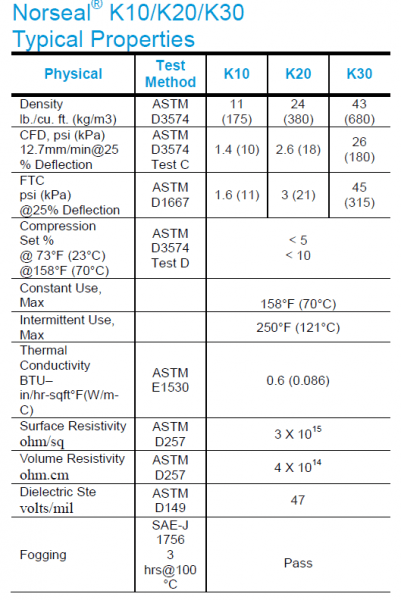 Want to learn more about microcellular polyurethanes and what they can do for you? Contact Tom Brown, Inc. today.
(Photos and Data Table Courtesy of Saint Gobain Tape Solutions)