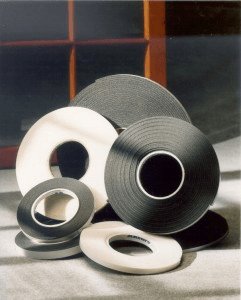 At Tom Brown, we provide a range of foam tape products from Adhesives Research, an independent developer of pressure-sensitive tapes, coatings, laminates and release liners. Adhesives Research manufactures a full line of pressure sensitive tapes to solve a variety of bonding and assembly challenges.
Tom Brown Inc. and the ARclad® Series
The ARclad® series foam tapes are designed to glaze insulated glass units (IG units)into PVC framing systems. At Tom Brown Inc., we carry ARclad® 2000, 3000, 4000 and 8000 series products. Each product has increasing strength and performance, with ARclad® 8000 providing the highest design pressure ratings. For customers seeking a cost effective foam glazing tape, the ARclad® 4000 series is durable and affordable. Tom Brown Inc. provides the following ARClad® products:
ARclad® 2000 Series- The ARclad® 2000 features a rubber based, high tack, high shear adhesive system. This product is perfect for PVC and aluminum.

ARclad® 3000 Series- This is a glazing tape series for PVC and aluminum. ARclad® 3000 is available in black and white, a range of thicknesses and can be delivered in long length spools.

ARclad® 4000 – ARclad® 4000 is a high performance acrylic adhesive that is available in a range of colors and thicknesses. This is the workhorse series in the line and has excellent resistance to moisture and UV light.

ARclad® 8000 – This top of the line product provides the best design pressure ratings and overall performance.
You can check out more about the Adhesives Research products that we sell by taking a look at our website.  
Contact Us To Purchase A Product
At Tom Brown, Inc., we carry a full line of foam sealing and bonding tapes. Our tapes can hold together metals, plastics, and almost anything you can think of. Our tapes keep out water and literally hold together trailers, trucks, and commercial window and wall systems.. We're a behind the scenes company, but our role in the lives of our customers is important. Located in Pittsburgh and Salt Lake City, we serve customers all over the surrounding areas and beyond. We're committed to providing the best tape products, in the right width, at the right time.. For samples or to discuss our tapes in greater detail, call us today at (800) 446-2298.