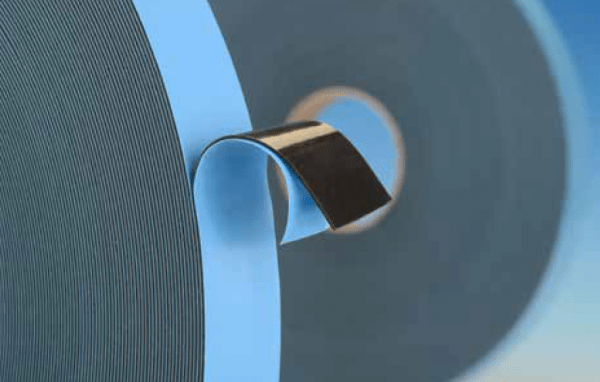 I always feel a little sorry for polyurethane foam tapes. Why? They tend to get lost in the shuffle between the acrylic foam tapes on the one side, and the lower cost polyolefin foam tapes on the other.
Despite this, polyurethane foam tapes have some formidable physical properties and have an excellent performance to cost relationship.
What are Polyurethane Foam Tapes?
Polyurethane foam is produced by reacting polyols with diisocyanates to create highly resilient foams that we use every day in mattresses, car seats, and foam for tapes and gaskets. Various additives are incorporated to help tailor the urethane for particular applications.
These foams are coated acrylic adhesive systems that yield a high performance bonding tape that can:
Dissipate energy and stresses along the entire bond line

Resist weather, extreme temperatures, UV light, and fungus
One of the premier manufacturers of polyurethane foam tapes is Saint Gobain. They produce an excellent range that includes the V2800, V4600, and V8800 for severe exterior applications, V1300 for interior applications, the V900 series for electronic applications needing a UL rating and the Z500 series for automotive applications.
V2800 Series Physical Properties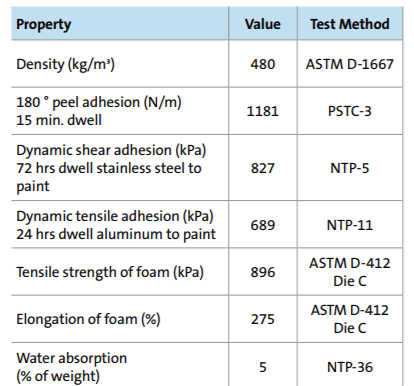 Pay particular attention to the high dynamic shear and dynamic tensile values. These high values translate well into bonding tape applications for roof bows and panel stiffeners in truck and utility trailers and RVs,
  Other applications for polyurethane foam tapes include:
Body side molding

Wheel weight attachment

Composite panel bonding

Emblems and nameplate attachment

Sign framing

Wheel well and door edge moldings

Bumper trim and inserts

Rocker panels
Polyurethane foam bonding tapes might lack the popularity of the acrylic foams and polyolefins, but they perform reliably in heavy duty applications every day. They have an excellent cost benefit balance and should be considered for your next high performance assembly application. Want to know more about polyurethane foam tapes? Contact Tom Brown, Inc. today!