Foam is a lightweight, strong, durable, and pliable material that is becoming one of the leading alternative design materials throughout the automotive industry, aeronautics industry, and construction industry. Industry insiders have been exploring ways that foam can be used for a variety of different projects.

The Benefits of Foam as Alternative Design Materials
Foam is able to be installed in areas where other materials simply would not be pliable or lightweight enough. Primarily, foam is fitting into the same area in which plastics originally fit: it's a way to save on cost and add value, with a more versatile material.
Foam is able to:
Either expand or be offered in shapes that can suit nearly any design 

infrastructure.
Reduce the weight of designs substantially without compromising on structural 

stability.
Perform natural insulating functions, which can be enhanced through different 

foam composites.
Be installed easily without extensive training, resources, or overly 

specialized equipment.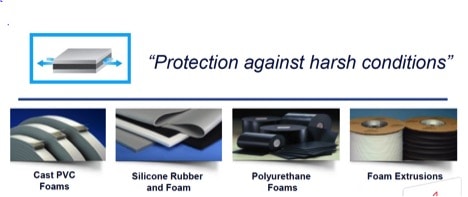 Foam Moving Into the Future
Foam materials are often sustainable and environmentally friendly. Foam products are often supplied with a pressure-sensitive adhesive on one or both side and don't typically require extensive installation processes as other materials and fastening methods might.  Foam is a low VOC substance (volatile organic compounds). LEED credits can often be realized in the construction industry when using foam materials.
Foam is rapidly gaining ground throughout a variety of industries and is anticipated to continue building in popularity. Because it is a durable and inexpensive solution, the foam can be used to improve upon existing designs and to reduce budgets on projects that are being planned. As foam advances in technology, it is likely to become even stronger, more lightweight, and more durable.
One of the easiest to use technologies available today is foam-based tapes, which are easy to install and convey many of the benefits of foam as a design material. Contact Tom Brown, Inc. today to learn about the many products available from Saint Gobain, 3M, Adhesives Research, and Rubberlite.