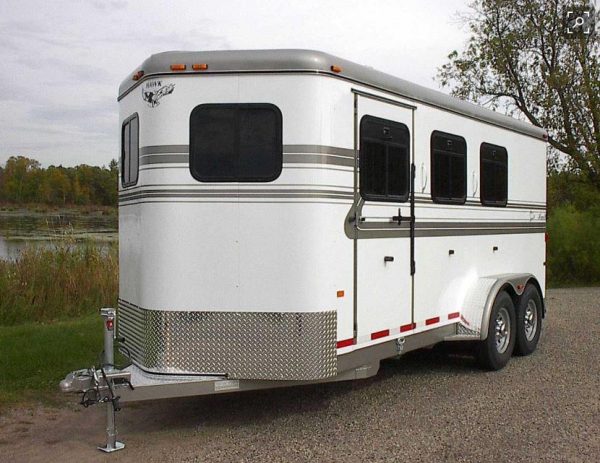 A utility trailer is an important piece of equipment for their owners. It might be transporting tools or equipment to a job site, or it might be taking horses or race cars to the track. No matter what the job, trailer owners need and want a trailer that is durable,  that doesn't leak and looks good.
One of the best ways to accomplish all of these goals is to use acrylic foam tapes in the fabrication process. These high performance tapes have many benefits over traditional mechanical fasteners that typically result in a quieter ride, improved leak resistance, and a smooth high quality appearance.
Mechanical Fastener Challenges
Mechanical fasteners have been used in trailer fabrication for decades, but they do come at a cost. Workers use power tools to drill holes and to apply rivets and screws. The tools are loud, they create water penetration routes through the panels and framing members, and drill bits need to be replaced.
The real problem comes during trailer use. Routine use results in road vibrations that cause drilled holes to elongate, which makes the fasteners rattle, and also creates a perfect path for water ingress.
As the trailer heats up and cools down, the cycling can create a quilted type appearance in the side panels as it heats up and cools down due to point stress  created at the fastener head.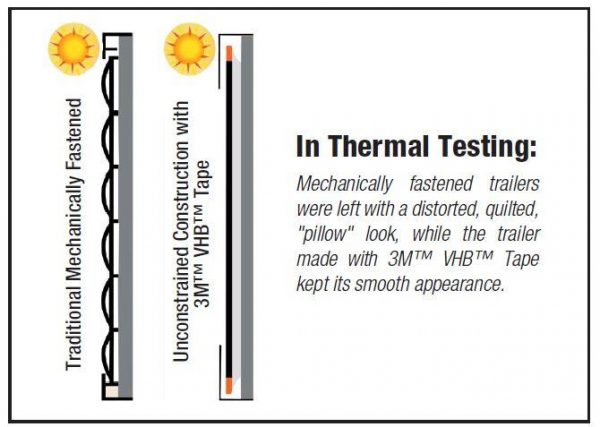 Performance and Benefits
3M performed an independent test where two identical trailers were made; one using VHB acrylic foam tape and one using mechanical fasteners. After being towed for 100,000 miles, the trailer fabricated with the tape had no gaps in the panels or delamination. The trailer, on the other hand, fabricated with the mechanical fastener, had 30 percent  of the fasteners become loose after just 30,000 miles.
Using a pressure washer for subsequent water testing resulted in significant leaks in the unit made with the mechanical fasteners, while the tapes unit held tight – all the way up to 3200 PSI water pressure.
Acrylic foam tapes provide significant performance advantages. The cycle time to produce the trailer drops once workers try the tape applied system and the final customer gets a trailer that doesn't leak, is durable and has excellent aesthetics.
Want to know more about acrylic foam tapes for trailer fabrication? Contact Tom Brown, Inc. today!