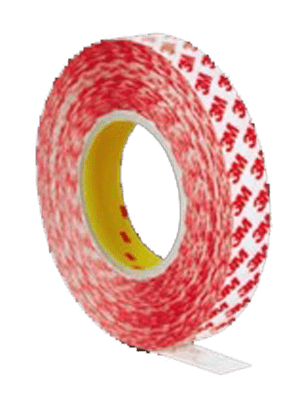 It's probably obvious by these blog posts that I really enjoy sharing the innovation I see in the tape world. It excites me that we continue to see tapes doing things that most folks never thought they could. I was able to join a virtual "3M Converter College" session this week on 3M's newest thin film bonding tape; GPT-020F.
What is GPT-020F?
The folks at 3M will be the first to tell you that they love acronyms. Some have related meanings to the products and some don't. This new tape's name actually does have some meaning. The "GPT" stands for general purpose tape. The 020 correlates to the tape's thickness of 200 microns (about 8 mils) and the "F" at the end stands for a film release liner. The GPT-020F is a double coated film tape. It features 3.7 mils of clear, solventless acrylic adhesive coated on both sides of a ½ mil polyester film. It comes with a tear resistant, 3.9 mil white BOPP (biaxially oriented polypropylene) film liner.

What Makes It So Special?
The adhesive system on this tape is what really sets it apart. It adheres to high surface energy materials (like stainless steel) but also has excellent adhesion to medium surface and low surface energy materials such as polypropylene. Peel adhesion values are over 100 ounces/inch (about 11N/cm) for most surfaces. The thick adhesive coating allows fast wet out (instantaneous adhesion) and can easily handle textured surfaces. The amazing feature (and testament to the innovative chemists at 3M) is that these high adhesion values don't come at the expense of shear strength. There are a number of "red liner" double coated tapes that have been on the market for long time. They do have good peel values but they don't have the shear strength, chemical resistance, and temperature resistance of the GPT-020F. It really is a leap forward in tape performance.
Thin Film Bonding Applications
Sometimes when you call something "general purpose" it can imply that it's not a high performance product. Nothing could be further from the truth with this tape but I think 3M called it "GPT" because this tape can do so many things so well! Here are just a few application areas where the GPT-020F can really shine:
Light boxes and indoor/outdoor signs
Decorative trim attachment for appliances
Furniture trim attachment
Metal fabrication
Sporting good and gym equipment
Plastic to plastic bonding
POP/POS displays

Summary
3M GPT-020F is the newest thin film bonding tape that features solventless acrylic adhesive technology that combines both outstanding adhesion to high, medium and low surface energy materials along with excellent shear strength. The high shear strength provides excellent top end temperature resistance (375°F), chemical resistance, and UV stability. Want to know more about GPT-020Fand how it can solve your bonding application? Contact Tom Brown, Inc today!
www.tombrowninc.com