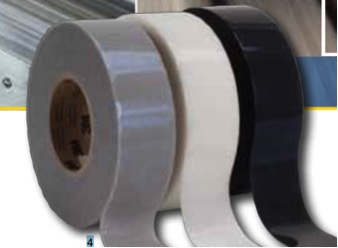 (Photo courtesy of 3M)
My typical approach for this blog is to offer readers some explanation of the various terminology, materials, test methods, and design considerations they might encounter when using pressure-sensitive tapes and gasket materials. I don't usually critique or review specific products but sometimes certain tapes really turn my head (you're probably thinking I have no life or am a real tape nerd…which is true!) Many of you have heard of 3M's VHB tape products. VHB tapes have been around since the mid 80's. Those products were truly ground breaking at that time and the product portfolio has grown substantially over the years to enable manufacturers to assemble anything from a cell phone to bonding an insulated glass unit into a high rise building. The Extreme Sealing Tape is born of this heritage but has some really interesting properties worth knowing about.
What Is Extreme Sealing Tape?
The tape consists of a flexible ionomer film with a foamed mass of 40 or 80 mil acrylic adhesive (and a very tacky acrylic at that) on one side. A film release liner protects the ionomer film /adhesive layer and allows the product to be self-wound into a roll. In case you are not familiar with the term "ionomer", the technical definition is a polymer that is comprised of repeating electrically neutral units with a fraction of ionized units that are covalently (shared electrons) bonded to the polymer backbone. A more practical way to think about ionomers is by thinking of DuPont's Surlyn which is a tough film made from ethylene (electrically neutral) and methacrylic acid (ionic). It's the tough outer cover used on golf balls and the film on the Extreme Sealing Tape is tough too.(and you can paint it) The 40 or 80 mil acrylic adhesive layer bonds on contact to many metal and plastic surfaces and can generate peel values in excess of 15 lbs./inch. It's "softness" allows it to easily conform over metal seams, contours and fastener heads and it seals out water like nobody's business! Extreme Sealing Tape was meant to compete with liquid sealants. It is easy to apply, and eliminates the mess associated with caulking guns. Its' unique design prevents it from cracking or crumbling, it resists high pressure washing, and can compensate for thermal expansion and contraction. All that in a roll of tape!
What Can You Do With It?
You can seal the roof seams on utility trailers or RV roofs, seal metal enclosures, tape around vent windows and skylights, seal a gutter or downspout, and use it pretty much anywhere you want to keep water out. Application steps are very easy:

(Photo courtesy of 3M)
Want a sample roll, technical data, or to discuss how to use this unique product?
Call Tom Brown, Inc.