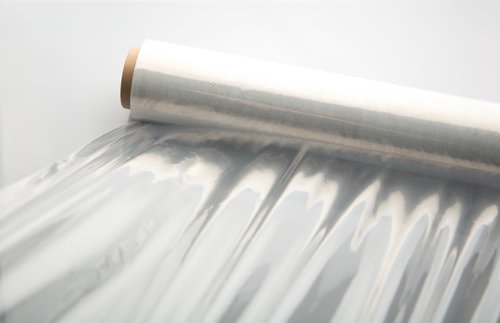 There are many opportunities for accidental damage throughout the process of manufacturing, painting, shipping, and installing architectural products. Surface protection films are designed to protect manufactured products from harm prior to their installation. These surface protection films come in a variety of thicknesses, materials, and even colors, depending on their intended applications. These films can even be designed to protect manufactured products after the installation has been completed.
Different Types of Surface Protection Films
Surface protection films are available in polyethylene, polypropylene, PVC, polyurethane, and blended films.  Depending on the environment the surface protection film will encounter, the film  thickness will usually range from 2-5 mils These films are all designed to be removable and to not leave any adhesive residue behind once they have been removed; in this way, they are able to protect the manufactured product without adding any complexity to the installation process. These films have another advantage of not adding on significantly to either shipping size or shipping weight while still providing some level of protection.
Applications for Surface Protection Films
Surface protection films can be used on virtually any type of surface, ranging from plastic to wood. In terms of electronic devices, surface protection films are often used on glass and keypads, designed to protect them until the consumer is able to use them. In construction, surface protection films are often used on cabinets and natural stone. They are able to protect these vital construction materials before they are installed. Surface protection films may be used to protect flooring against damage, especially hardwood planks. It may also be used on all types of polished metals, to reduce the possibility of scratching and marring.
Surface Protection Films in Architecture
As noted, surface protection films are used very often in construction materials. In terms of architecture, surface protection films will often be seen on glass windows and metal extrusions. Metal building panels and painted extrusions will often be protected by these films. When properly selected, surface protection films can resist UV light and the elements during shipment and installation which can take several months especially in high rise construction. Surface protection films can protect the building panel, window, curtain wall, and painted extrusions from damage while it is being shipped and then installed at the job site. Surface protection films are one of the easiest ways to protect surfaces from damage throughout the installation process. In essence, they are an inexpensive  insurance policy against claims and returns. With the benefit of avoiding scratches, scuffs, and UV damage, surface protection films may be recommended for any manufactured product that could be potentially damaged during transit and handling. Contact Tom Brown Inc to learn more about the variety of surface protection films offered.