One of the primary methods for glazing commercial windows, curtain walls, window walls, and storefront systems is using structural spacer tapes in tandem with structural silicone sealants. This glazing technique has been in use since 1979 and 41 years later continues to be a reliable and durable way to affix vision glass, architectural panels, and spandrel panels into the framing system. In this post, we'll look at understanding how silicone sealants and
Thermalbond® V2100
and
Thermalbond® V2200
spacer tapes work synergistically in curtain wall, window wall, and storefront applications.
The Functions of the Silicone Sealant and Structural Spacer Tape
Make no mistake, the silicone sealant does the heavy lifting in this partnership. Specifically the silicone sealant: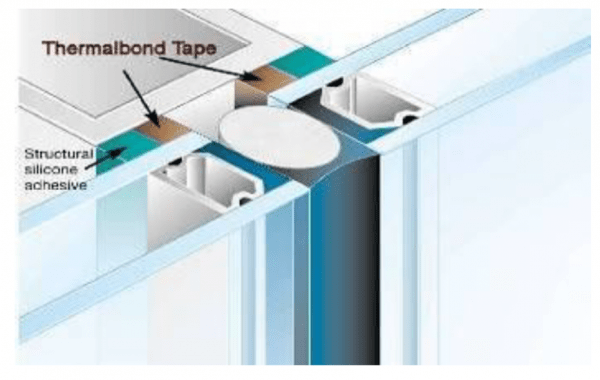 Secures the glass or panel to the exterior of the building without the need for mechanical fasteners
Transmits the loads (such as wind loads) from the glass or panel to the framing system
Cures to form a durable, flexible, water tight seal between adjoining glass or panels
Provides excellent adhesion without the need for primers to all types of glass, architectural panels and the corresponding framing systems.
Provides a flush exterior appearance and excellent aesthetics
The structural spacer tape's job is a bit less glamorous but that doesn't mean unimportant. The spacer tape's main functions:
To provide a consistent gap or channel between the glass or panel and the framing system while the silicone sealant cures
Chemical compatibility with the structural sealant
Provides immediate adhesion between the glass or panel and the framing system
To permit the movement of moisture (for one part sealants) or outgassing (for two component sealants) through the open cell structure to enable successful cure
Anatomy of Saint Gobain Thermalbond® V2100 and V2200 Structural Spacer Tapes
Both the V2100 and V2200 series tapes are made from a semi-rigid polyurethane foam core. The V2100 features a 31 lb. /cubic foot density that allows it to be used for either field applied or shop glazing while the V2200 features a 22 lb./cubic foot density more suitable for shop glazed units. Key features include:
Semi-rigid urethane foam- prevents deformation during glass loading
High strength adhesive on both sides- helps stabilize the glass or panel during the sealant cure cycle and prevents the sealant from migrating into any vision area
Open cell foam structure- permits moisture to move through the foam facilitating sealant cure on 1 part sealants
High density film release liner- easy to remove and tear resistant
Wide variety of thicknesses and widths- can accommodate any joint design
V2000 and V2200 Performance Properties
These spacer tapes are extremely well designed and feature excellent performance in adhesion, dynamic shear strength, dynamic tensile strength, and elongation. The urethane foam core and the acrylic adhesive system both demonstrate excellent temperature resistance, are fungistatic, and oxidation resistant.


Contact Tom Brown, Inc. for Samples and More
If you'd like a sample roll or would like to discuss your project in greater detail, don't hesitate to give us a call or
visit our website
.