Water jet cutting is a unique platform to produce parts from foam, plastic, cork, rubber, and many other materials both with and without an adhesive layer. It enables engineers to rapidly acquire prototype parts , begin their evaluation and testing protocols, and quickly adjust to what they learn.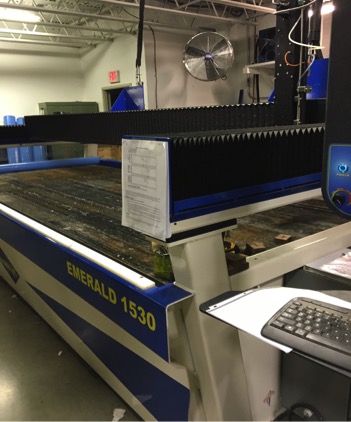 There are three primary reasons to why using
Tom Brown's water jet platform for rapid prototyping service makes sense:
There is no need to wait for custom tooling
It is an inexpensive way to quickly receive highly accurate prototypes in quantities that make sense for this stage in the development process
Tom Brown, Inc. maintains a very large inventory of foams, plastic products, rubber, cork, and adhesive coated tape materials that can be processed in about 1 day or less.
No Custom Tooling
A water jet uses a CNC interface that allows the machine to accurately cut parts without the need for hard tooling such as a rotary die or a flat-bed die. There's no waiting. If you have a CAD drawing, it can be loaded right into the machine and processing can begin. The 60,000 psi nozzle cuts parts without any heat exposure or burning. Once the CAD file is loaded into the machine, it can be stored for future production use or used as the basis for creating other tooling if another die-cutting technique is to be employed.
Inexpensive Method to Gain Highly Accurate Prototypes
Time is money
. Aside from avoiding the wait for tooling, the water jet can cut prototypes within +/- 10 mils on the standard nozzle or can go down to +/- 5 mils with the finest nozzle. Since the parts are processed one at time, one or a few a parts can be cut to allow the engineer or designer to get an accurate reading on what the part looks like, how it functions, and allows rapid changes to fine tune the component. It provides proof of concept with minimal costs.
Large Inventory Of In Stock Materials
Having a large inventory of varied materials on hand means that we can often begin cutting the prototype the same day as we receive the CAD file. If you require a material we don't have, we can often obtain small samples using expedited delivery services and still get parts in your hands with a couple of days. Want to learn more about how Tom Brown, Inc. can help you with our rapid prototyping water jet cutting services?
Contact us to learn more!