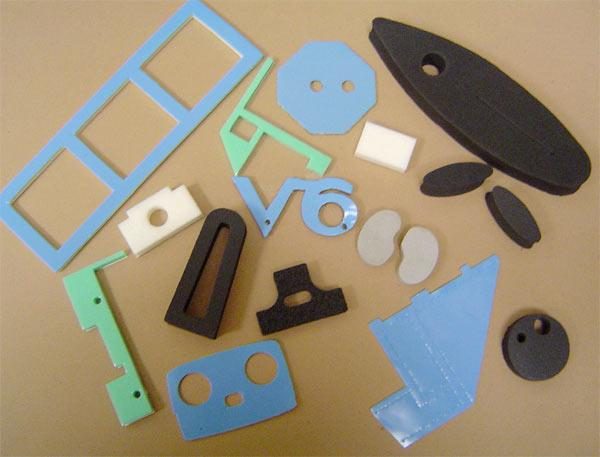 Die cutting costs are driven by three main factors:
Material Selection

Processing Equipment

Form Factor or Part Presentation
Material Selection
The material (or materials) that will be die cut are typically the largest percentage of the overall cost of the part, usually 50-75 percent. Sometimes, the materials are specified on a print after they have undergone testing, or some selection process, by an engineering or technical function to determine their suitability for the application.
In other instances, you might only know what the die cut part needs to do in the end use, but not what material is necessarily the best option. Here's where a converter can bring real value. They can recommend high performance options, "workhorse" type options and less expensive options. They can often be presented in a good, better, best sequence for performance and price to help make sure the part is over- or under- engineered.
Processing Equipment
Typically, converters  have more than one die cutting process. There are rotary presses that have very high output, but  more expensive dies and size limitations. There are flatbed presses that are typically slower, but have lower tolling costs. And there are waterjet/flash knife/laser cutting systems that have no tooling costs, but are more suitable for lower volume production or large format parts that can't be processed on smaller equipment.
Form Factor/Part Presentation
 Do you need individual, discrete parts, or parts kiss cut on a common release liner in a pad or a roll?  Do you need the "slugs" removed (the part of the die cut that is "waste"), or a dry edge or "finger lift" added to make it easier to remove the release liner after installation?
All of the above factors play a role in determining the costs associated with die cut parts. Keep in mind the concept of
total applied cost
. Sometimes, you might invest a bit more upfront only to get a return later on reduced labor and higher throughput.
Want to know more about die cut parts for your assembly operation? Call Tom Brown, Inc. today!