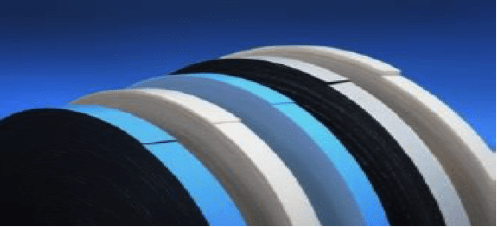 It's easy to walk into a prospect's office and say things like, "We're the best", "We've been in business for 30 years", "Our quality's the best", "We're a family owned business", or "We're faster".
These all sound great but ring hollow with a prospective customer trying to solve real world problems such as increasing inventory turns, lowering working capital requirements (while not sacrificing lead time), reducing material costs, and solving new product design challenges.
The simple truth is that all those high sounding platitudes really mean little to the customer and make you sound like everyone else. It's really about their problems. So here's the converter's "secret sauce" and how we do it.
Increasing Inventory Turns and Lowering Working Capital
When you decide that a bonding and assembly tape or gasket material is the right solution for your production, you will be faced with some challenges if you want to buy directly from a tape manufacturer. Many tape manufacturers have lead times anywhere from 2 to 8 weeks depending on the product and the minimum order quantity can easily surpass what might be needed on the production line on a weekly or monthly basis. If you buy more than one width or size, this has a multiplying effect on the problem.
That minimum order quantity (MOQ) and lead time throws two "wrenches into the gears". Let's say for example that you buy a ½" wide bonding tape for one application and the same tape in 1"" width for another and that the lead time is 3-4 weeks.
If we suppose that the MOQ matches what you use in a month, you will need to have at least 1.5 -2 months of inventory on the floor to prevent a stock out or line down situation especially if your business has any seasonality.
Based on this common scenario, your tape inventory will turn maybe 6 to 8 times if your purchasing folks are really tracking it carefully and you have two months of working capital tied up to make sure you don't go line down.
So how does a full service converter solve the problem? A converter typically buys tape products in log rolls or master (also called "jumbo") rolls. These rolls are anywhere from 36-64" wide and can be rewound into the correct length or they are purchased in a predetermined length. Most of the products are purchased in pallet, multiple pallet, or truckload quantities.
The tape inventory is now on our floor and not yours. We hold the inventory and we can slit the log roll or master roll down on demand. Need 400 rolls of ½" and only 20 rolls of 1"? No problem. Need 4,000 rolls of ½"? No problem. Need 10 rolls? Still not a problem. The converter is tooled with the right rewind slitters, log slitters, spoolers, and die cutting presses to turn orders quickly in quantities that match the customer's requirements.
The net result is that the products arrive in the right quantity at the right time no matter the season. You can cut working capital requirements in half and your inventory will turn 12-18 times (or more) instead of 6-8.
Reducing Material Costs
Converters work with the top manufacturers in the pressure-sensitive tape industry. They have access to and in depth knowledge of a broad palette of products with many different price points. That knowledge and access save sourcing time when your operations and purchasing team are challenged by management to reduce manufacturing costs and improve margins.
A full service converter can often show you two or three samples of products that can meet the technical requirements. There are some products that are unique and only have one or two manufacturers producing them but more often than not, there are alternatives.
If you have multiple plant locations, SKUs can often be reduced by consolidating purchases and many converters have multiple locations to reduce transit time to multiple sites.
Another hidden value with multi-location converters is supply chain continuity. If something happens at one converter site, the other can pick up the slack and maintain supply and avoid any line down situation.
Solving Product Design Challenges
The same access to and knowledge of the top tape manufacturers that helps with cost reduction is also a significant resource when determining the best way to solve a design challenge.
Understanding the technical details of products from many manufacturers means that that knowledge can be easily shared with the end user. The pros and cons of the products can be discussed with the design team and the right form factor can be identified. Need slit rolls in a unique width or length? That's what we do. Need a die cut part to work with an applicator? We have you covered.
What about fast prototypes? A full service converter can often provide one or two prototypes to a design team within a day or two to allow an idea to be tested quickly and at minimum cost. Designs can usually be easily adjusted and production ramp time is reduced.
Speaking of applicators, converters have knowledge about tape application systems and dispensing equipment. We can easily make recommendations and help facilitate automation efforts that save time and money.
The right product, for the right application, at the right price at the right time. That's what a full service converter can do but more importantly we help the customer reduce working capital requirements, improve inventory turns, and solve bonding and assembly challenges.
Want to know more about the problems we can solve for you?
Contact Tom Brown, Inc. today.