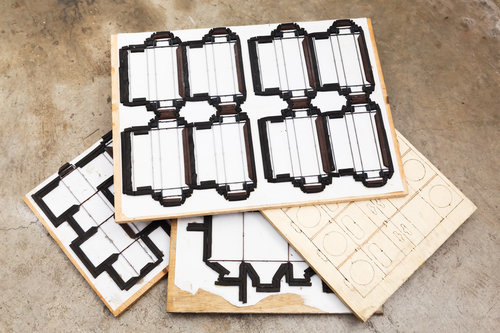 When it comes to manufacturing, productivity is incredibly important. Through kiss cutting, businesses are able to improve upon the handling of their manufactured parts. Not only does this increase convenience and efficiency, but it also creates a more accurate and precise product. Kiss cutting can be utilized on a variety of different materials in many different thicknesses, making it a versatile option for the manufacturing of parts.
What Is Kiss Cutting?
Kiss cutting is the process of cutting manufactured parts so as to leave it attached to a backing usually a silicone release liner or a carrier tape. The parts can be wound and delivered in rolls or can be cut into discrete parts. Kiss cutting requires extreme precision; the entirety of the component itself must be cut through while the backing remains intact. The finished part can then be removed from the adhesive backing as necessary.
What Are the Advantages of Kiss Cut Parts?
Kiss cut parts are often used when parts need to be automatically dispensed on an assembly line. Kiss cut parts are typically easy to use and to handle. Workers are able to take the parts from the backing individually and place them as needed or a machine can automatically dispense them and wind up the release liner.
Kiss cut parts are also extremely convenient. They are very easy to store, especially in rolls and kiss cut parts can be cut from the roll individually. Finally, kiss cutting is a very versatile form of supplying component parts that easily lends itself to a variety of materials.
What Are Some Types of Kiss Cut Materials?
Kiss cutting is generally done with rubber, foam, sponges, and other pressure-sensitive tape materials. Kiss cutting is normally accomplished with rotary or flat bed presses, making it ideal for high volume runs. Stickers and labels are among some of the most common types of kiss cut materials that most people will see.
Though the machine into the finished shape cuts through the sticker or label itself, the backing is not. This results in a part that can be easily removed.  Kiss cutting can also be used to create rubber gaskets and seals.
For more information about the different types of die-cutting and the benefits of kiss cutting, contact Tom Brown, Inc. today .