I was doing some topic research on tape products and one of the frequently asked questions was, "which double sided tape is the strongest?" This question came up more than any other question which surprised me. Then I thought about it a little more.
Americans like to know who or what is "the best"… the best NFL team, baseball team, college, restaurant, etc… We like to know who's on top and where we should invest our time and attention.
With sports, it's not as hard to answer that question. There are agreed upon rules and competitions that can be held and the team or individual that has the best results is the winner. For other things, it's not nearly as easy.  Here's the spoiler; tapes are one of those things and answering the question about "the best" tape overall is technically impossible.
Having said that, it is possible to talk about certain double coated tape products that do a lot of things very well and are excellent "go to" products when considering bonding and assembly applications.
Defining a Double Coated (Sided) Tape
A double coated or double sided tape is a specific tape format wherein a pressure-sensitive adhesive is coated onto both sides of a carrier or in some cases with acrylic foams – a foaming agent can be incorporated into an adhesive matrix and then" foamed" so the resulting tape is monolithic but in fact has adhesive on both sides. A release liner can be applied to both sides of the tape or more often a double siliconized liner is used that allows the tape to be wound on itself (also referred to as self-wound).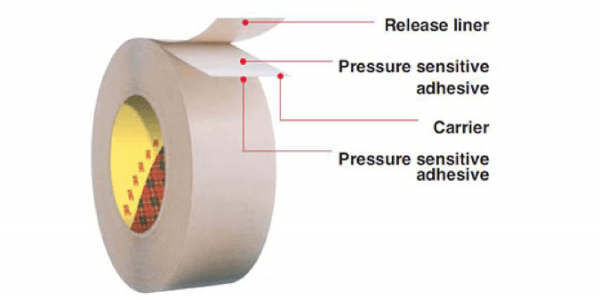 Types of Carriers and Impact
Carriers or backings are an important element of the double coated tape as they have a significant influence on the physical properties and the ultimate performance of the tape. These properties impact the selection of the best tapes for a given application.
Contributions of Carriers
Flexibility
UV resistance
Thickness and density
Tensile strength
Elongation
Moisture resistance
Abrasion resistance
Electrical/ and thermal conductivity or insulation
Color
Transparency
Flame Retardancy                                             
Common Foam Carriers                                         Common Film Carriers
Acrylic                                                                        Polyester
Polyethylene                                                             Polypropylene
Polyurethane                                                            UPVC (unplasticized polyvinyl chloride)
PVC (polyvinyl chloride)                                                   
Other Carriers
Tissue
Paper
Nonwovens

Matching Tape and Application- Important Questions to Ask
What is the end use and what are you trying to accomplish? This is the short "elevator pitch" question.


What materials are you bonding? There is no "one size fits all" with double coated tapes. You have to identify what you want to bond together so you pick the best candidates. Different classes of materials act very differently when bonding.


Are there any gaps to fill? The tape must have the right gap filling ability for any uneven or non-planar surfaces.


What stresses or loads will be present in the application? The forces that often act on tapes include shear, tensile, cleavage, and peel. If you can identify these forces, you can choose an adhesive system that will maximize your chances for success.


Is the bonding surface rough or smooth? Rough surfaces usually require tapes with higher adhesive coat weights or thicknesses to allow the adhesive to flow into surface irregularities and provide better wet out. Better wet out will yield higher bond strengths.


What is the application temperature and service temperature? What are the conditions where the tape is applied and what high or low temperatures will be encountered during service life? Some tapes work exceptionally well at low temperatures and other have excellent high temperature performance.


Will there be any exposure to UV light, chemicals, or moisture? These factors along with temperature and the various forces outlined in question 4 will create the operating environment for the tape. 
"Go To" Product Recommendations
In the introduction I stated that it is impossible to pick only one "strongest double coated tape" due to the high degree of variability and performance encountered in each application. There are however (in my opinion) a group of "best in class" or "go to" tapes that are a great starting point for many applications. Here they are:
Acrylic Foam Tapes
3M VHB – the VHB portfolio contains almost 100 products and they are all excellent.
Saint Gobain Norbond Acrylic Foams- especially the new A7600
Double Coated Polyethylene Foam Tapes
Adhesives Research – 2000 and 4000 Series
Berry Plastics – GTW and GTB Series
Adhesives Applications- 7016B, 65016B, and 7316B
Mactac – IM1863
Double Coated Polyurethane Foam Tapes
Saint Gobain – V2800 series
3M 4000 Series
Double Coated PVC Foam Tapes
Saint Gobain – V980 and V990 Series
Double Coated Film Tapes
This section is broken down by surface energy classification since there are more double coated film tapes than any other type.
Double Coated Film Tapes for HSE (high surface energy metals and plastics)
3M 92015
Berry Plastics 254M
Double Coated Film Tapes for Foam Bonding and Rough Surfaces
3M 9832
Berry Plastics 350 Series
CCT M1212 and M1213
Double Coated Film Tapes for LSE (low surface energy plastics and paints)
3M 93015LE
Berry Plastics 650 Series
The products listed are those where I have observed success with a number of customers over many applications. It is not intended to be all inclusive or to leave any manufacturers out. I can attest that there are other double coated tape manufacturers such as Scapa Group, Intertape Polymer Group, Tesa, and Avery Dennison who all produce excellent high performance double coated tapes.
Contact Tom Brown, Inc. for all Your Double Sided Tape Questions
If you have an application for bonding or assembly where you think a double coated tape might work, don't hesitate to contact us at Tom Brown, Inc. We'll set you up with the samples and the technical data you need to begin your evaluation and succeed!