How 3M B23F and G23F Structural Glazing Tapes are improving efficiency and performance in curtain wall, window wall, ribbon window, and storefront glazing.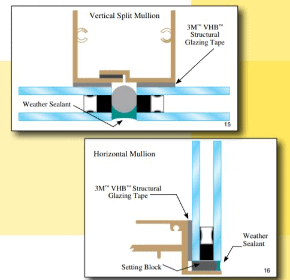 In our last blog post
, we examined the use of structural spacer tapes and structural silicone sealants as a glazing technique for curtain wall, window wall, and storefront systems. In this post, we're going to examine the newest glazing technique that uses 3M VHB structural glazing tapes. While it's true that structural glazing tapes (SGT) are the newest glazing technique, they've been used to glaze thousands of buildings since 1990. That's over 30 years of proven field performance. Let's take a deeper dive into this platform and learn why more building envelope projects should consider this approach.
Anatomy of 3M VHB SGT
3M™ VHB™ Structural Glazing Tape is a high performance bonding material used to attach glass to structural glazing frames replacing dry-glazed (gasket, mechanical fasteners, pressure plate, etc.) or wet-glazed (structural silicone sealants) systems.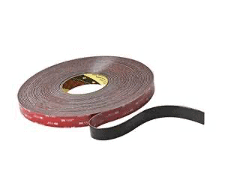 Simply put, the structural glazing tape looks and handles like a 90 mil thick, closed cell, double coated, foam tape but there's a lot more going on than meets the eye. This is a foamed acrylic tape that is monolithic in design. Monolithic means that there is no foam core with an adhesive coated on both sides but a homogenous structure with that has an extremely high degree of carbon-carbon single bonds in the polymer chain. This formulation strategy produces a tape with exceptional resistance to UV light, heat, cold, and chemical attack. The acrylate components undergo additional cross-linking which will build modulus very slightly over extended exposures resulting in long lasting, durable bonds.
SGT Physical Properties
Peel Adhesion: 440 N/100 mm (25 lb/in width) (stainless steel,ASTM D 3330)
Normal Tensile: 480 kPa (70 lb/in²) (aluminum T-block,ASTM D 897)
Dynamic Overlap Shear: 450 kPa (65 lb/in²) (stainless steel,ASTM D 1002
While the basic physical properties are impressive, the real question is how durable is this attachment method? After all, the tape is the primary bonding component between the glass and the framing system. All of the wind load forces are transmitted through the tape to the building structure and the environmental conditions vary widely and have to be accounted for The 3M VHB structural glazing tapes are the most studied and documented products in the history of the pressure-sensitive tape industry. The accelerated aging studies conducted at 3M and the 3
rd
party independent testing that has been performed is staggering in volume and the data is very revealing. A small sampling is shown below.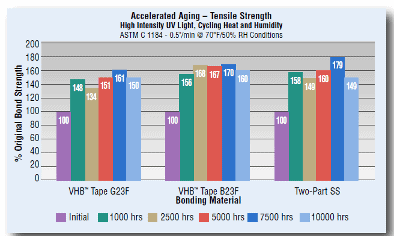 This test demonstrates the bond strength does not deteriorate below its original performance level, even after exposure of 10,000 hours in these extreme accelerated aging tests. It also demonstrates comparable performance of the 3M™ VHB™ Structural Glazing Tapes to the two-part structural silicone sealant.
Contact Tom Brown, Inc. for More Information on Structural Glazing Tapes
If you need more information or have questions about the right product to best suit your needs,
contact Tom Brown, Inc.
today. We're happy to point you in the right direction.