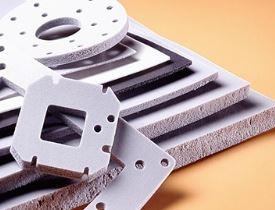 In our April 3
,
2018 blog post, we discussed silicone materials in general and the properties that make them unique.
As a quick review,
silicones are a large family of elastomers with a unique chemical structure that gives them superior high and low temperature capabilities that are unavailable in other families of elastomeric materials.
Silicones are very inert and, therefore, resist sunlight, ozone, oxidation, water and various chemicals. They can be customized by using various curing agents or additives that can enable them to conduct heat, dissipate electrical charges, resist open flame, or be utilized in medical or aerospace applications.
Form Factors
Silicone materials are not just "one thing" but rather an interesting portfolio of options. There are sponge rubbers, solid silicone, reinforced silicones, and foam rubber. The durometer or "hardness" can be adjusted and specified depending on whether the material is to be used for gasketing/sealing applications or for impact/vibration damping applications.
Adding More Functionality
Silicone foams, sponges, and rubber substrates can be enhanced further by adding adhesive layers for easy bonding and attachment.
Silicones exhibit low surface energy, which can make them a bit tricky to laminate with adhesives and achieve good adhesive anchorage. Tom Brown, Inc. has the know-how to modify the surface to permit lamination with either silicone or acrylic adhesive systems for gasket attachment or general bonding. Silicone pressure-sensitive adhesive exhibit temperature performance similar to that of the silicone elastomers (100°F to +500°F). Acrylic adhesives are a cost-effective option for some applications, but you trade away some of the temperature range. These adhesives will typically work in the -20°F to +350°F range.
These options can be delivered as die cut parts by rotary, flat bed, or Waterjet die cutting techniques
Typical applications include heaters, commercial lighting, oven seals, medical equipment, aerospace seals, and electronics.

Want to know more about die cut silicone materials? Contact Tom Brown, Inc. today!